This recipe combines fresh and flavorful ingredients for a savory and spicy marinade for chicken thighs. Cook these on the grill for added char flavor or in the oven for an easy meal any day of the year.
Chicken Thighs:
Boneless, skinless chicken thighs are the foundation of this recipe. These are ideal for grilling because they have a higher fat content that keeps the meat juicy. They are also more thin that chicken breasts, which means they cook quickly and evenly.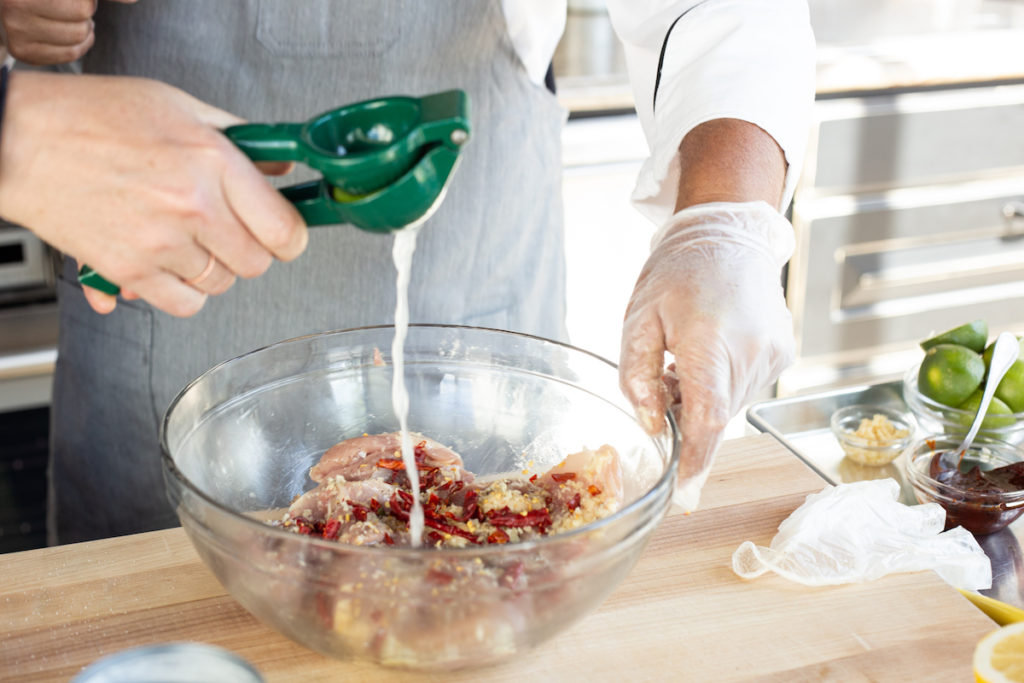 Sure, you could use this marinade on a chicken tenderloin, breast, drumstick, etc. Adjust your cook time and understand that the resulting chicken may be a bit more dry.
Marinade:
The simple ingredients in this marinade combine for a classic marinade. All good marinades need three components:
Flavor – fish sauce, sugar, lemongrass, garlic, Thai chili
Acid – lime juice
Fat – coconut milk, sesame oil
Marinades that combine these three components achieve three things: (1) your meat will be protected from the heat, (2) enhanced in flavor and (3) tender and juicy.
Grilling:
Heat the grill to 350 degrees. This will be medium or medium-high on most grill. Start by placing the meat on the grill, presentation side down. This will allow the meat to develop beautiful char marks. Close the lid and allow to cook.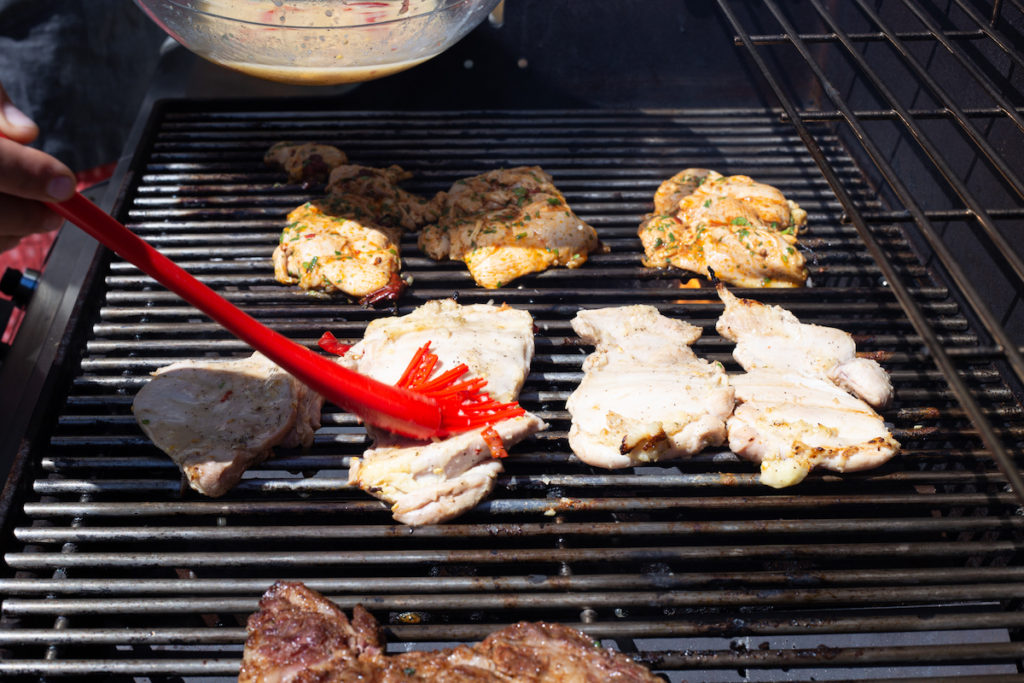 After five minutes, flip the chicken and baste with the chicken marinade. Leave for five minutes with the lid closed. Flip one more time, without basting, and allow to cook for 5-10 more minutes. The chicken is finished cooking when the juices run clear and the meat has firmed. The internal temp should be at least 165 degrees.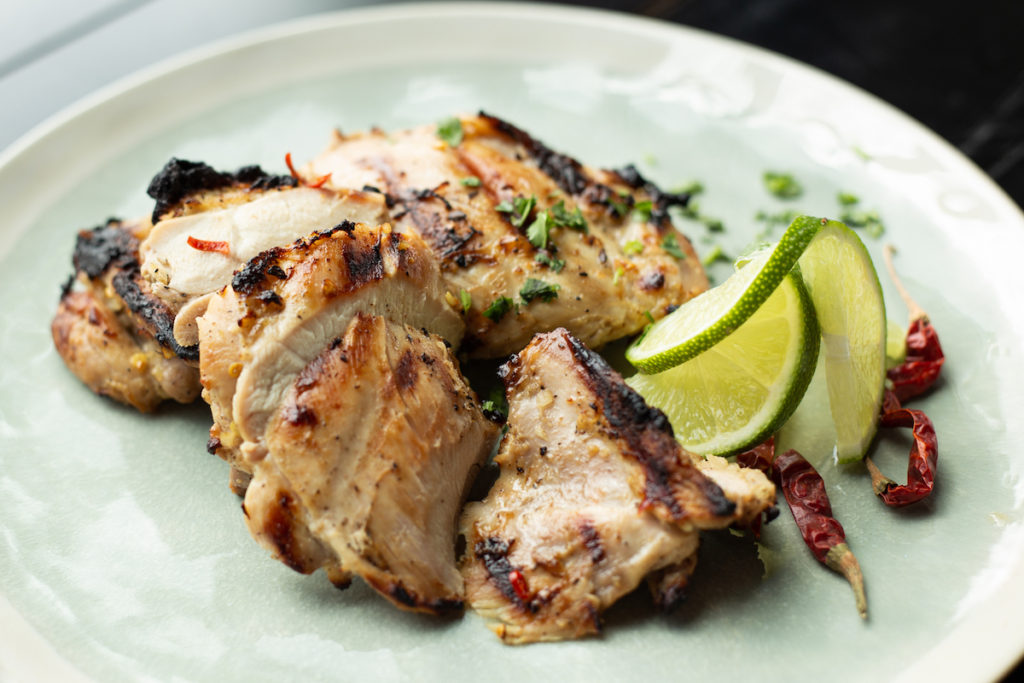 Remove from the grill and allow to rest for five minutes before serving. We recommend you enjoy this Thai Style Chicken with some Thai dipping sauce. This marinade is also delicious on fish!
Print Recipe
Thai Style Chicken Thighs
Ingredients
1/3 cup fish sauce
1/4 cup sugar
2 Tablespoons crushed lemongrass
2 tablespoons minced garlic
1 tablespoon minced dried Thai chili
1/4 cup fresh lime juice
1/4 cup coconut milk
1/4 cup sesame oil
2 lbs boneless, skinless chicken thighs
Instructions
1

Combine all ingredients in a bowl. Mix to combine and coat chicken.

2

Cover and refrigerate for at least 30 minutes, but no more than 2 hours.

3

Heat gas or charcoal grill to medium heat (350 degrees).

4

Place chicken on the grill presentation side down. Close the lid.

5

After five minutes, flip the chicken and mop with leftover marinade.

6

Cook five more minutes, flip, and mop again.

7

Cook for five more minutes, flip, but don't mop again.

8

Continue cooking 5-10 minutes, until juices run clear (165 degrees).

9

Remove from heat and rest for 5 minutes before serving.