These little pillows filled with holiday flavors are such a fun way to get into the holiday spirit. These cookies are great to make ahead and store for holiday snacking but one of our favorite ways to enjoy them is on top of a hot cup of chocolate or even warmed up egg nog!
Meringues can be a little tricky but with the right tips and the perfect recipe- you will be whipping some of these yummy treats up in no time. Let's break down the simple ingredients together:
1-Egg whites- easily the most important part of this recipe. Egg whites do best when whipped up at room temp- but sometimes when we wait to separate them at room temp it can be a little tricky- so we suggest separating your straight from the fridge eggs and then let them sit out until nice a room temperaturey. Keeping in mind not to let any of that yolk get in there- we want these to whip up nicely and even a bit of the yolk in there will slow it down.
2-Cream of Tartar- we love adding a bit just for some extra stabilization. Some recipes will call for some lemon juice which acts in the same way but we have found the cream of tartar is fantastic for helping to keep those egg whites lifted without worrying about adding too much liquid.
3-Sugar-this is where I think you will see the most variety in recipes out there- super fine sugar, powdered sugar, and regular granulated sugar- we have always found success with just regular granulated sugar but the secret is adding it slow enough to incorporate and help left the egg whites, not weigh them down. Add it slowly and it will be perfect!
4-Flavoring- We love this egg nog flavor– scroll through the flavor options and you will find egg nog- it brings an elevated flavor that we tried to achieve by adding just the nutmeg and cinnamon but it was missing something to finish off that classic egg nog flavor! This flavoring did just that! Its strong so use is sparingly- but it really did add such an elevated flavor that we couldn't get with spices alone. Have fun with this- we were tasked to find an egg nog recipe for Studio5 and thought these would be perfect but you could make these with any of your favorite flavors- peppermint and cherry are two favorites! The biggest thing to remember when adding flavor, go slowly- adding too quickly will deflate your meringues causing tears and sadness.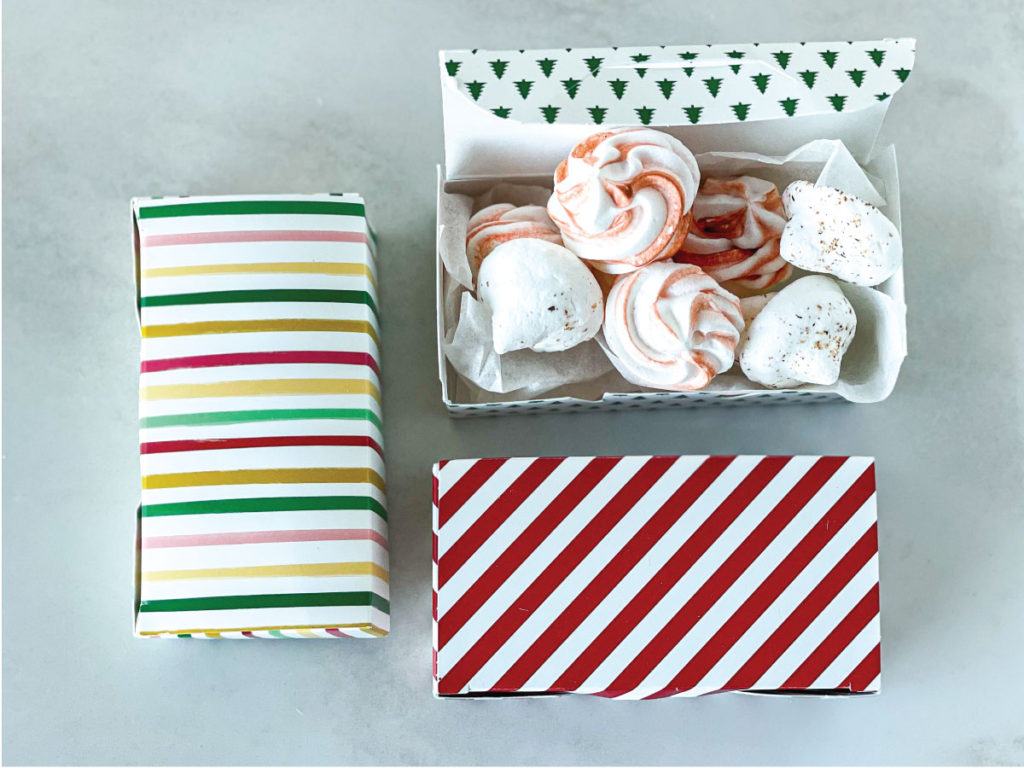 5-if you are looking to add some pizzazz to the meringues have fun with some food coloring. We striped the bags with some brown americolor (to tie in with the egg not theme) but have fun with it! Match your party, whip them up for any holiday or occasion and have some fun!
6- Cake Tips- Our favorite tips to get some fun festive shapes were the wilton 1A large round and the Ateco 824 for the star shaped ones. But have fun with shapes, there are no right or wrong ones, but we did find the large opening ones produced our favorite shapes.
Don't forget to check out the fun ways to package and gift them to those you love! We love these 1/4 pound boxes exclusive to us here at Gygi and the fun prints make it easy to gift for all! These 1/4 boxes held about 6-8 meringues- perfect for sharing (or not!)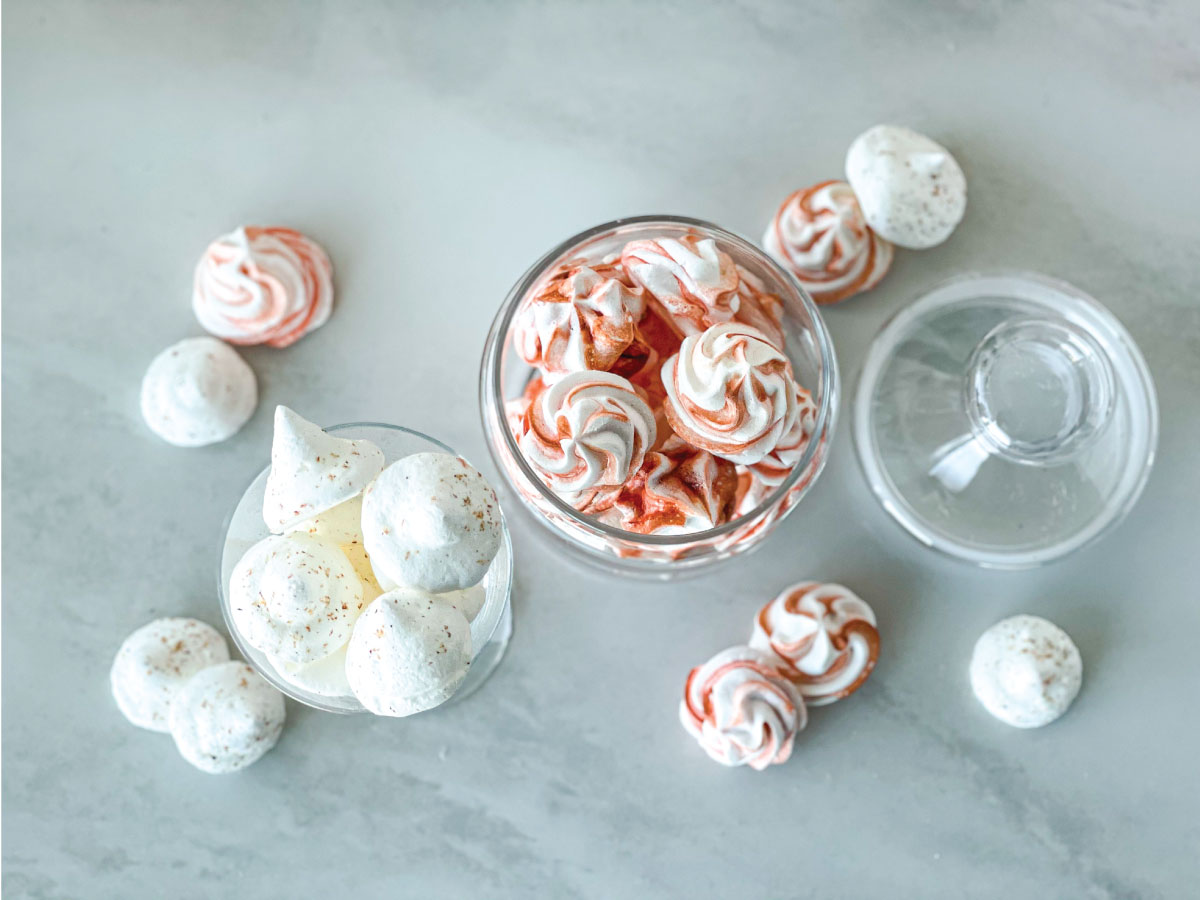 Print Recipe
Ingredients
4 large eggs, room temperature
1/2 teaspoon cream of tartar
3/4 cup granulated sugar
1/4 tsp egg nog flavoring
freshly grated nutmeg-to taste
ground cinnamon- to taste
brown food coloring
Instructions
1

Pre-heat oven to 225 degrees and place racks in the upper and middle positions. Line your cookie sheet with parchment.

2

In your stand mixer- add in your room temp egg whites and cream of tartar. Make sure that there is no crumbs or residual grease in your bowl, you can wipe with vinegar to give it a quick insurance policy- but make sure its nice and clean. Beat with the whisk attachment on medium speed until they become frothy- about 2-3 minutes.

3

Up the speed to medium-high heat and SLOWLY add in the sugar one tablespoon at a time. Once the sugar is all added, turn the speed up to high and beat the egg whites until they are glossy and have stiff peaks. Beating until they are still will help them keep their shape as they are piped- this should take about 5 minutes.

4

Once you have reached stiff peaks, turn the mixer down to lowest setting and SLOWLY add in your flavoring. Taste your meringue and see if you want to add a little bit more flavoring- we loved sprinkling a little ground nutmeg and cinnamon in but you can also wait and do that once they are piped.

5

Now we are ready to pipe-

6

Place your desired cake tip in disposable bag and cut the tip of the bag until the opening is popping out. If you decide to stripe with food coloring, place the bag inside a large tall cup- folding the top of the bag over the opening of the cup to hold it all in place. Take your favorite coloring of food color and use a clean brush to strip the color up the sides of the bag, you can do as much or as little as you want-depending on how much color you want to add.

7

Pipe your desired size and shape onto your lined parchment paper, we tried to keep them to slightly larger than a quarter in diameter. Keep them some what consistent in shape so they bake the same time.

8

Place in your 225 degree oven for 1 hour. Try to check (without opening door) to make sure they are not browning but this low and slow technique will keep the outside crunchy while the center is soft and chewy. Once you have baked for one hour, turn the oven OFF and leave them in the oven WITHOUT OPENING THE DOOR. After an other hour, check to see if they are crunchy but chewy in the middle. Let them air dry for a couple more hours.

9

Store in an air tight container for several weeks- if they make it that long- they are a favorite little cookie to snack on.
Notes
These cookies make such a fun addition to Holiday Cookie Parties/Trays. They are naturally gluten free and really simple ingredients. They add a fun flavor and crunch and of course some really great color! Enjoy.