Did you know the term "bruschetta" actually refers to the toast portion of this tasty snack? The sliced bread is toasted (or grilled), rubbed with raw garlic and then drizzled with olive oil and salt. That's bruschetta! Then you top that with tomato "salad," veggies, or cured meat and/or cheese. Yum! This recipe is a quick and easy way to use up a whole lotta' cherry tomatoes from your garden. Don't have cherry tomatoes? Almost any other tomato variety will work. Prepare to have your socks knocked off with this tomato & feta bruschetta–this stuff is so dang good. This is just a general recipe and is super delicious and easy to customize.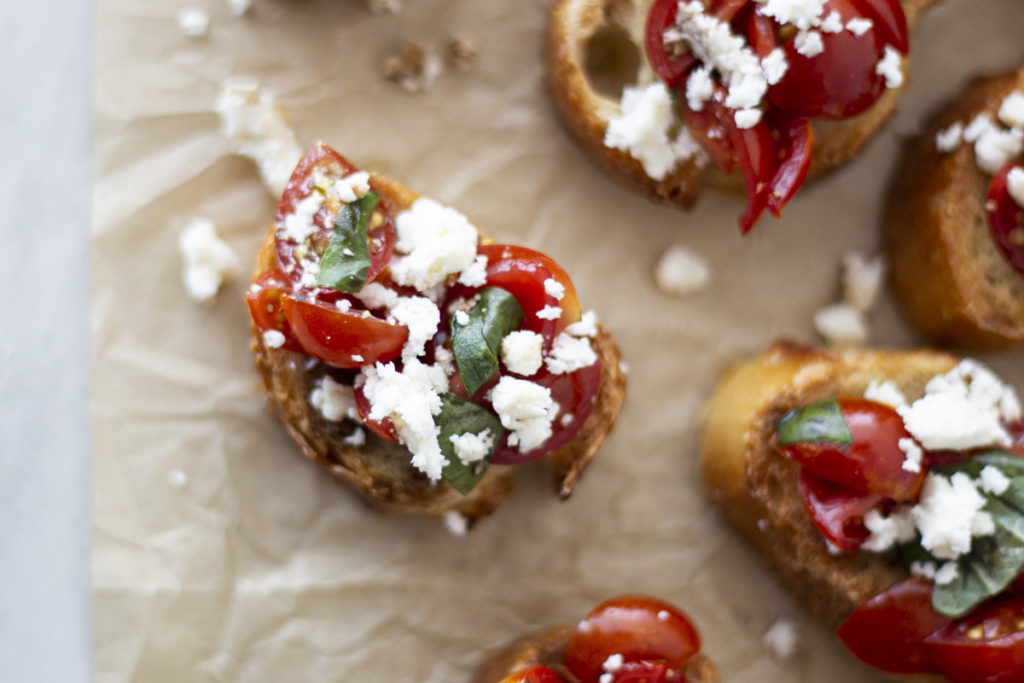 Tomato bruschetta is one of Italy's favorite appetizers, and toasting bread and soaking it in oil is probably as old as Rome itself. In fact, when the olive growers would bring their harvest to a local olive press, they would taste their freshly pressed oil using a slice of bread. It became such a well-known dish because it was a great way to salvage bread that was going stale. Now, toppings for bruschetta range from garden fresh tomatoes to cured meats to avocado. You might even go as far as making a fruit bruschetta with strawberries or apples. What do you think? You ready to make this tomato & feta bruschetta a staple in your own kitchen? How would you tweak this recipe?
Print Recipe
Ingredients
1 long, skinny baguette
4 Tbsp extra virgin olive oil
2 tsp sea salt to taste
1 clove raw garlic
1 pint cherry tomatoes
4 Tbsp balsamic vinegar
salt
pepper
shredded basil
crumbled feta
Instructions
1

Cut the bread into slices and spread over a baking sheet. Drizzle them with olive oil and sprinkle on some sea salt.

2

Broil on low for 5 minutes or until toasted golden brown.

3

While the slices are not hot, but still warm, rub a raw clove of garlic onto one side of each slice and set aside.

4

Cut the cherry tomatoes in half for larger slices of bread or cut them in quarters for smaller slices of bread. Toss them in a bowl with the balsamic vinegar. Add the salt, pepper, and shredded basil to taste.

5

Spoon the tomato mixture onto each slice of bread. Top with another drizzle of balsamic vinegar and liberally sprinkle with crumbled feta.
Notes
This is just a general recipe for tomato & feta bruschetta. Feel free to change things up and add as much or as little as you like. But don't skip the raw garlic rub on the bread. Just trust us--it adds the wow factor that makes this snack so delicious.