These Apple Tatin Financiers are gorgeous! And the decadent dessert is something you can serve up on special occasions to impress your guests with the perfect blend of sweet, tart, and sponge.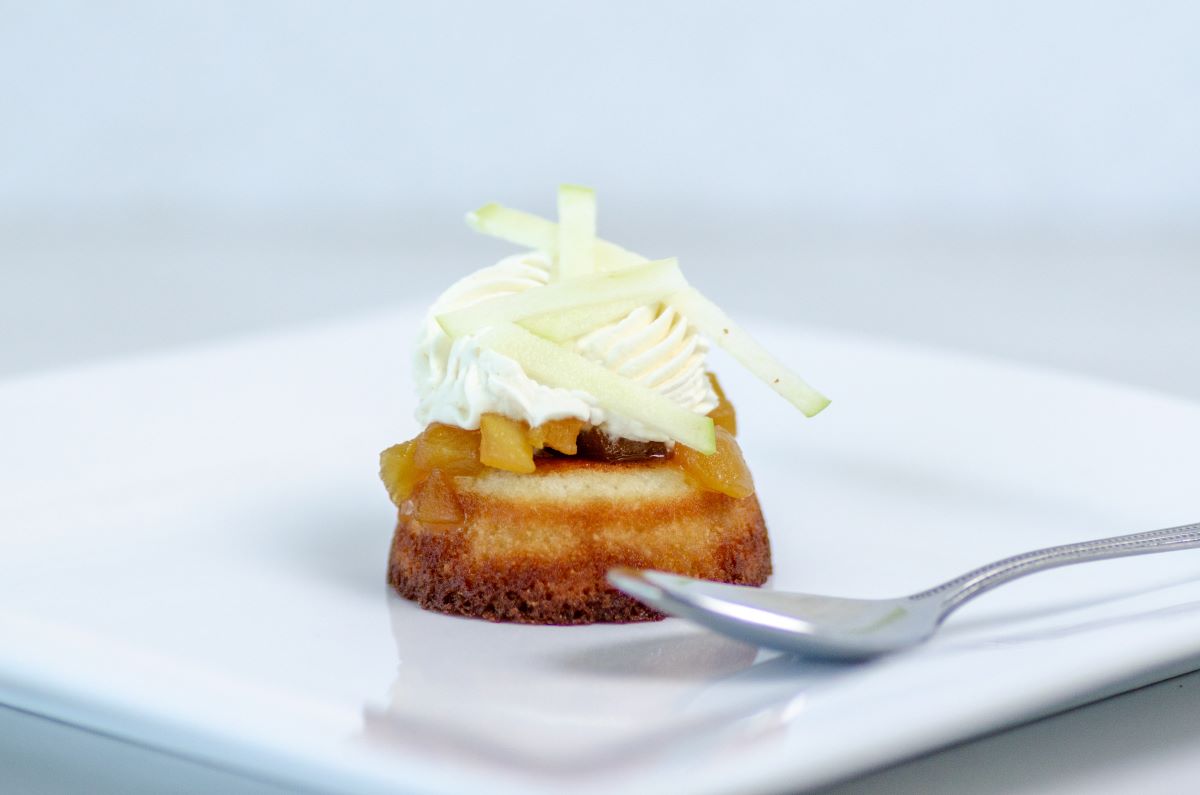 Print Recipe
Apple Tatin Financier with Sylvain Leroy
Ingredients
FOR THE FINANCIER SPONGES
65 grams butter, melted
70 grams egg whites
1 gram fine salt
10 grams Acacia honey
70 grams confectioners' sugar
25 grams pastry flour
40 grams almond flour
FOR THE CARAMELIZED APPLES
2 apples, plus extra for topping
100 grams sugar
20 grams butter
FOR THE NOEL PEMBE 35% & APPLE WHIPPED GANACHE
75 grams apple juice
3.5 grams corn syrup
100 grams Pembe 35%chocolate
6.5 grams Calvados liqueur (optional)
185 grams heavy cream
Instructions
1

FOR THE FINANCIER SPONGES: Melt the butter and leave to cool.

2

In a stand mixer fitted with a paddle attachment, mix the egg whites, salt, honey, sifted confectioner's sugar, flour, and almond flour.

3

Gradually add the melted butter.

4

FOR THE CARAMELIZED APPLES: Dice the apples. Steep the apples in water mixed with a small amount of lemon juice.

5

In a medium saucepan, cook the sugar over medium-low heat to make a caramel. When the caramel turns golden brown, add the butter to deglaze the pan.

6

Add in the apples and cook for a few minutes.

7

Extract the apples and put to one side so you are left with the caramel.

8

FOR THE PEMBE & APPLE WHIPPED GANACHE: Bring the apple juice and corn syrup to a simmering boil. Gradually combine the boiling mixture with the melted Pembe, mixing in the center to obtain a smooth, shiny, elastic texture. This is a sign that you are starting to make an emulsion.

9

Keep mixing as you gradually add in the juice and, finally, the liqueur. Mix using an immersion blender to form a perfect emulsion.

10

Add the cold heavy cream and mix using an immersion blender.

11

Allow to set in the refrigerator, preferably overnight. Whip the ganache by hand or in a stand mixer to soft peaks.

12

FOR THE ASSEMBLY: Line the bottom of the rings with financier sponge and bake in a fan-assisted oven at 355°F (180°C) for 17 minutes.

13

When the financiers have cooled completely, turn out using a knife.

14

Use a small cutter to cut out the centers and spoon some caramelized apple inside.

15

Pipe the Pembe and apple ganache in a swirl on top of the financier

16

If desired, cut some of the remaining apple into thin sticks and use them to decorate the financiers.