Macarons can be so finicky, but not when you get instruction from an expert like Barb from Sweet Mac Shop. She makes the recipe and the tips so accessible. Now we can't wait to give these chocolate macarons a try in our own kitchens at home. Just remember, when you try this recipe at home, start with the chocolate ganache first because it needs two hours to set up before you can pipe it.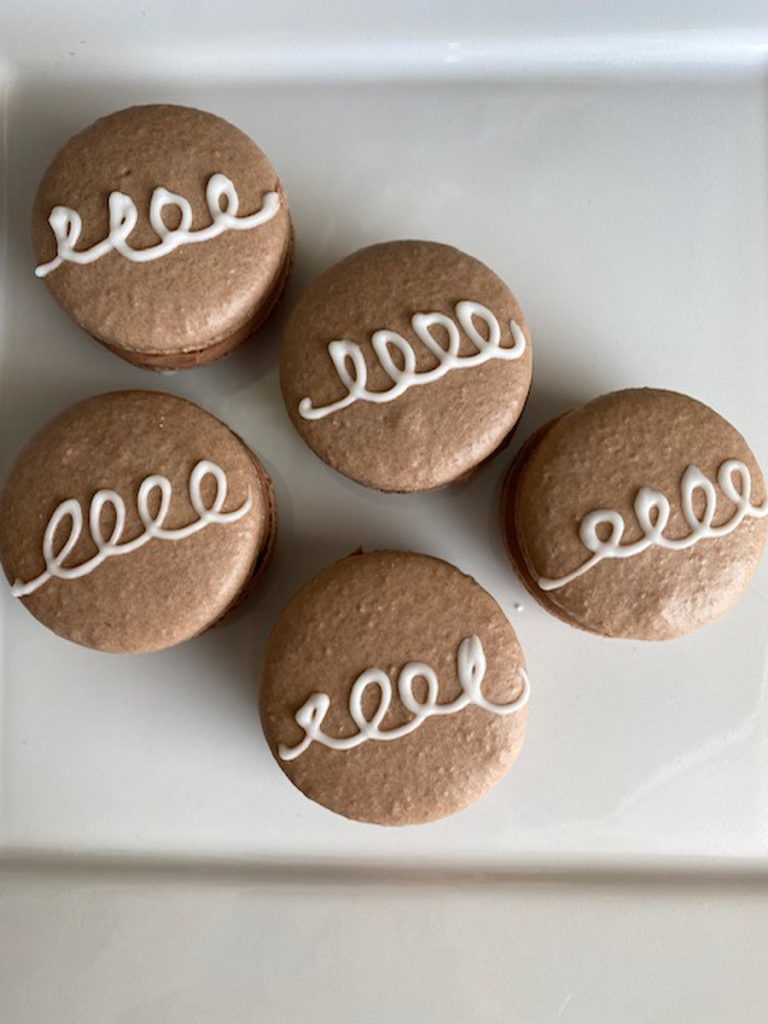 Some of the kitchen tools recommended by Barb include a silicone macaron mat, immersion blender, scriber needle, and GIR spatula.
Print Recipe
Chocolate Ding Dong Macarons with Barb from Sweet Mac Shop
Ingredients
FOR THE SHELLS
160 grams egg whites
88 grams granulated sugar
1 tsp vanilla extract
200 grams almond flour
10 grams cocoa
247 grams powdered sugar
White compound chocolate for details on shells
FOR THE GANACHE SURROUND
120 grams (2⁄3 cup) Semi Sweet (or any chocolate you prefer)
20 grams (1 1⁄2 Tbsp) unsalted butter
120 grams (1⁄2 Cup) heavy whipping cream
FOR THE FILLING
1⁄2 cup butter, softened
1⁄2 cup shortening (such as Crisco)
1 3⁄4 cup powdered sugar
2 tsp vanilla extract
1⁄4 - 1⁄2 cup evaporated milk
Instructions
1

FOR THE SHELLS: Preheat oven to 285°F for steel pans, or 300°F for aluminum pans. Preheat for at least 10 minutes.

2

Measure out your granulated sugar in a small bowl; set aside.

3

Measure powdered sugar, almond flour together, then use a sifter to combine. This will make them smooth and lump-free. Set aside.

4

Place a separate bowl on the surface of your food scale. Hit the "tare" button to zero out the weight of the bowl. Now measure the room temperature egg whites into the bowl of your KitchenAid stand mixer.

5

Add the clear vanilla extract.

6

Place bowl on mixer stand (this recipe is for the KitchenAid mixer), and attach the wire whisk beater. Set timer for one minute. Turn mixer to Speed 4, and slowly add sugar to egg whites, shaking it in a little at a time during that first minute.

7

When timer goes off, set mixer to Speed 6, and set timer for 2 minutes. When timer goes off, set mixer to Speed 8, and set timer for 1 and 1⁄2 minutes (90 seconds). Coloring may be added just before this last mixing. Egg whites should look silky, yet stiff enough to hold the peak.

8

Now we'll make the macronage: blend in dry ingredients, by moving a flexible spatula around the bowl, then cutting down through the middle, making sure to scrape the bottom for the flour and incorporate it into the meringue. You know you are done when the batter rolls off the spatula in a continuous ribbon. Batter will be thick... but can flow like a ribbon. BAKER'S NOTE: I have several videos of making macronage in my Instagram Highlights.

9

Insert Wilton #12 tip into the small opening of your piping bag. Scoop the macaronage into the bag, filling only half-way full, leaving room to twist the top closed in order to keep the batter from spilling out the top. Pipe the macrons by applying pressure until the batter flows out and just reaches the inner rim of the marked circle on your mat. Immediately release pressure and swirl tip to incorporate point back into the center of the cookie. See my tips on Instagram Highlights. NOTE: if you will be using parchment paper — search for online — then download a template of circles and place underneath your parchment paper. You' ll remove this before baking.

10

Once the full pan is piped, gently (or aggressively–no judgment here) bang the pan down onto the counter to release air bubbles. I usually place a towel on the counter before banging the pan. Use your scribe or toothpick to pop any large bubbles, in order to create smooth shells.

11

METHOD ONE FOR BAKING: Place your parchment paper or silpat mat on the bottom of an upside-down baker's half sheet. Pipe your circles. Let rest about 5 minutes, bang (see above) then place them to bake in a preheated oven.

12

METHOD TWO FOR BAKING: Place your parchment paper or silpat mat on the inside of a baker's half sheet (like normal). Pipe your circles. Let rest until your finger can glide across the top of the mac without stickiness, often up to 30 minutes. Bang (see above), then place them to bake in a preheated oven.

13

Bake for 20 minutes. Once out of the oven, DO NOT — I repeat — do not remove

14

from pan until they are completely cooled. This recipe yields 36-42 completed cookies (about 72-84 shells).

15

FOR THE CHOCOLATE GANACHE SURROUND: *Note, it takes about 2 hours for this to set up so make the ganache first before making your macarons*

16

Place chocolate and butter into a heat-proof bowl and set aside.

17

Warm cream in the microwave or on the stove until almost to a full boil (about 25

18

seconds in the microwave).

19

Pour hot cream over chocolate, completely submerge it and let sit for 2 minutes.

20

With a submersion blender, blend until mixed completely and smooth.

21

Cover chocolate with saran wrap and place in the fridge. Once completely cooled, place it into a piping bag and pipe as usual.

22

FOR THE DING DONG FILLING: Beat the butter, crisco, sugar, vanilla, and evaporated milk in a stand mixer on high for 15 minutes. The mixture will be light and fluffy.
Watch Barb's class on how to make chocolate macaron shells here:
You can also watch Barb's class on macaron fillings here: