One of our hero products in the kitchen is Bar Keepers Friend (BKF). We love having this one cleaner we can grab to handle a bunch of different applications. And it helps take some of the guesswork out deciding how to clean so many of the things in our kitchens. If it is a hard surface made of stainless steel, chrome, porcelain, glass, or ceramic–you can clean it with BKF. Here are just some of the best surfaces you can clean with Bar Keepers Friend: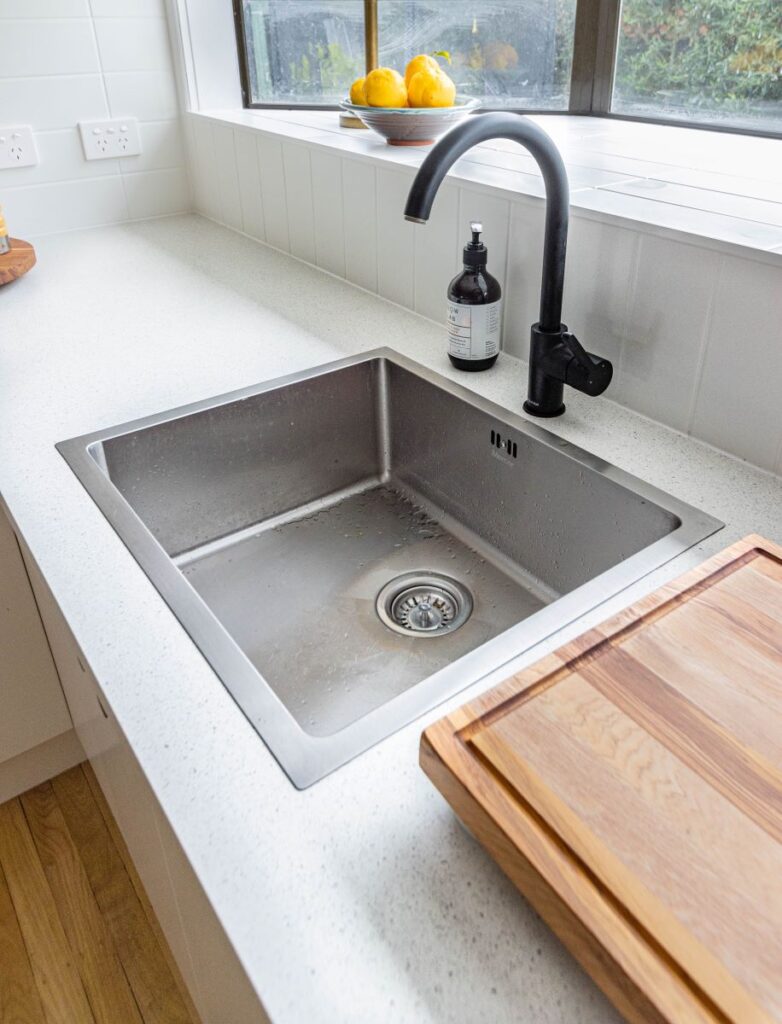 Stainless Steel Appliances
Stainless steel is the perfect material for the kitchen. It is hard and sterile. But man the grime and the fingerprints! But never fear. BKF comes to the rescue. The soft cleanser is a great way to clean and polish your stainless steel. Just be sure to use the soft side of the sponge or a microfiber cloth, because BKF is slightly more abrasive than baking soda and can scratch the surface if you get overzealous. Also, you want to be sure the appliance is not coated stainless steel, otherwise, the acidity of BKF could damage the finish. To be sure, you should always test the cleaner in a small, out-of-sight area before applying it to the entire thing.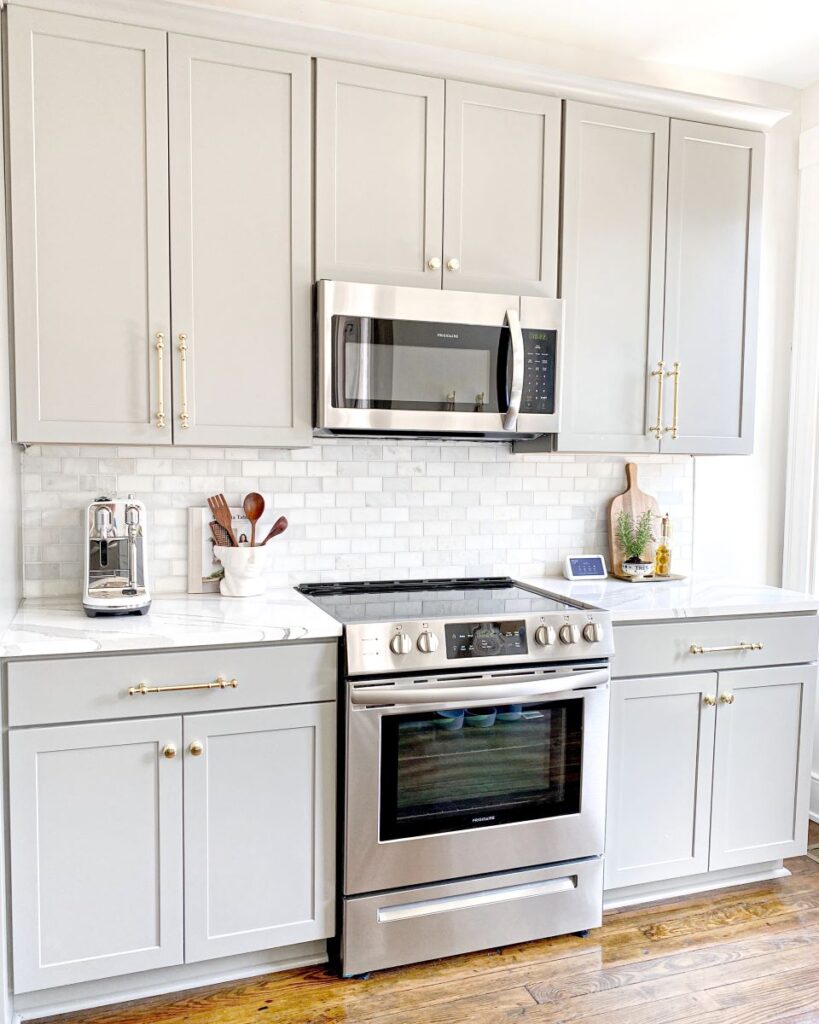 Glass Stove Top
When we were very first introduced to BKF we used it exclusively on glass cooktops. It sounds silly now, but that was all we thought it was good for. And boy did it work. It easily removed all the crusties from the glass without causing any damage. And while glass cooktops may not be as popular now, there are still plenty out there. And if you are the proud owner of a glass cooktop, then BKF will change your life!
Stainless Steel Oven Racks
Oven racks are another often neglected part of the kitchen. All the spills and overbakes can make quite a stink every time you turn on the oven. But figuring out the best way to clean oven racks comes with some challenges. First, you want to verify the type of material for your oven racks. Popular materials include stainless steel, nickel-plated steel, and aluminum. It is important to know the material before you reach for BKF. Then, the best method is to put some towels in the bottom of a bathtub to prevent scratching and wash with BKF.
Enameled Cast Iron
If you have been around here for a while then you know how much we love our Staub pots. But also, they are not the most fun to clean after baking at 500℉ for forty minutes at a time. Any oils on the outside of the pot will burn and brown, making the finish a little dingy. But BKF comes to the rescue, even here. You can use BKF to clean away the burnt-on stains on the outside of your pot as well as on the inside–because it is enameled cast iron.
Porcelain Dishware
Do you have porcelain servingware, plates, bowls, and mugs that are showing their age? Are they covered in those grayish scuff marks from utensils? You can salvage these with BKF. To get rid of the scratches, sprinkle some BKF onto a damp cloth. Rub it in, let it sit for one minute, and then rinse it off. Suddenly your dishware will look like new.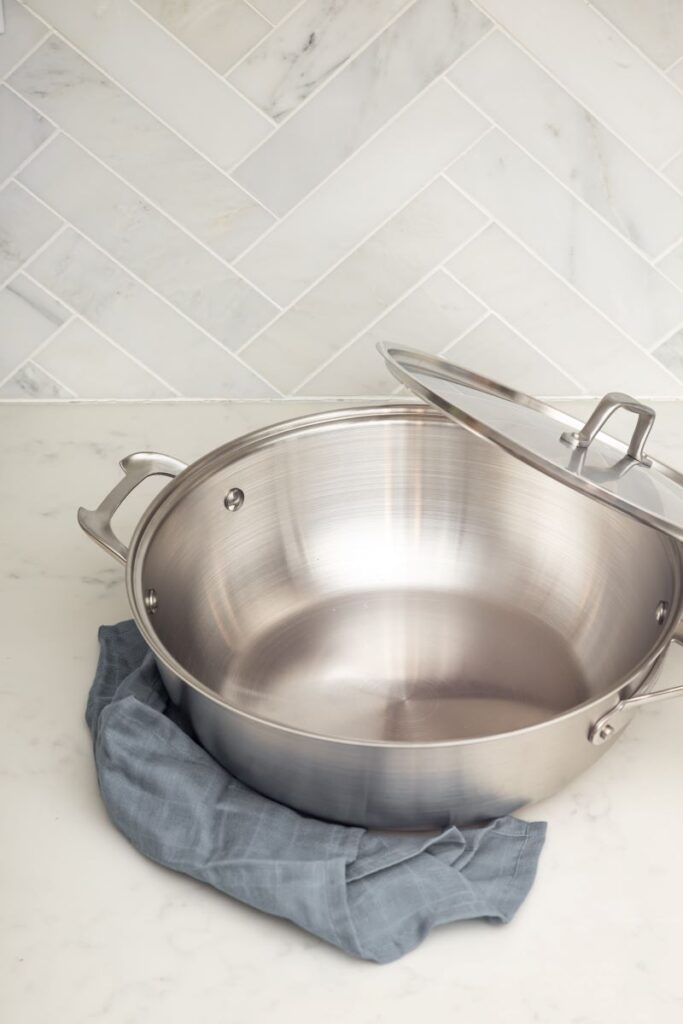 Stainless Steel Pots and Pans
Another perfect application for BKF? The burnt bottoms of your stainless steel pots and pans. If you let the grime build up on the bottom of your pans for too long it can not only impact the performance but can also damage the pan and the cooktop or oven. Luckily BKF and a little elbow grease can make your pans shiny and pretty again.
Chrome Fixtures
Feel like your taps have seen better days? You can use BKF on chrome-plated fixtures to remove those hard water spots, rust, and scum. You won't believe the mirror-like finish you can achieve.
Tile Backsplashes
At your wit's end trying to clean the tile and grout behind your stove? Try this stuff! You can sprinkle a little bit of BKF on a damp cloth and scrub until all the grease and splatter comes clean. Then rinse with a damp washcloth and remove any cleaner left behind.
Baking Sheets
Baking sheets are other things we like to transform with BKF. The baking sheets in our kitchen see a lot of use. Some of them even go in the smoker–and boy do they look bad. But we can use BKF to clean off all that burnt-on residue. Here we like to go with their liquid cleanser. It is a bit gentler and doesn't scratch as much when we know we will be scrubbing and scrubbing.
Rusty Knives
Did you know you can use BKF to get rid of rust on your knives? Again, you will want to test a small area before going gung-ho. But if you have tried everything else, now is the time to make those rusty knives shine without a ton of scrubbing.
Porcelain Sinks
Porcelain sinks are another appliance that will start to show their age with time and use. The surface scratches easily, especially if you wash a lot of pots and pans in your sink. As with the dishware, you can use BKF to remove the scratches and polish up the surface.
Slow Cookers
We rely on our crockpots so much to get us through dinner. And it shows. Luckily, we have BKF standing by to help with any spills and burnt-on grime.
Do you see now why we love Bar Keepers Friend for the kitchen? If there is anything we can do to streamline the process and make cleaning easier–we are all about it. If you have any questions about BKF you can let us know or go check out their website for all the details.