Fall is in the air, which means sweet treats are on the mind. But not just any treat… we are thinking about juicy, gooey, chocolatey caramel apples!
Not only do we have all the supplies that you will need to dip your own delicious apples, but we thought we'd pass along a few helpful tips to get you started:
Tip #1: Choose Your Caramel Wisely
You don't need to waste any more time unwrapping individual cubes of caramels because we have the perfect solution for you: Our 5 lb. loaf of Peters Caramel.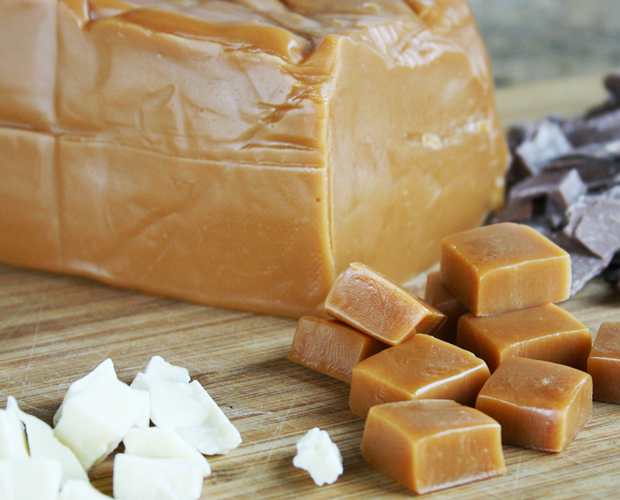 Trust us: Our caramel loaf is worth it. No more wasted time. No more hassle. Just smooth, creamy caramel.
This 5 lb. loaf of caramel will cover approximately 25 medium sized apples. Don't need to use the whole entire loaf? No problem. Place the extra caramel in an air-tight container and it will keep on the shelf for 12 months.
Tip #2: Get Rid of Shellac
Have you ever noticed how shiny apples are at the supermarket? This is because they are coated in a waxy finish called shellac. Caramel and shellac do not get along. In order to get caramel to stick to your apple, the shellac must be removed. So put on your scrubbing gloves and scrub the apples clean.
Tip #3: Say No to Puddles
After you have dipped your apple into the caramel- wait! You know the saying patience is a virtue? Well it definitely helps here. Continue holding your apple upside down for a few seconds until the caramel has a good grip on your apple. If you do this small but wise step, you won't get the "puddle" when you place your apple onto your parchment paper. For another no-puddle guarantee, place your apples in the refrigerator until the caramel sets.
Tip #4: Watch Out for Wax!
Wax paper is not the best non-stick to place your warm caramel apples on. The hot caramel will melt the wax and make the paper stick to your apple! But don't worry- the best paper for it is parchment and we always have some on hand!
Now you are ready to get started! Dip in caramel, and let it set. Dip in chocolate and then your favorite topping. We love cinnamon and sugar. What's your favorite topping?
For a great hands-on experience and more tips on making delicious caramel apples, sign up online for our Gourmet Caramel Apple class.
Here's a list of other items that you will need. For the best selection on chocolate, visits our website.