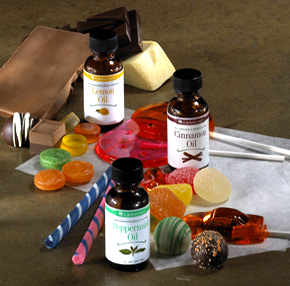 Have you ever thought of adding some summer flavors to your usual baked goods?
Adding hints of delicious citrus is easy using the LorAnn flavoring oils. A little goes a long way, so you don't need to use a lot. They are 3-4 times the strength of regular extracts. Just enough to give your cookies or sweet bread a burst of flavor.
See all of our citrus oil flavorings here.
How to use: When substituting for an extract, use 1/4 tsp – 1/2 tsp of flavoring oil to 1 tsp of extract. For instances where only a hint of flavor is needed, use an eyedropper until desired flavor has been achieved.For more flavor options, click here.
Things you should know about LorAnn Oils:
Here's a few generic recipes that you can customize by choosing an oil to use:
Buttercream Frosting: Brought to you by LorAnn Oils

1 ½ cups butter or margarine, softened
4 cups sifted powdered sugar (about 1 pound)
2 tablespoons cream or milk
1/4 – 1/2 teaspoon LorAnn Flavoring Oil (depending on intensity wanted)
Food coloring if wanted
Beat butter at medium speed with an electric mixer until creamy. Gradually add powdered sugar, beating mixture until light and fluffy. Add milk, LorAnn flavoring, and coloring (as desired), beating until spreading consistency. (Yield: 3 cups)   Keep refrigerated in an airtight container for up to 2 weeks.  Beat again before using.
Sugar Cookies: Brought to you by LorAnn Oils
1 cup confectioners (powdered) sugar
2 sticks unsalted butter, softened
1 egg
1/4 teaspoon LorAnn Flavoring Oil
1 teaspoon sea salt
2 1/4 cups all-purpose flour
In a medium bowl, combine flour and salt; set aside.  In a large bowl, or bowl of a stand mixer with whisk attachment cream butter and confectioners sugar until well blended; about 2 minutes.  Add egg and flavoring oil.  Stir in flour mixture until dough just comes together.  Divide dough in half, roll each half between waxed paper to 1/4 inch thickness; refrigerate or freeze until firm. Remove one disk of dough from refrigerator and cut into desired shapes, adding no additional flour. If dough becomes too sticky to cut, chill until firm again. Place cut-out dough on cookie sheet and chill for 10 minutes.  Bake in a preheated 350ºF. oven for 8 – 10 minutes or until edges just begin to brown.  Repeat with remaining dough.  Cool completely before frosting.
Cake or Cupcakes: Brought to you by LorAnn Oils
Make cake according to package directions and stir LorAnn Flavoring Oil into batter.  Bake as directed.