The food disher has a very specific culinary purpose – serving perfectly portioned amounts of food! Whether it's cookies or ice cream or mashed potatoes, the food disher will help you portion out a perfect amount. Knowing the amount makes your scoop infinitely more useful. Using our food disher sizing chart, you'll be able to make the most of your food dishers.
How is food disher sizing determined?
Food dishers are numbered. The number refers to the number of scoops you could make from a quart of food. So, a #100 scoop makes 100 scoops of food. A #6 scoop makes 6 scoops. Therefore, the larger the number, the smaller the scoop. Perfectly confusing. Haha.
If you have a few scoops at home, you can easily find out what size scoop you have been using. First, look at your scoop to see if it has any numbers labeled on it. Some scoops place the number on the sweeping arm inside the bowl of the scoop. Other brands code their scoops by color. Either of those things will help you know what size scoop you've got.
But, if your scoop is unlabeled, there is another method for figuring out the size. Simply use a ruler to measure the diameter of the scoop. Then, use the food disher sizing chart down below to determine the size. (Note: The size may vary slightly by brand. Find the measurement closest to your scoop).
Why does food disher sizing matter?
Knowing the size of your food disher helps you make the most of your scoop! I use the #60 (1 Tablespoon) scoop to make protein power balls. I also use it to measure semi-liquid ingredients like mayonnaise or peanut butter, because it is easy to remove these messy items from the scoop.
Other great uses include measuring meatballs, mashed potatoes, rice, cupcakes, cookies, muffins, pancake and waffle batter, cake batter, potato salad, refried beans, sour cream, drop biscuits, whoopie pies, fillings for cakes, hash browns, filling for deviled eggs, pudding, corn, and peas. I could keep going, but you get the idea!!! There are endless uses for food dishers once you understand the sizing!

Food Disher Sizing Chart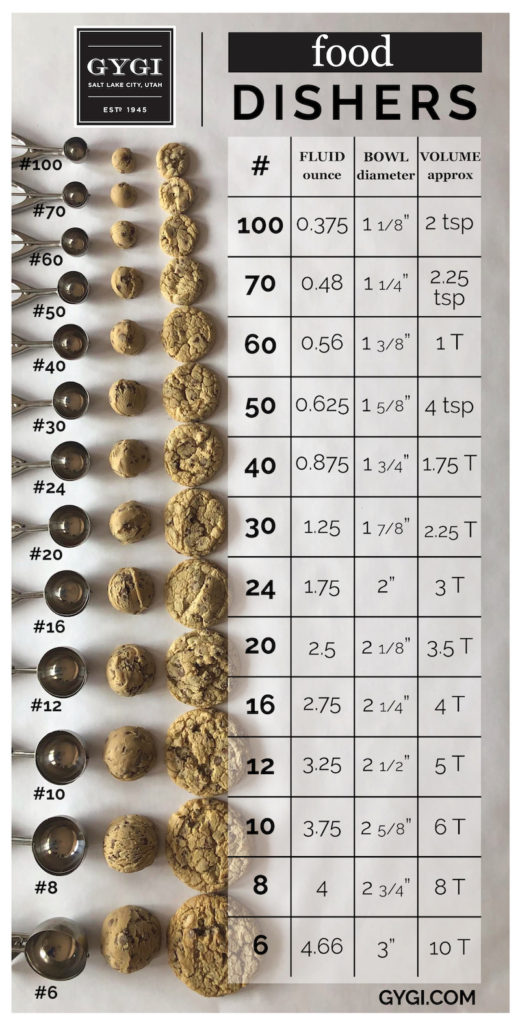 Recommended Food Disher Sizes
If you're looking to add a scoop or two (or three or four) to your kitchen, let me recommend a couple of our favorite sizes. I suggest getting a small, medium, large, and extra large scoop.
The small scoop we recommend is a #60. It holds 1 Tablespoon and makes a cookie that is about 1 3/8″ in diameter. It is perfect for bite-sized cookies, protein power balls, mini meatballs, and melon balls.
The medium scoop we recommend is a #40. The holds almost 2 Tablespoons, making a cookie that is about 2 3/4″ in diameter. This scoop makes a great cookie for sharing. It also makes a good cake pop.
The large scoop we recommend is the #20. This scoop holds 3.5 Tablespoons, which makes my favorite sized cookie (3 1/4″ in diameter). It is also the perfect scoop for cupcakes or muffins, filling a standard muffin pan perfectly.
The extra large scoop we recommend is the #8. This scoop holds almost 1/2 cup of food. and makes an enormously delicious cookie (4 1/2″ in diameter). This scoop is perfect for serving side dishes like mashed potatoes, rice, baked beans, or salad.
We love using these food dishers any chance we can get. We love that they earn their keep in the kitchen with their versatility and durability. We love how quickly we can measure food and prep cookies and cupcakes. We love the uniformity and precision to add to our baking. We just love them.
---
Shop our selection of Food Dishers.