At my house, there is one rule we live by… "Always make a double batch of cookie dough." One batch disappears too quickly. But if you make two batches, you'll have enough to enjoy and enough to share. I adopted this rule from a roommate, and as long as there's enough butter in the fridge, I always make a double batch of these Chewy Chocolate Chip Cookies.
This recipe is a favorite. They are soft and chewy, thanks to a little bit of cornstarch in the mix. There's more brown sugar than granulated sugar, which I prefer. Plus, there is a perfect ratio of chocolate to cookie. I use milk chocolate chips when my kids are involved. But semisweet chocolate when they're just for me!
The dough comes together quickly, ready to bake in 10 minutes or less! If you can display more self control, refrigerating the dough for a bit will prevent the cookies from spreading, resulting in a thicker cookie with a softer middle. Choose whichever option suits your level of patience! Either way, they are delicious.
I love using a cookie scoop to make the process even faster. Use a #40 scoop for small cookies and #20 scoop for a large cookie. Both options are delicious. Mmmmm.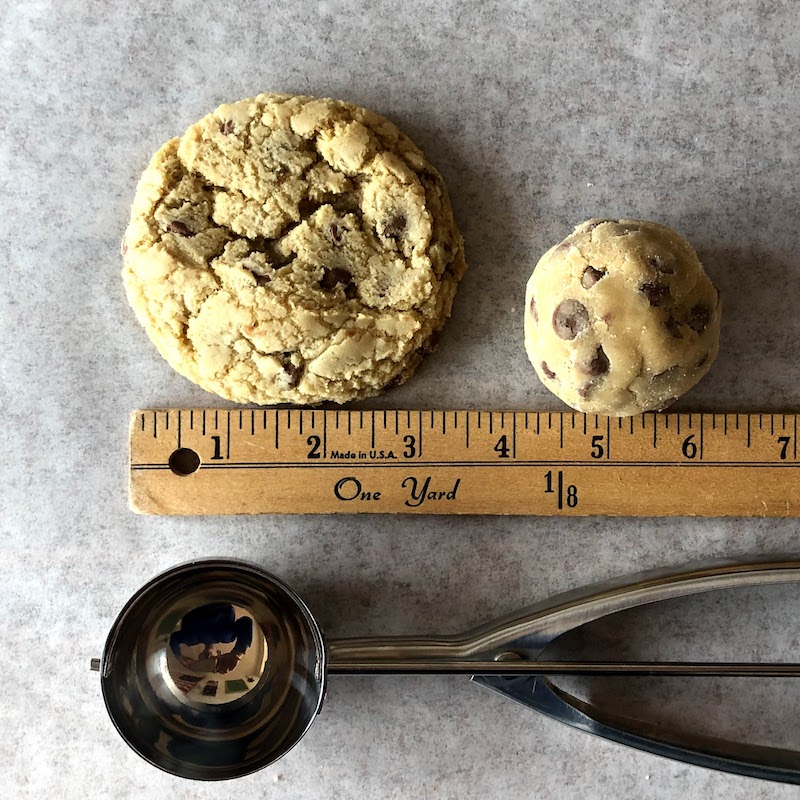 Just take care not to over bake these guys. You will lose allllll the chewy in these chewy chocolate chip cookies if they are baked too long. Keep and eye on the edges and middle! Once you notice the tiniest bit of browning, pull them out!!! Even if the middle seems soft. They will finish cooking out of the oven. And they will be soft. And chewy. And delicious.
Print Recipe
Chewy Chocolate Chip Cookies
Make sure you double the batch! You'll want some for now and for later. Or for a lucky neighbor!
Ingredients
3/4 cup unsalted butter, softened
3/4 cup brown sugar
1/4 cup granulated sugar
1 large egg, room temperature
1 tsp vanilla extract
2 cups flour
1 teaspoon baking soda
2 teaspoons cornstarch
1 teaspoon kosher salt
1 1/2 cups chocolate chips
Instructions
1

Place butter in the bowl of a stand mixer, fitted with a paddle attachment. Cream butter for one minute.

2

Add sugars and cream for 2 additional minutes, scraping the sides halfway through.

3

Add egg and mix until combined.

4

Add vanilla extract and continue mixing until the mixture is light and fluffy.

5

In a separate mixing bowl, combine the dry ingredients.

6

With the mixer on low, slowly add the dry ingredients to the wet ingredients until just combined. Scrape the sides and mix for just a quick second, being careful not to overmix.

7

Stir chocolate chips into dough by hand or very slowly with the mixer.

8

Use a cookie scoop to evenly portion cookie dough. Use a #40 for small cookies and a #20 for med/large cookies.

9

Place the balls of dough on a baking sheet lined with parchment paper or a silicone baking mat. Leave space for the cookies to spread. For flatter, thinner cookies, bake right away. For taller, thicker cookies, cover with plastic wrap and chill for an hour in the fridge.

10

When you're ready to bake, preheat the oven to 350℉.

11

Bake for 8-9 minutes, just until the tiniest bit of browning appears. Remove from oven and let cool for 3-4 minutes. Move to a cooling rack to continue cooling.
Get your Chewy Chocolate Chip Cookie Supplies:
[masterslider id="15″]