There's no room for unitasking tools in my kitchen. I have one drawer for gadgets, so the tools I keep in that drawer must earn their keep. Now, when I tell you I have three cookie scoops, you should know that I've found a whole lot more to scoop than cookies.
I've been using these scoops for years. Mostly for cookies, yes. But also for muffins and cupcakes! Sometimes for protein power balls and meatballs. They earn their keep for two reasons: 1. They make tedious tasks quick and easy. I can scoop a tray of cookies in just over a minute! 2. They make perfect portions. The result is uniform foods that bake evenly. This alone was enough justification for keeping three sizes in my drawer.
But hold on!!! We consulted our Instagram community, looking for more uses. And oh goodness. We have ideas!!!!! So many good ideas. Are you ready for it???
Baking
Portioning food for baking makes for the most precise results. Uniform cookies, muffins, cupcakes, etc. are all made identical when you use a cookie scoop.
But don't stop there! Keep the fun going with frosting applications – portion the perfect amount of frosting for filling between layers of cake, scoop filling for cookie sandwiches, and scoop icing into pastry bags. You'll find yourself reaching for you scoops for every baking task.
Cooking
The scoop is going to be your best friend when you use it for filling all your favorite foods: ravioli, enchiladas, deviled eggs, peppers, potstickers, and more. Plus, portion your meat balls, patties, and potato cakes!
Breakfast
Simplify your morning routine with a scoop! Perfect waffles, crepes, and pancakes for your breakfast or brunch!
Portioning
Use a scoop at your next party or catering even to make sure you have enough food to serve every guest. Plus, get your ice cream scooped even before your guests arrive for quick serving!
Measuring
Say goodbye to mess and nuisance of measuring semi-liquid ingredients! Simply scoop and dump with a handy food disher! No more mess!
Sizing
Your scoops are infinitely more useful when you know the actual size of the scoop! Refer to our handy size chart to find out which size scoop you already have on hand. All you need is a ruler! Read more here.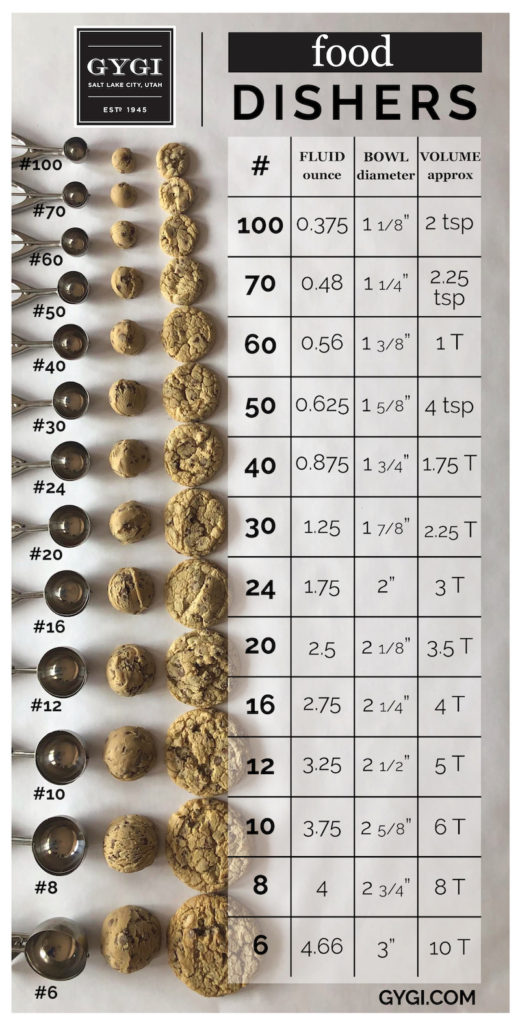 Buy a scoop!
If you're ready to get a scoop, start with with a #60! It holds a Tablespoon. You'll find plenty of uses for just that size. If you want something a little bigger, go for a #20. It is perfect for cupcakes and muffins. It also makes a fantastic cookie! Want something in between? The #40 fits the bill! It hold almost 2 Tablespoons!
---