The cold weather brings with it beautiful changing leaves , but also the-not-so-beautiful common cold. We have the cure that has healed humans for centuries – homemade chicken noodle soup.
When has this not worked? When you're feeling under the weather and someone brings you a heaping portion of steaming homemade chicken noodle soup you're bound to feel warm inside. That's why we thought this was the perfect time to publish the Gygi Family Chicken Noodle Soup recipe.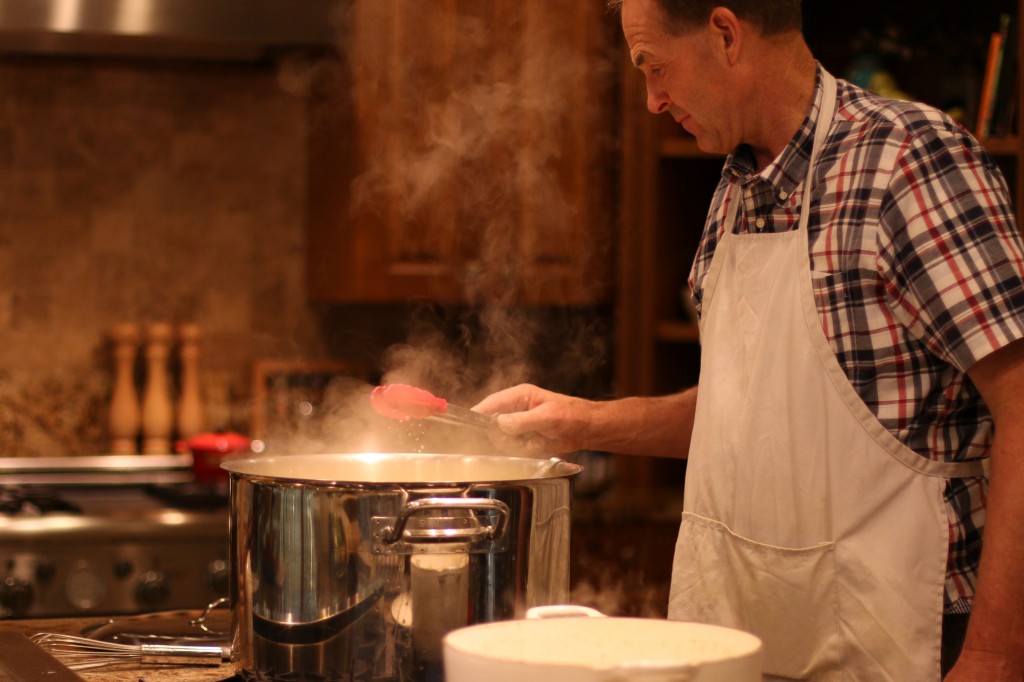 This recipe features homemade egg noodles. This extra step adds a hearty, homemade touch to chicken noodle soup. Making noodles at home is easy and requires just a few ingredients – flour + eggs! Read more about egg noodles here. You'll love this addition to your chicken noodle soup, but you can also use store-bought noodles instead.
This recipe is also written like a formula, without exact amounts. We often make this soup when it's time to clean out the crisper drawer – so add whatever vegetables sound good to you. Want a place to start? Carrot and celery is classic and always delicious. Also, feel free to add as little or as much as you'd like. Just keep in mind the amount of time needed to soften the vegetables. Harder foods like carrots and potatoes should go into the pot first. Celery and onions can be added later to prevent them from becoming mush. Fresh herbs and spinach should be added just before serving. Now, you get to play chef and add the veggies that sound best to you.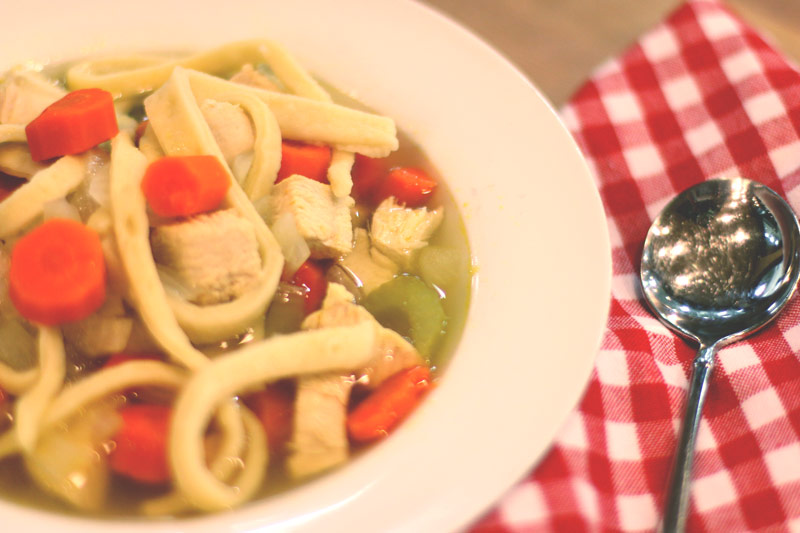 Last bit of advice is to use a good chicken stock or bouillon to boost the flavor of your soup. We depend on the Custom Soup Base to give us a rich depth of flavor. We keep this on hand in our fridge at all times because we use it in soup, stews, gravy, etc. You'll love the rich, savory flavor from this soup base.
Print Recipe
Homemade Chicken Noodle Soup
Ingredients
3-4 cups cooked chicken breast, cubed (we grilled our chicken, but cook anyway you'd like)
Custom Soup Base Chicken Paste
Carrots, onions, celery, and potatoes cut into pieces (no specific amount, just what feels good)
Salt and Pepper
1 1/2 cups flour
3 eggs
dash of salt
Instructions
1

Place water and Custom Soup Base in a large stock pot. Fill water about 1/2 way. Add soup base one tablespoon at a time until desired taste is achieved. Stir completely. Allow water to boil.

2

Cut veggies into bite sized pieces. Add carrots and other veggies that need longer to cook into pot of water. Bring to a simmer.

3

Add in chicken and remaining veggies and continue to simmer. Add salt and pepper to taste.

4

While the soup simmers, make the egg noodles. Place flour in a mound on the counter top. Make a small well in the mound and crack three eggs into the well.

5

Now, use a fork to slowly whisk the flour and eggs together. You will not need to incorporate all the flour, so just mix until a ball of dough forms.

6

When the dough has formed, use your hands to knead the dough.

7

Wrap the dough loosely with plastic wrap and allow to set for about 10 minutes.

8

Meanwhile prepare a second pot of water to cook the noodles. Fill medium pot 1/2 way with water and sprinkle about 3 tablespoons of salt and 3 tablespoons of oil into the water. Bring water to a boil.

9

On a clean surface, roll out dough and cut into slender strips. Noodles will expand when cooked, so keep this in mind.

10

Place strips into the boiling water one at a time and cook for 3-5 minutes.

11

When noodles are cooked, add to pot of soup and allow to simmer for a couple minutes. Add seasoning if needed and serve warm.