Everything Frieda cooks up is delicious! She shared this yummy recipe for Chocolate Tortillas. Does it make your mouth water if I mention that she uses Nutella?
Chocolate Tortillas: Brought to you by Frieda Franchina
Ingredients:
1-3/4 cup + 2 tablespoons all-purpose flour
2 tablespoons Ghirardelli sweet ground chocolate powder
1/2 teaspoon salt
1/4 teaspoon baking powder
3-1/2 tablespoons canola or vegetable oil
1/2 c. very hot water
Optional: Nutella, sliced almonds, shredded sweetened coconut
NOTE: Do not use Hershey's cocoa. Try a dutch-processed cocoa powder + a granulated sugar or melting some semi-sweet chocolate in the hot water. (Learn the difference between a natural-processed and a dutch-processed cocoa powder).
Instructions:
1. Mix flour, chocolate powder, salt, and baking powder.
2. Microwave 1/2 cup water until boiling. Add oil to the water.
3. Mix the above ingredients together. If it is too hot, begin stirring with a spoon, then knead by hand for 2 minutes. No longer!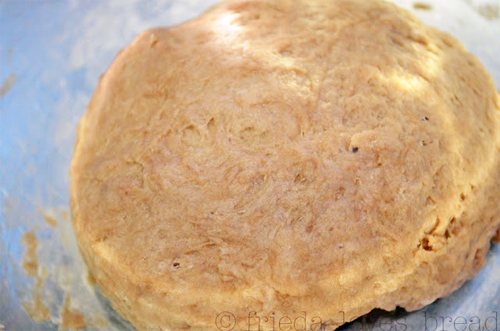 4. Cover with plastic wrap and let sit for 20 minutes.
5. Shape into 1.5 oz. balls or 9 equal portions.
6. Roll thin and cook on a non-stick skillet over medium-high heat. When bubbles appear, flip and cook the other side, about a minute each side. Keep warm in a clean kitchen towel or tortilla keeper.
Enjoy!
You can add anything to these delicious chocolate tortillas. Our favorite is to spread Nutella onto the tortilla. Try the top half of the tortilla covered with coconut and sliced almonds. Fold in half and cut into 3 wedges. Dust with powdered sugar, if desired.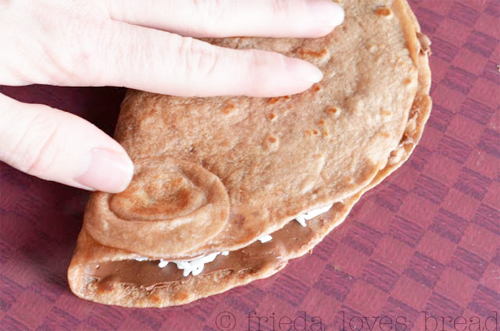 Check out more delicious recipes from Frieda on her blog, Frieda Loves Bread.