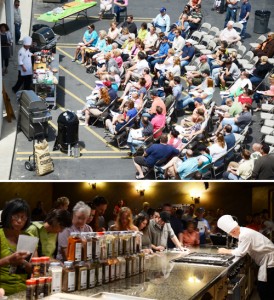 Every June we like to throw a little party. A party celebrating the warmer weather, fresh food, grilling season, and get everyone stocked up to celebrate the special man in their lives for Father's Day. This year we have chosen June 8th for our Grilling Gala and we could not be more excited.
If you haven't been able to join us before, or just curious on how things will go, we decided to give a play-by-play for the days events. We would love to have you all join us all day-but if you cannot please stop in just to say hi. We promise to make it worth your trip.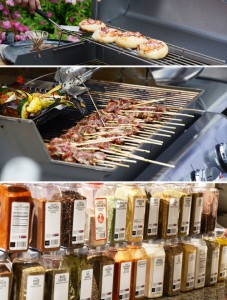 Food Demos- Ever wonder how the Weber Rotisseries work? Want to see the Weber Smokers in action? Curious to know how much you can save, or even make, by buying your own shaved ice machine? Come see demo's for all of these, plus more!
Shaved Ice, Smoked Meats, Italian Sodas, Dessert Pizzas, and more will be offered throughout the day at different times so make sure you come in between the times of 10-3!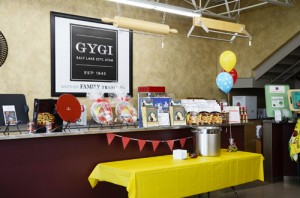 Hourly Giveaways – YES we are giving away the Weber Genesis EP310 Grill (valued at $749), as well as grilling accessories, essential kitchen tools, and much more. You must be present to win each gift, and we do ask that you re-enter for each hourly giveaway. The grand finale grill will be given away at 3:45pm, so make sure you stick around.
Sales Throughout the Store – Perfect for those Father's Day gifts, okay lets be honest, perfect for anyone really! But think grills, knives, sauces, and ice cream makers! Sales you wont see any other day but today!!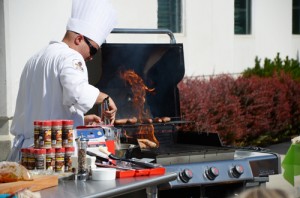 Classes – Our classes will begin right at 10 am and start every hour until the last class at 3 pm. We have brought a couple of our favorite instructors from our culinary classes, a few sales representatives from two of our best selling Grill lines, Weber and Primo, and some of our great culinary assistants who will be on tap ready to teach everything they know about summertime cooking. To help bring new ideas to your summer bbq's come learn from the best or just be entertained with your family.
10 am-Meats, Marinating, and Seasoning with Chef Todd Leonard

(CLASS IS NOW FULL, REGISTRATION CLOSED)

In this class Chef Todd Leonard will teach us how to properly butcher a whole chicken-showing us how to utilize the whole bird and save some money! We will also learn the 3 must haves when marinating- Flavor, Acid and Fat! Last but not least- The Art of seasonings, and preparing our meat for the grill. This is a must-see class! This class will be held Inside in our demonstration kitchen.
11 am- Grilln' and Chilln' Chef Todd Leonard
(CLASS IS NOW FULL, REGISTRATION CLOSED)
Chef Todd is back to share with us his secrets to successful grilling but still being able to chill and relax-letting the grill do all the work!
We will be discussing the Art of Dry Heat Cooking, and why it's necessary to mop and baste. In this class Todd will be teaching and cooking up some grilled veggies, grilled pork loin and delicious brats. Don't miss out!  (Samples will be given after class) This class will be held outside in front of the store.
12PM-Weber Smoking Basics Chef Todd Leonard (click here to register)
Join Chef Todd in his last class of the day as he gives us a How to properly smoke lesson. Teaching us about smokers, how they work, what wood to use and really what you need to have. Chef Todd will be smokin' up so chicken and baby back ribs. If the sights and smells of this class don't make your mouth water-nothing will. Join us. (Samples will be given after class) This class will be held outside in front of the store.
1 PM-Family Friendly Grilling With Heather Smith (click here to register)

Dinner time in the summer can sometimes be such a chore. Coming inside from the fun and games makes us all want to just order in. But getting everyone to help, mixed with yummy food, and of course cooking it on the grill (keeping the kitchen cool)-keeps the fun going. Heather Smith will be showing family friendly ideas, recipes and of course samples for you to try with your family. This class will be held outside in front of the store.
         
2 pm-Smoking with Primo Smokers/Grills (click here to register)
We are privileged to have Primo Smokers/Grills join us. They will be sharing some of their most favorite recipes as well as teaching about their new line of grills and smokers- designed to make your summertime cooking a breeze. This class will be held outside in front of the store.
3 pm-Homemade Ice Cream- the sweet finale with Caroline Drake (click here to register)

What a better way to celebrate a delicious meal off the grill then with a homemade dessert. Fresh, homemade ice cream is our favorite dessert, and Caroline Drake, from armelleblog, will be sharing with you some of her most favorite recipes-keeping that kitchen cool, but still ending in sweetness! See you there. (There will of course be delicious samples afterwards). This class will be held outside in front of the store.
We will also have Mike Markham joining us from Weber, he will be here to answer any type of questions you will have regarding why you need a Weber Grill. Showing features only found in the Weber Grills.
If you are joining us for the classes, please note:
After each class we will ask you to please leave your seat-we want to be fair to everyone so please no seat saving. We will entice you all back into the store with our hourly giveaways-that you MUST BE PRESENT to win.  Which will hopefully allow a good change in seats.
We will hand out recipes prior to each class if you did not get one and would like one from previous classes we will post them on our blog the following week or we would be happy to email them to you afterwards.  (Send an email to gygiclasses@gygi.com if you would like us to do so.)
Please bring a pen/pencil to write with, a jacket (depending on the weather!), and anything that you might need to keep yourself comfortable. We will have the area tented, and comfortable seats but you never know what Mother Nature will send our way.
Samples will be given after most classes, please know that we try to get a small taste to everyone attending-so please be fair. We encourage you to bring a few snacks if you are planning on spending the day with us, as samples are not meant to be meals. Water will be available to all attending.
——————————————————————————————————————————————————
So have we convinced you to come yet? We hope so. We tried to give you all the info you might need, but please feel free to send us an email (gygiclasses@gygi.com) if you have any other questions. Classes are nearing full, if not full already, and we would love to have you join us! Remember even if you don't have time to take a class- stop by, say hi, come see some of the fun we will have that day. It will be a good time.
See you there!