If you are wondering what to make for that perfect thank you gift, try learning how to make fast and easy peppermint bark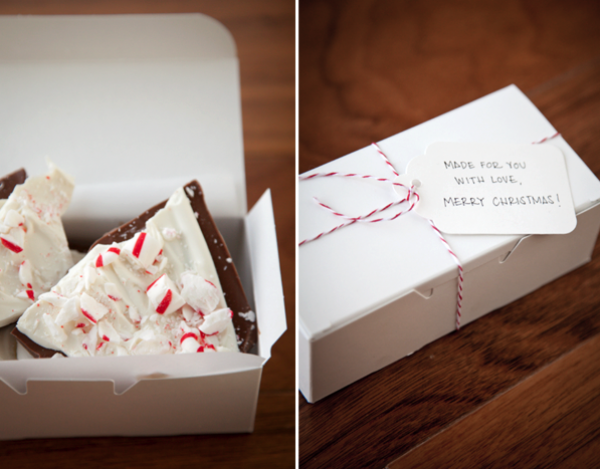 The girls from Boxwood Clippings are back with another fun neighbor gift idea.And this time, it's Peppermint Bark. Check out their tutorial:
All you need is: Milk Chocolate, White Chocolate, Peppermint Flavoring, Peppermint sticks, foil, ziplock bags, and a baking tray.
How to get started:
First, line baking tray completely with foil. Then place peppermint sticks in a ziplock bag and crush by beating with a rolling pin.
Next, melt milk chocolate in microwave, stirring every 30 seconds about 1 1/2 minutes total, then spread chocolate evenly covering whole pan. Place in fridge for 15 – 30 minutes. (Note: Placing chocolate in the fridge will help it to set up faster, but it may cause the chocolate to bloom). 
Meanwhile, melt white chocolate the same way, but note it melts in slightly less time. Then add peppermint flavoring to taste, about 2-3 drops. Spread white chocolate over hardened milk chocolate, and immediately sprinkle crushed peppermint sticks on top.
Once set, cut or break into triangle pieces and package. You can pick any cute box that matches your peppermint bark (lined with parchment paper), and wrap them in cute twine.