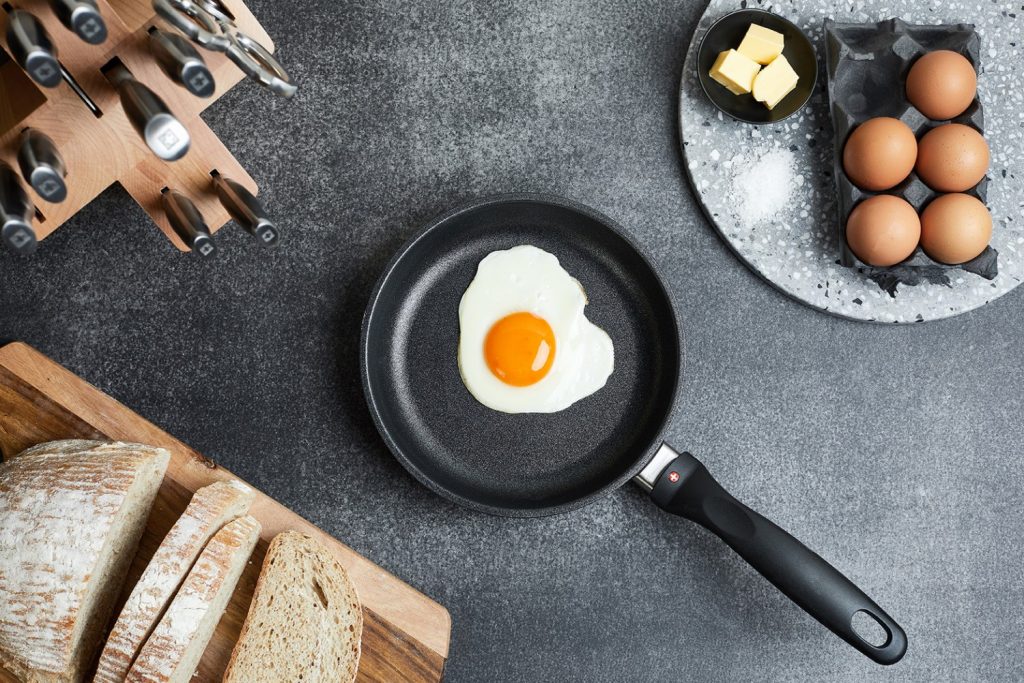 When it comes down to eggs, things should really be kept fairly simple. Soft whites with a golden, runny yolk. Really the perfect egg all depends on the tools you're using. There's a huge difference between a high-quality non-stick pan and a cheap, aluminum frying pan especially when there are eggs cooking on that surface.
Read more about our favorite fry pans and their advantages. We hope you'll even learn a thing or two about how to care for your beloved frying pans.
Let's start with how to pick the perfect fry pan for you. And that of course depends on how you plan to use it….
Non-Stick Pans
If you're planning to cook something that may stick easily,  say eggs or even cheese, then a non-stick pan is the best option for you.
Keep in mind that non-stick surface react to high heats and are best used at a low to medium heat. So if you're looking for a really nice, browned surface on your meat then the non-stick option may not give you that desired end result.
Also remember that it is important to choose your utensil carefully, nonstick surfaces are happiest with plastic, silicone, or wood tools.
These come in a variety of finishes. Our most popular are Swiss Diamond and the Chantal Ceramic.
The best bit of advice is to buy the highest quality you can afford to assure more even cooking and longer lasting performance. The disadvantage to a nonstick surface is that it inevitably will wear out sooner than it's stainless counterpart. So be sure to buy the best you can, and treat it with lots of love.
Stainless Steel Pans
The professionals swear by their stainless steel cookware. It is long-lasting, allows for more cooking flexibility  (higher heat and oven safe). It is typically lighter-weight and gives you beautiful results.
You can use metal utensils, which some people would prefer.
They are typically made with layers of stainless steel with aluminum or copper sandwiched between them to give them great temperature distribution.
To avoid sticking, begin heating your stainless steel pans with a bit of oil in the bottom before placing your food in the pan to help seal the surface.
Cast Iron
If you love being a rustic chef, with a really good sear and a hearty meal in your pan, then a cast iron pan is the one for you.
They require a bit more care as they need regular seasoning, but if treated with love they will give you great results.
They don't respond well to foods with high acidity (lemon juice or wine) so best not to cook a recipe that requires a deglazing process in your cast iron pan.
It's clear to see that there is a type of fry pan for every cook. You want to find the right size for you as well. The smaller sizes are so easy to clean and store, but can't usually accommodate a meal for an entire family. It's definitely worth considering what you'll use your pan for the most, and then buy the biggest you can afford within those dreams. You won't regret having a little extra frying space when it's dinner prep time.
A Few Tips for Keeping your Frying Pans in their tip, top frying shape:
Always use mild detergent, and soft scrubbing tools when washing (never use a metal scrubber)
Keep them out of the dishwasher (I know it's hard to hear that!) but you can control the heat and friction on the surface of your pan better than the wild environment in your dishwasher
Wood, silicone, or plastic utensils are recommended. If you must use a whisk or other metal tool, do so with care and do your best to not scrape the surface. This is our all-time favorite high heat spatula. 
When washing your pan, never plunge a hot pan into cold water. This can cause a warped bottom.
Dry your pan completely before storing it.
Never store food in your fry pans.
To protect and prevent damage to the surface of nonstick cookware, use only low and medium temperatures for all cooking. Never use high heat settings. The maximum oven-safe temperature for use with nonstick pans is 500°F / 260°C.
Here are some of our favorite fry pans:
Blending the superior performance of Le Creuset stainless steel with the latest nonstick technology, the nonstick fry pan is perfect for everyday cooking. The durable nonstick coating provides superior, reliable food release, making cooking and cleanup fast and easy. The ergonomic handle minimizes heat transfer and fits comfortably in hand.
Features
A full aluminum core heats quickly and evenly, and is protected by the rolled, sealed and polished rim
Magnetic external layer is induction-compatible and infused with titanium to resist discoloration
Precision-pour rim allows for clean, convenient pouring directly from the pan
Premium steel blend resists pitting and scorching to maintain its luster over time
And its just down right beautiful! Love that shiny, classic, stainless steel finish
Available in 8″, 10″ and 12″ sizes.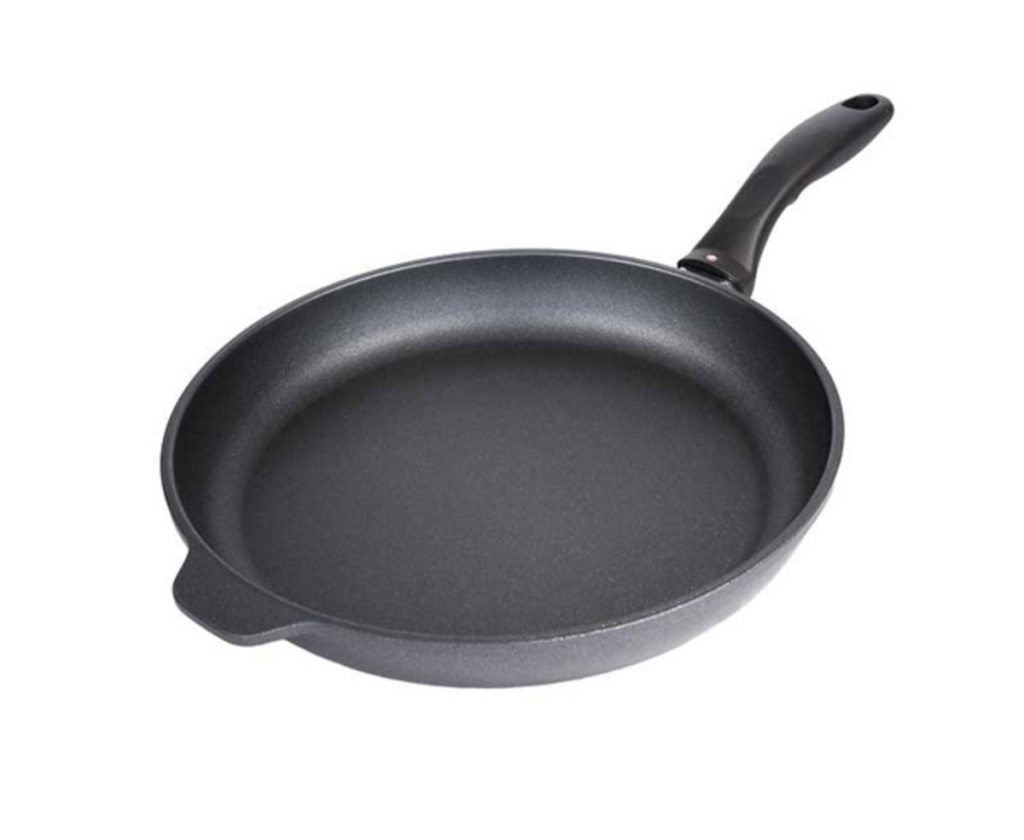 The Swiss Diamond Fry Pan is designed to be the ultimate tool for trouble-free nonstick cooking. With the new nonstick XD formula this pan produces an elite cooking experience. Developed in Switzerland, the revolutionary XD coating enhances this fry pan in three major categories: even heat distribution, nonstick food release properties and overall durability. The extra thick, cast aluminum body features a perfectly flat base that will not tip, spin or warp while cooking – providing the ultimate even heat distribution. The new and improved XD nonstick coating features 20 percent more diamonds than our previous HD coating. With the premium rivet-free cooking surface you and your guests are protected against bacteria. Plus, Swiss Diamond is completely PFOA-free, allowing you to cook as frequently as you would like without the fear of toxic chemicals being emitted into your food. Safe, and designed with a 40 percent increase in durability, this 11" fry pan is a great pan for searing meats and transferring to the oven (up to 500°F), for tender, succulent chicken, beef, pork and more.  Designed with the versatile chef in mind, this fry pan is ready for any meal you're willing to dish out.
Available in 8″, 11″ and 12.5″ sizes.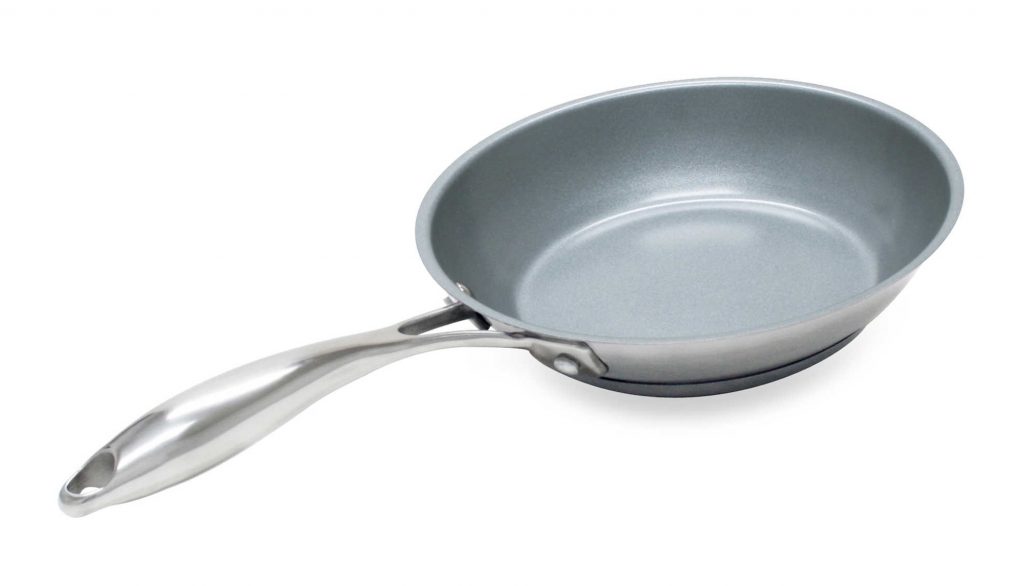 Made from strong Japanese steel, the construction and design of the Induction 21 Steel® cookware line guarantee superior quality. The ceramic coating is PFOA and PTFE Free making it an eco-friendly and healthy nonstick pan. No toxic fumes are released during heating. The Fry Pan's main body has copper melted into the steel, which effortlessly conducts heat quickly and evenly. Titanium is also added for strength and durability to endure everyday cooking. To ensure healthy cooking, the steel is nickel free to prevent allergic reactions to nickel. The dripless pouring rim reduces spillage along the side of the body. This ceramic coated Fry Pan is the perfect choice for frying eggs, searing fish fillets, browning chicken breasts and sautéing vegetables. It features a wide flat bottom, sloped sides and a cool to the touch, long ergonomic handle.
Available in 8″ and 10″ sizes.