Nothing says brunch like individual dishes for your guests. This easy individual monkey bread recipe only requires a great bread recipe, something sweet to drizzle on top, and this adorable mini bundt pan.
What you'll need for the dough
2 1/4 teaspoons active dry yeast
1/4 cup warm water
1 1/4 cups warm 2% milk (microwave works great, start with 30 seconds, then continue with 15 second intervals)
1/3 cup unsalted butter (melted)
1/4 cup granulated sugar
2 eggs
1 teaspoon salt
5 cups all-purpose flour
What you'll need for the sugar rub
1/2 cup butter
1 cup granulated sugar
1 tablespoon ground cinnamon
What you'll need for the coating
1/4 cup unsalted butter
2/3 cup brown sugar
1 teaspoon vanilla extract
Makes 24 individual monkey bread loaves
Dough:
The dough needs to be refrigerated for a minimum of 8 hours, so it's a good idea to make the dough a day before and let it rest in the refrigerator over night.
In a large mixing bowl, dissolve the yeast in warm water. Stir a little and let it sit for 2 minutes. Add the milk, melted butter, sugar, eggs, salt, and 3 cups of the flour. Beat with a mixer for about 3 minutes. Using a dough hook will give you the best results. Slowly add enough of the remaining flour to form a firm dough. You will most likely use all of the 5 cups. Knead the dough on a floured surface until you can poke it with your finger and it bounces back. Do not over knead. Let it rest in the fridge for 8 hours, or overnight.
Coating & Rub:
Melt 1/2 cup of butter in a small bowl. In a separate bowl mix in sugar and cinnamon. Set both bowls aside.
Spray your bundt pan with grease. Roll your dough into 1/2 inch balls. Roll the balls into the bowl of melted butter and then into the cinnamon and sugar mixture and place the balls into the bundt pan.
Preheat your oven to 350 degrees. Melt the remaining 1/4 cup of butter and whisk in the brown sugar and vanilla. Pour the mixture over the dough balls in the pan. Bake for 30-35 minutes, or until golden brown.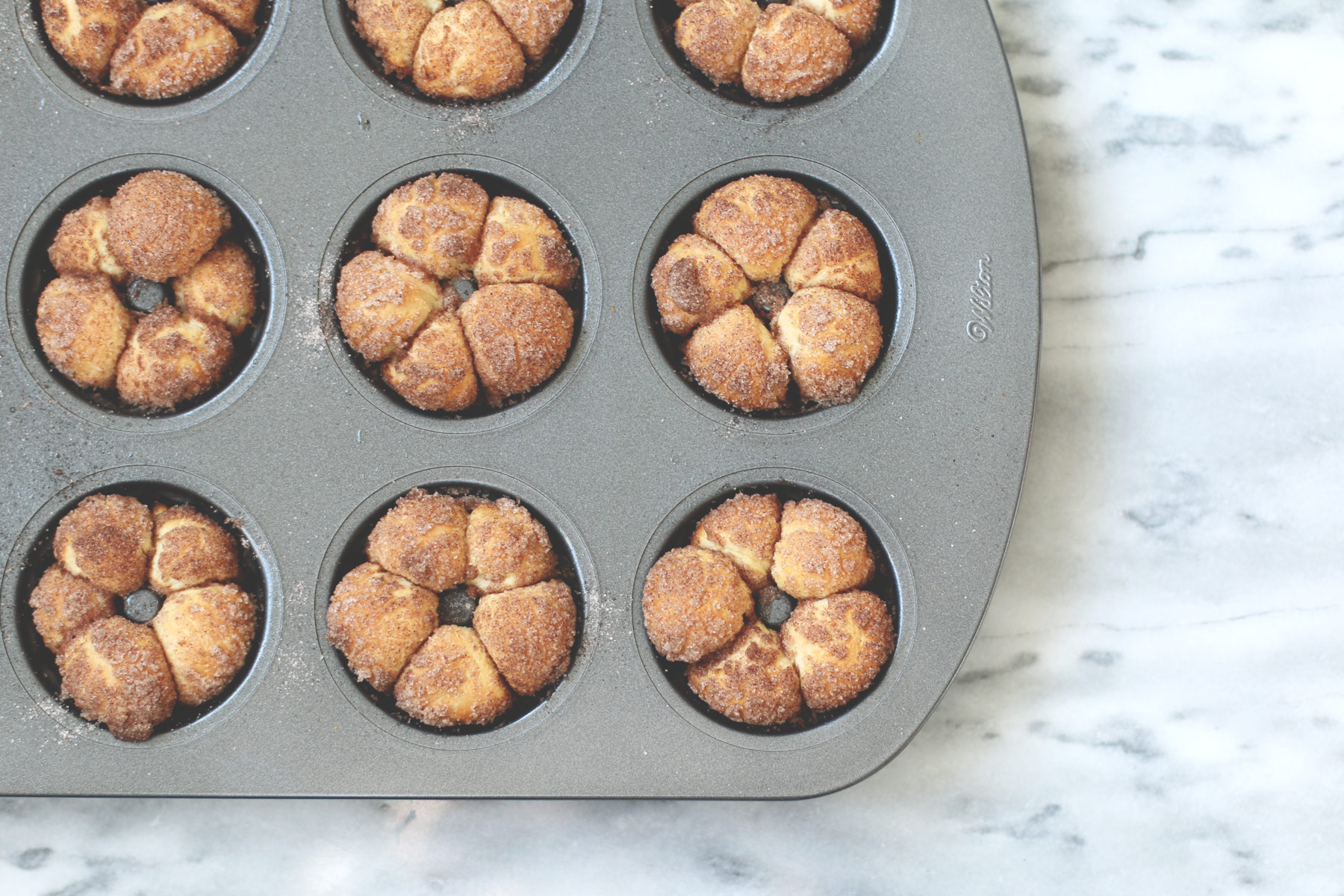 Gygi Pro Tip:
If you feel your monkey bread is browning too quickly loosely cover the top with foil.
When your individual monkey bread is done baking, tip the pan over and allow your individual loaves to cool on a cooling rack. We drizzled our monkey bread with melted caramel that was thinned with about a few tablespoons of sweetened condensed milk. If you don't have sweetened condensed milk, a little water will also thin out your caramel.
Let's see how your individual monkey bread turned out; tag us @Orsongygi.
Enjoy!