Everyone craves a warm, flaky, treat this time of year. There is just something about coming in from the cold, taking off your coat, and snuggling down with a warm drink and some homemade sweets. These caramel pear turnovers have the flavors of the harvest season with light undertones of delicious and gooey caramel.
What you'll need for the filling
2 large pears (diced)
2 teaspoons fresh lemon juice
1 tablespoon granulated sugar
1 tablespoon brown sugar
½ teaspoon cinnamon
pinch of nutmeg
pinch of ground ginger
2 teaspoons cornstarch
1 cup of Peter's Caramel (melted)
2-4 teaspoons evaporated milk
What you'll need for the dough:
3 cups all-purpose flour
2 tablespoons sugar
¼ teaspoon salt
1 cup (2 sticks) unsalted butter (keep cold and cut into cubes)
2 eggs (whisked)
2-3 tablespoons milk
For the dough, mix together the flour, sugar, and salt. Add the butter cubes and work it into the dry ingredient mixture with a pastry cutter until there are small crumbles or lumps. Next, pour the whisked eggs and only 2 tablespoons of the milk into the butter and flour bowl and mix thoroughly. Make your dough into a ball, at this stage, if it doesn't stick together add the other tablespoon of milk (sometimes two tablespoons) until the dough can be formed into a ball. Knead on a floured surface for a few minutes, separate into 4 balls and wrap in plastic wrap. Chill in the refrigerator while you make your filling.
Preheat your oven to 350 degrees.
Toss together the pears and lemon juice in a large bowl. In a separate bowl mix together the rest of the sugars, cinnamon, nutmeg, ginger, and cornstarch. Pour the dry mixture over the pears and stir thoroughly.
Take your dough out of the fridge and roll out each ball of dough. Cut your rolled dough into triangles (we were able to cut each of our dough balls into four small triangles).
Take your filling and spoon a scoop onto each dough triangle. After you have evenly distributed the filling onto your dough it's time to add your melted caramel.
Before you pour the caramel over your filling pour 2-4 tablespoons of evaporated milk into your bowl of melted caramel and mix thoroughly. This allows your caramel to stay soft, much like a caramel sauce. Spoon about 1-2 tablespoons of caramel on top of the pear filling. Fold over half of your dough and use the edge of a fork to crimp close.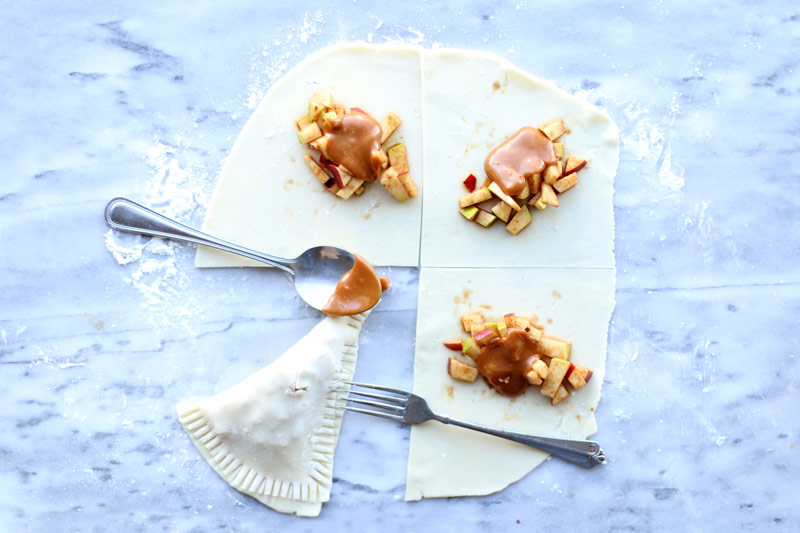 Place in oven for 25-30 minutes, or until golden brown.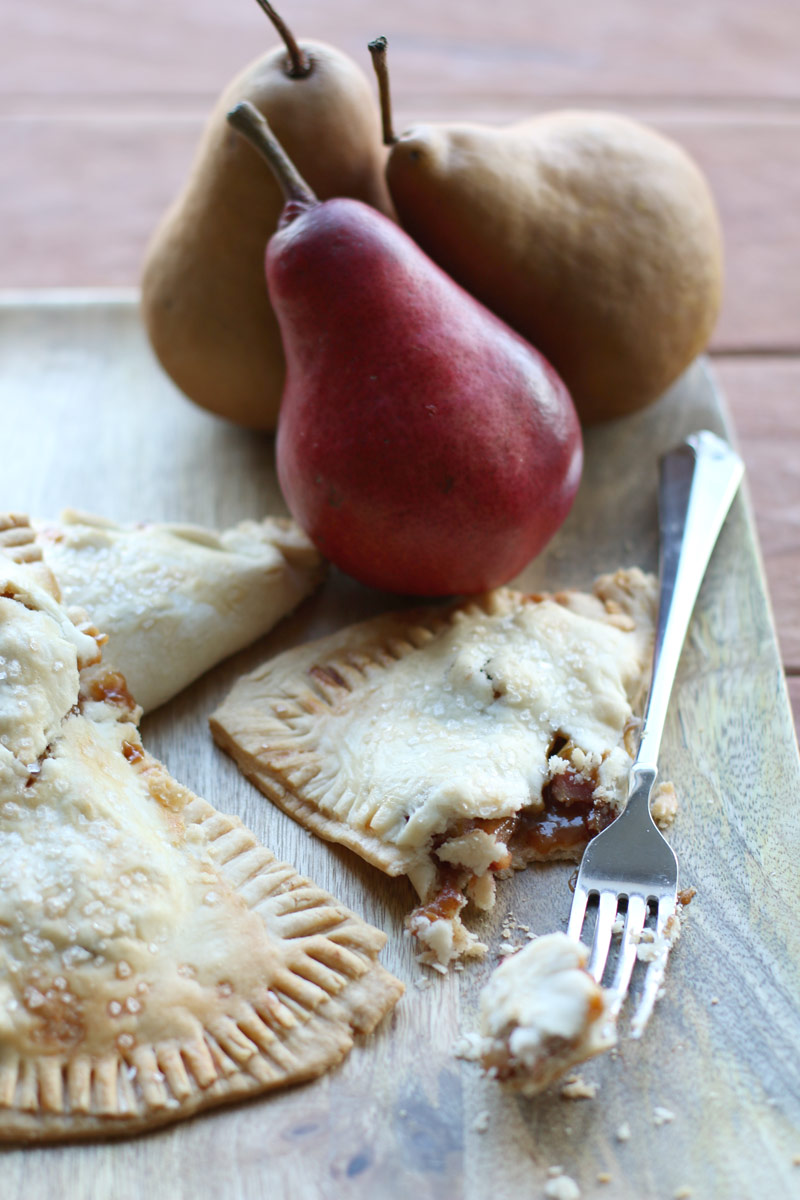 Makes about 6-12 turnovers, depending on how large you made each turnover.
Enjoy!