This tartine recipe topped with pickled egg, dill, and black pepper is truly a treat for the eye and for the taste buds. The eggs are pickled with beet juice, which makes a beautiful color and adds a hint of sweetness to your appetizer.
What you'll need
6 eggs (hard boiled)
1 15 oz. can of pickled beets (we'll use only the juice)
1  baguette
1 bunch of dill
Black pepper
3 tablespoons of aioli
Makes about 24 tartines
Hard boil the eggs and let them cool completely before slicing. While the eggs are cooling strain all the juice from 1 15 oz can of pickled beets into a small bowl. Once eggs are cooled, peel the shells off and place them into a mason jar. Use a small strainer, placed on top of the mason jar, to catch any beets that may have come out with the juice. Pour the beet juice into the mason jar until the juice covers the top of all the eggs. Place in the refrigerator for 4 hours.
Once the eggs have soaked in the beet juice for 4-hours, remove them from the mason jar and slice them into thin, even slices. We used this gadget that makes slicing hard boiled eggs incredibly easy, even, and perfect.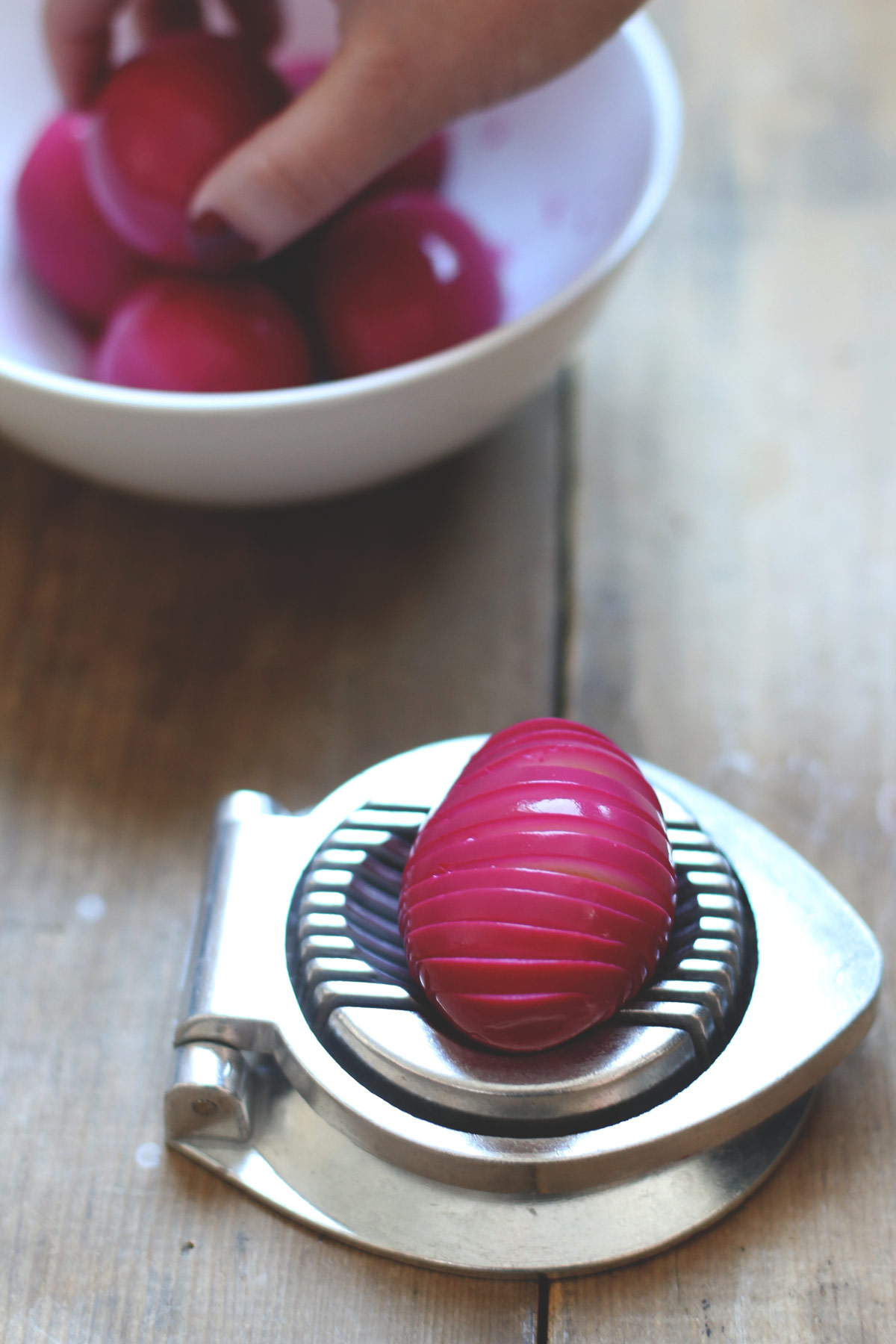 Using this recipe, make some aioli and set aside. Slice the baguette into 1/4 inch slices. Make sure you slice the baguette at an angle to create angled ovals for your tartines. Spread the aioli across the top of each baguette slice, add two slices of pickled egg to each baguette slice, and sprinkle bits of dill across the top. Once the baguettes are plated, grind fresh black pepper across the tops of each slice.
Enjoy!