There's almost nothing that says Easter like marshmallow treats! This homemade marshmallow chicks recipe is easy, delicious, and gives your marshmallow treats that irresistible homemade taste.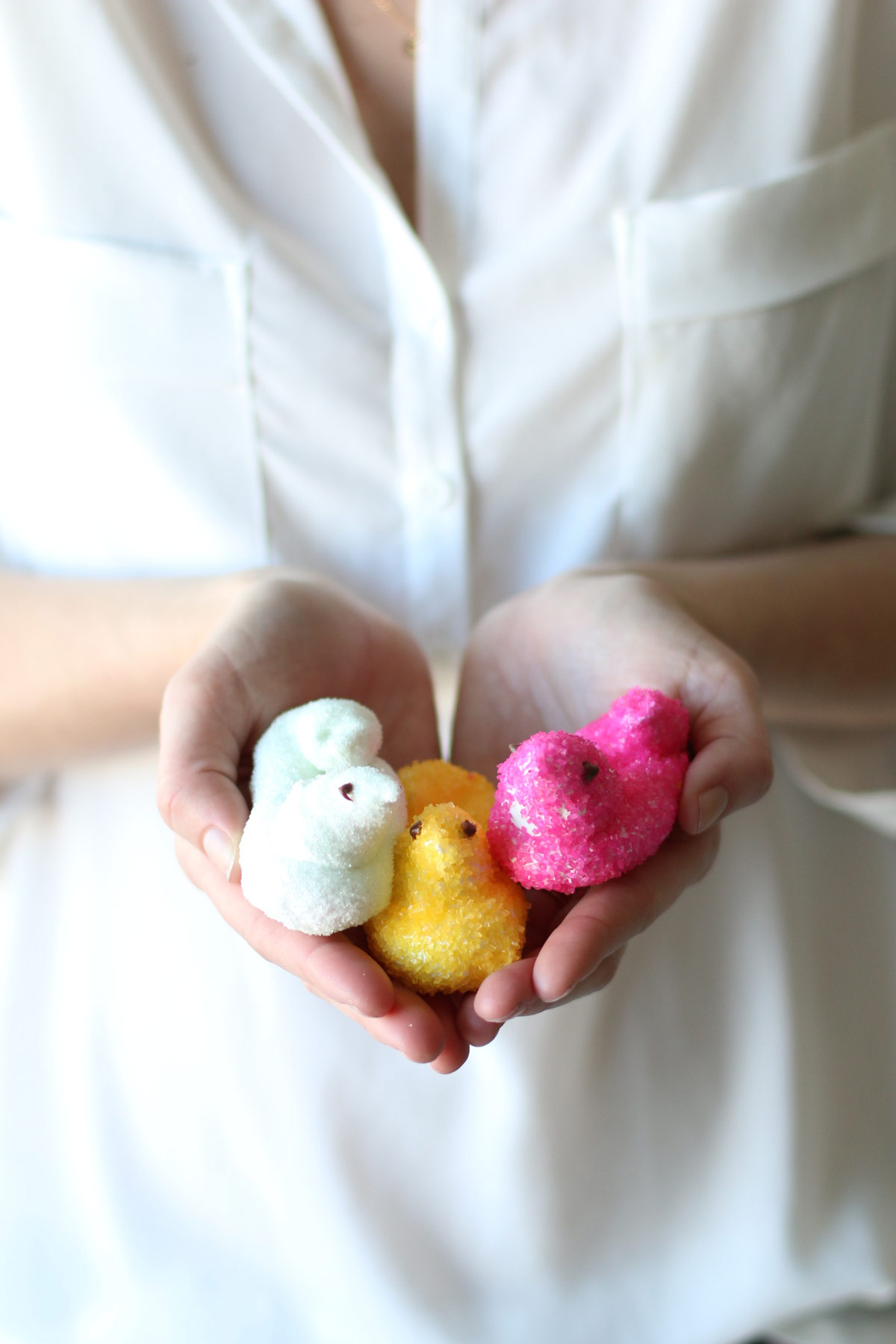 Print Recipe
Homemade Marshmallow Chicks Recipe
Ingredients
2 1/4 teaspoons gelatin
1/3 + 1/4 cup cold water
1 cup sugar
1 teaspoon vanilla extract
1 cup colored sugar (Sanding Sugar or Coarse Sugar)
Melted Chocolate and Piping bag
Instructions
1

In the bowl of a stand mixer, combine 1/3 cup of cold water and gelatin. Let the water and gelatin stand while you make the sugar mixture for the marshmallow.

2

In a medium saucepan, combine the sugar and the additional 1/4 cup of water. Stir together. Using a candy thermometer, heat the sugar and water until it reaches the soft ball stage, which is about 238 degrees fahrenheit. Do not stir while the sugar and water are reaching 238 degrees. If crystals begin to form on the pan walls, use a pastry brush with a little water on it to dissolve the crystals back down.

3

When the sugar reaches 238 degrees remove from heat and slowly pour into a mixing bowl with the gelatin mixture, whisking constantly. Add the flavoring and stir together until the gelatin begins to lump.

4

When cooled slightly, begin to mix with an electric mixer using a whisk attachment and mix at a medium-high speed until the mixture becomes white and somewhat stiff. This process will take about 12-13 minutes. You want the bowl to only feel slightly warm by the end. Immediately transfer to a large piping bag fitted with an A2 decorating tip.

5

Let marshmallow mixture chill for 3-5 minutes in the fridge. The mixture should be firm enough to hold up to the piping but not too firm that you can't get defined shapes!

6

Pour the sugar you will be using to coat the chicks into a shallow dish. Pipe the marshmallow chicks directly on top of the sugar. If the shape isn't holding let the marshmallow mixture cool for a little longer. Use a spoon to cover the entire marshmallow chick with sugar.

7

Melt a small amount of compound chocolate (milk or dark). Transfer to a piping bag.

8

Pipe two eyes on each chick. Allow to set and serve!
Gygi Pro Tip
Sugar crystals are much more forgiving and cover up mistakes much better than sanding sugar.
How to shape your homemade marshmallow chick
Pipe out a small oval shape of marshmallow onto the sugar crystals. Try to get both sides of the oval very close together. When you reach the end of the oval, pull the piping bag upwards to create the tail. Move the piping bag to the other end and squeeze out the head of the marshmallow chick by pushing down with the bag, then moving upwards as you slowly stop pushing out the marshmallow. This will help create the beak.
It may take a couple tries to get the chick how you would like it to look. If you wish to shape your chick a little more, wet your finger tips with a little water and you'll be able to shape the marshmallow a little before it cools completely. Using a spoon, or your hand, cover the entire chick in sugar. For a little extra help, watch this special old instructional video on how to pipe your homemade marshmallow chick.
Use a little bit of chocolate to create two little eyes on each homemade marshmallow chick, and enjoy!
Show us your peeps, tag us @Orsongygi.