Halloween is that one time of year when children can delight in the fact that they'll be receiving a plethora of candy, for free, from adults. So, we were wondering, what's in it for the adults? Shouldn't they come home from trick-or-treating and have a delicious treat of their own waiting for them? That's why we decided to make a rich, chocolaty cake, laced with the accents of red wine. It's a special treat, just for you, to enjoy after taking the kids trick-or-treating.
What you'll need for Chocolate Red Wine Cake
12 tablespoons unsalted butter (room temperature)
1 1/2 cups brown sugar (packed)
1/2 cup granulated sugar
2 large egg (room temperature)
2 large egg yolk (room temperature)
1 1/2 cups red wine (any kind you would like, we used Merlot)
2 teaspoon vanilla extract
2 cup & 1 tablespoon all-purpose flour
1 cup cocoa powder (we chose to use Dutch cocoa powder)
1/4 baking soda
1 teaspoon baking powder
1/2 teaspoon salt
1/2 teaspoon ground cinnamon
Directions
Preheat your oven to 325.
With an electric mixer, cream your butter until smooth. Next, add the granulated and brown sugars and beat until fluffy on medium speed. Add the eggs and yolks and beat well. Next, add the red wine and vanilla to your mixture. Mix well and scrape down the sides of your bowl. Sift the flour, cocoa powder, baking soda, baking powder, cinnamon, and salt together, over your bowl of wet ingredients. Mix with the electric mixer until your your batter is about 3/4 mixed together, then fold together the rest of the batter with a rubber spatula.
Pour your batter into a sprayed, or buttered and floured bundt pan.
Bake for 35-45 minutes.
Allow your cake to cool before drizzling the red chocolate over the top.
For the chocolate, we used a rounded cup of red chocolate, melted, with just shy of a 1/4 cup of cream. The cream makes the chocolate smooth, almost ganache-like.
Top with black sprinkles for Halloween sparkle.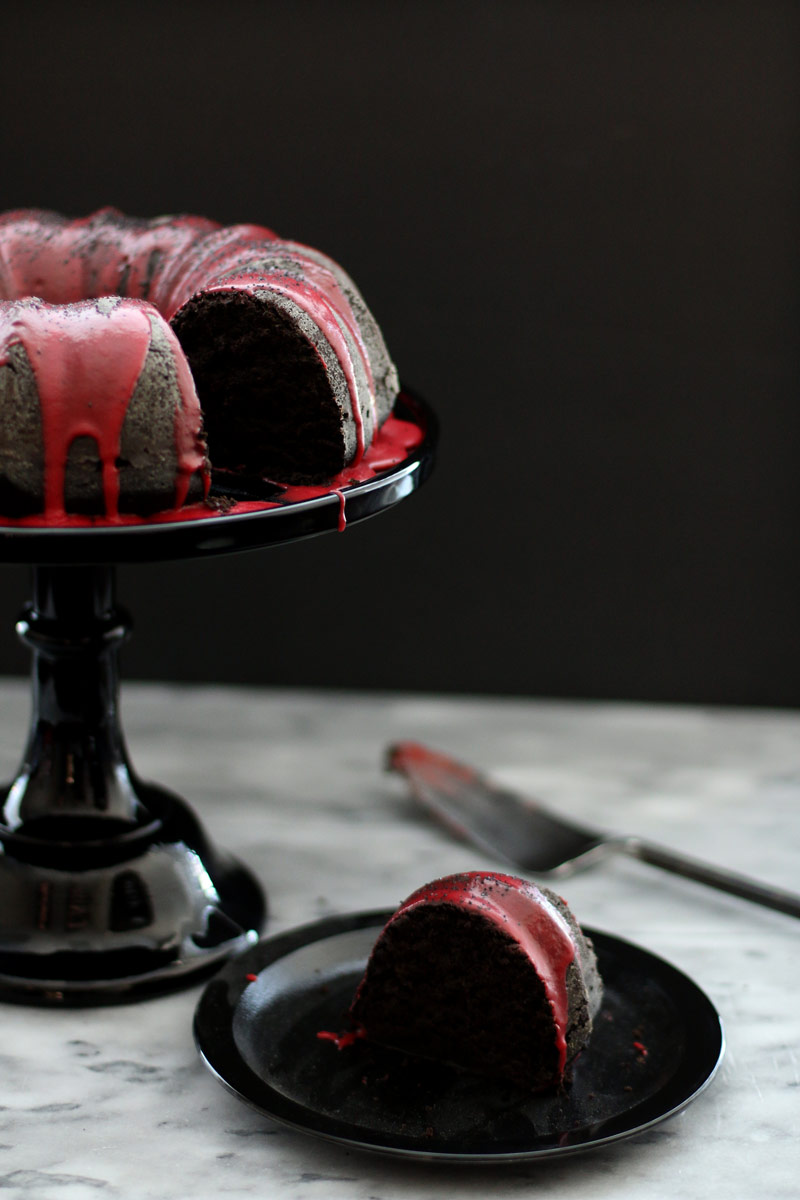 *Remember, baking doesn't always remove all the alcohol from the cake.
Enjoy!