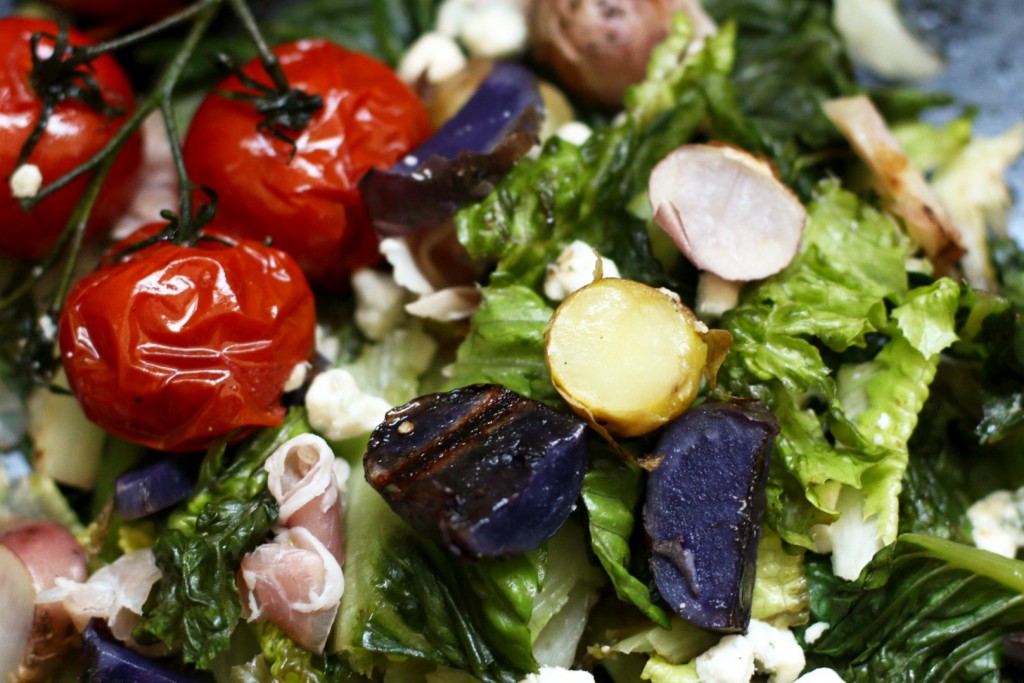 Swimsuit season is here, but that doesn't mean you can't eat delicious food all day, every day. Try mixing up your salad, by putting it on the grill to make a grilled romaine salad. Grill your greens and all your delicious veggies all summer long!
You grill your veggies, so why not add your lettuce to the list? Make sure it's a sturdy and heartier type of lettuce – like romaine, radicchio, treviso, endive, escarole, etc. That way you can soften the texture without it turning into mush. Just make sure the heat is up high, so it can cook quickly. Just remember to serve quickly before your leaves get too limp.
Grilled romaine caesar salad is delicious. Beside maybe a little help with making a dressing, it's always been my philosophy that you don't need a detailed recipe to make salad. Just a couple ideas of what flavors go together. I can't wait to throw in some grilled corn, grilled peaches, and so may other grilled things in my salads this summer.
The original recipe calls for bacon. I used bacon-flavored olive oil from Our Best Bites and tossed in some pancetta to save on time. I made an extra large patch of potatoes so it could have it with other meals. I am all about making life a little easier!
Ingredients
6 pieces of pancetta
2 tbsp. olive oil
Cooking oil to coat
2 tbsp. balsamic vinegar
2 tbsp. Worcestershire sauce
5 small heads romaine lettuce, halved lengthwise, rinsed and dried
1 lb of fingerling potatoes
1 lb of tomatoes (grape or tomato, etc)
Kosher salt and freshly ground black pepper, to taste
4 oz. blue cheese, crumbled
Directions
Add oil, vinegar, and Worcestershire; whisk until smooth, and set dressing aside.
Coat fingerling potatoes with oil and skewer with metal skewers. Coat tomatoes with oil and set aside.
Build a medium fire in a charcoal grill, or heat a gas grill to medium. (Alternatively, heat a cast-iron grill pan over medium-high heat.) Add potatoes and tomatoes onto the grill (may need a grill basket for tomatoes). Cook until done and remove from heat. Turn up the heat to medium high. Coat the romaine in oil. Working in batches, if necessary, place romaine halves cut-side down on grill, and cook, turning once, until charred and slightly wilted, about 4 minutes.
Transfer lettuce cut-side up to a serving platter or cut into smaller pieces.
Season with salt and pepper; drizzle with dressing, and sprinkle with cut pieces of pancetta and blue cheese.
Notes