Cleaning your stove can be a frustrating process. Burnt on fat, food, and sugar are stubborn to remove. The internet is full of recommendations to use baking soda + vinegar to encourage those stains to move! We wanted to test this method against our favorite cleanser, Bar Keepers Friend (BKF), to see how they compare. Join us, as we find the best process for cleaning your stove.
Method
Start by clearing away any loose crumbs or food.
Moisten the surface with a wet rag.
Sprinkle powder (either baking soda or BKF) on the surface.
Moisten with vinegar or water, respectively.
Leave to soak for up to 5 minutes.
Scrub! Scrub! Scrub.
Repeat application of cleanser as necessary.
Wipe clean with warm, soapy water.
Baking Soda + Vinegar Results
This method is okay for cleaning a stove. It is definitely better than soap and water, but not quite as successful as BKF.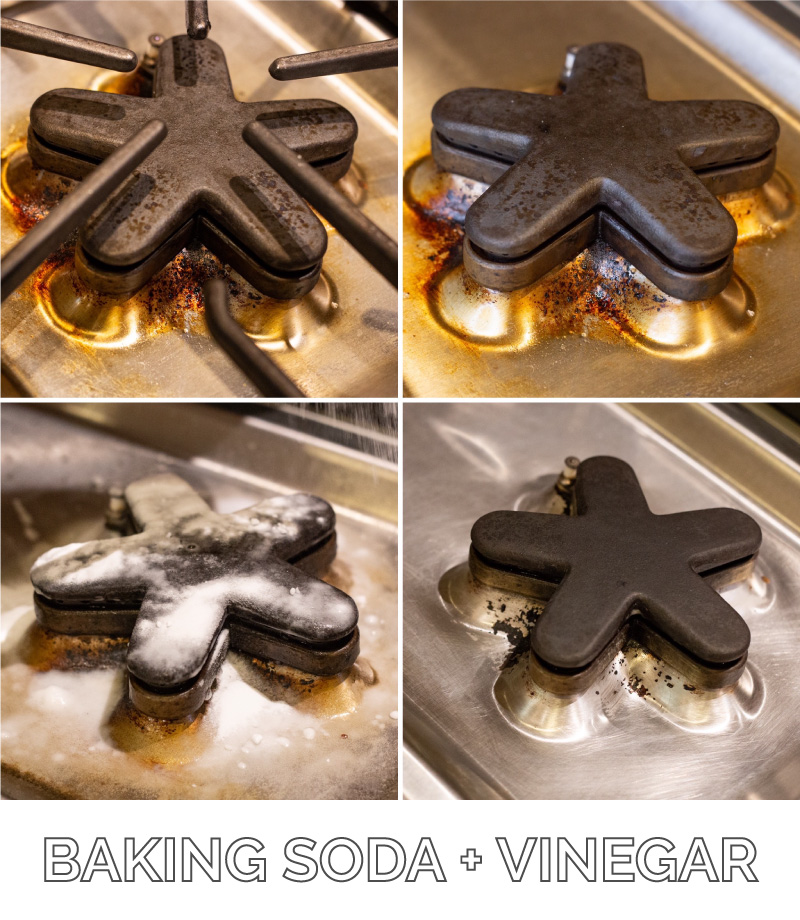 The baking soda + vinegar worked great on the outer ring of cooked-on grease. This was light brown and not as stubborn as the area closest to the burner. Those areas required much more scrubbing and several applications of cleanser.
This method also required the use of green scouring pads, which left behind more scratches on the stainless steel surface. Even still, there were sections near the burner that we were unable to clean completely.
We cleaned both burners for the same amount of time. So, it's possible we could have continued cleaning and scrubbing and it eventually would have become clean. But, after 20 minutes of scrubbing, we decided to call it quits, when the other burner (cleaned with BKF) was cleaned completely.
This method is okay. It required more applications of cleanser, required a more abrasive scrubber leaving behind scratches, and it did not fully clean the burner. We think baking soda + vinegar is better for maintaining spills on the stove. But if you're needing to deep clean the surface, we have a better option for you!
Bar Keepers Friend Cleaning Your Stove Results
This was our preferred method for cleaning the stove.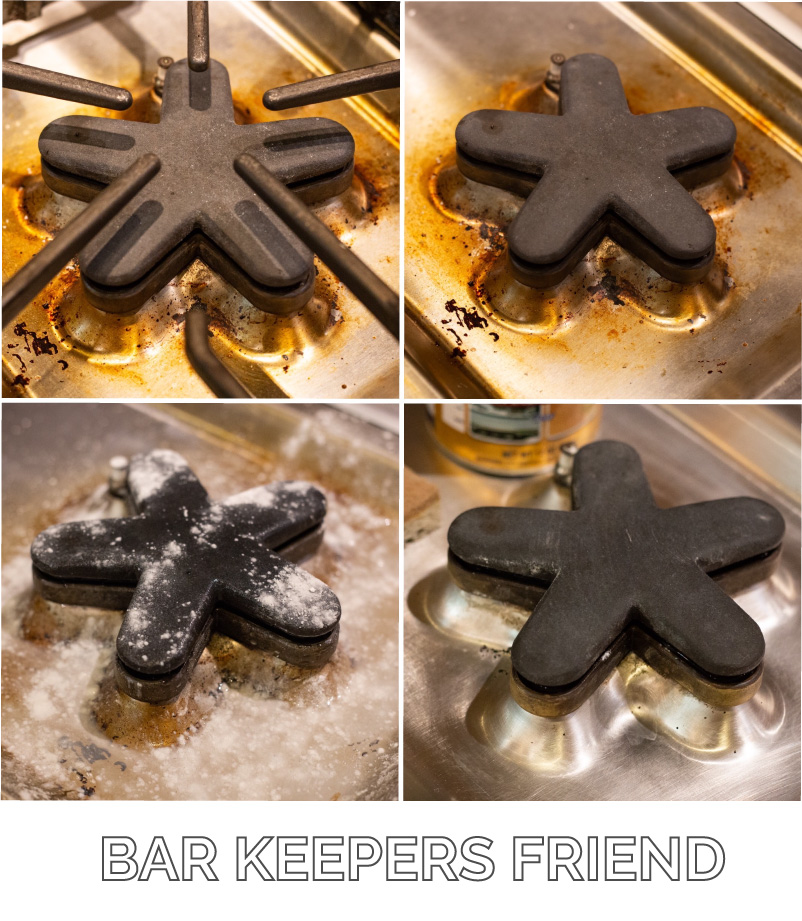 Bar Keepers Friend cut through the outer ring of grease with ease. We were even able to use the cleanser with a rag to clean that section, opposed to the baking soda, which required an abrasive scouring pad.
When we got to the inner corners around the burner, it was much more successful. With only two applications of cleanser, most of the burnt on spills were removed. We were also able to use a gentle scrubber made of walnut instead of the rough, green scouring pad, which resulted in less scratching.
After 20 minutes of scrubbing, we were satisfied with the results and wiped the surface clean. The baking soda + vinegar burner was still stained at this point, but we decided to stop cleaning them both at the same time.
Overall, the Bar Keepers Friend worked much better. We were impressed by how easy it was to use, how effectively it cleaned, and how nicely it cleaned up.
Recommendation
Bar Keepers Friend is essential for cleaning your stove. Any burnt food will remove with this cleanser. We have found great success using this product on our gas ranges in the Gygi Kitchen. But it also works great on our glass & ceramic ranges at home.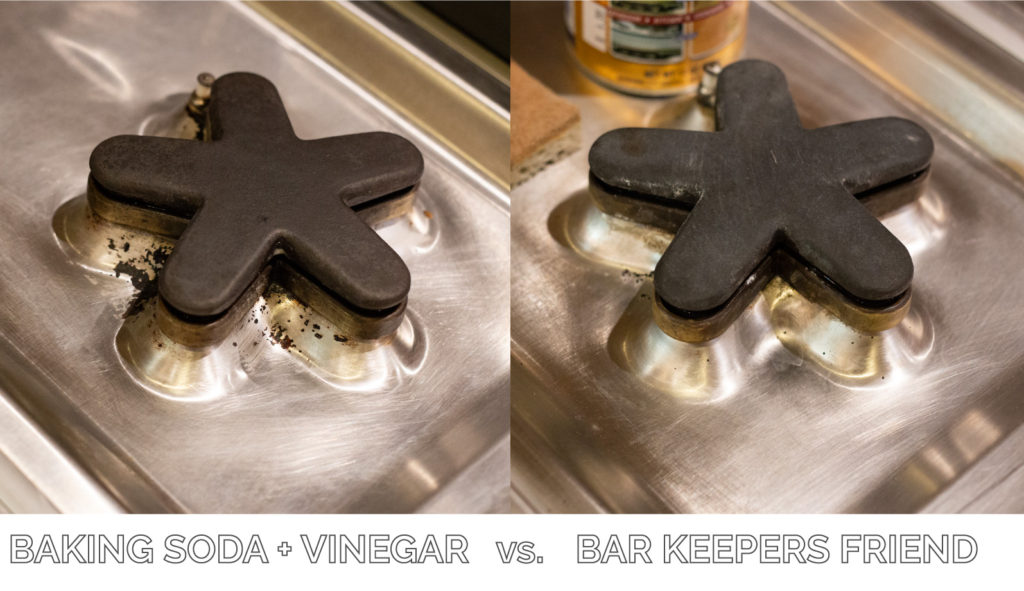 Additionally, we use this product to clean our stainless and porcelain sinks, remove the grunge from our dishwashers, and shine up our cookware.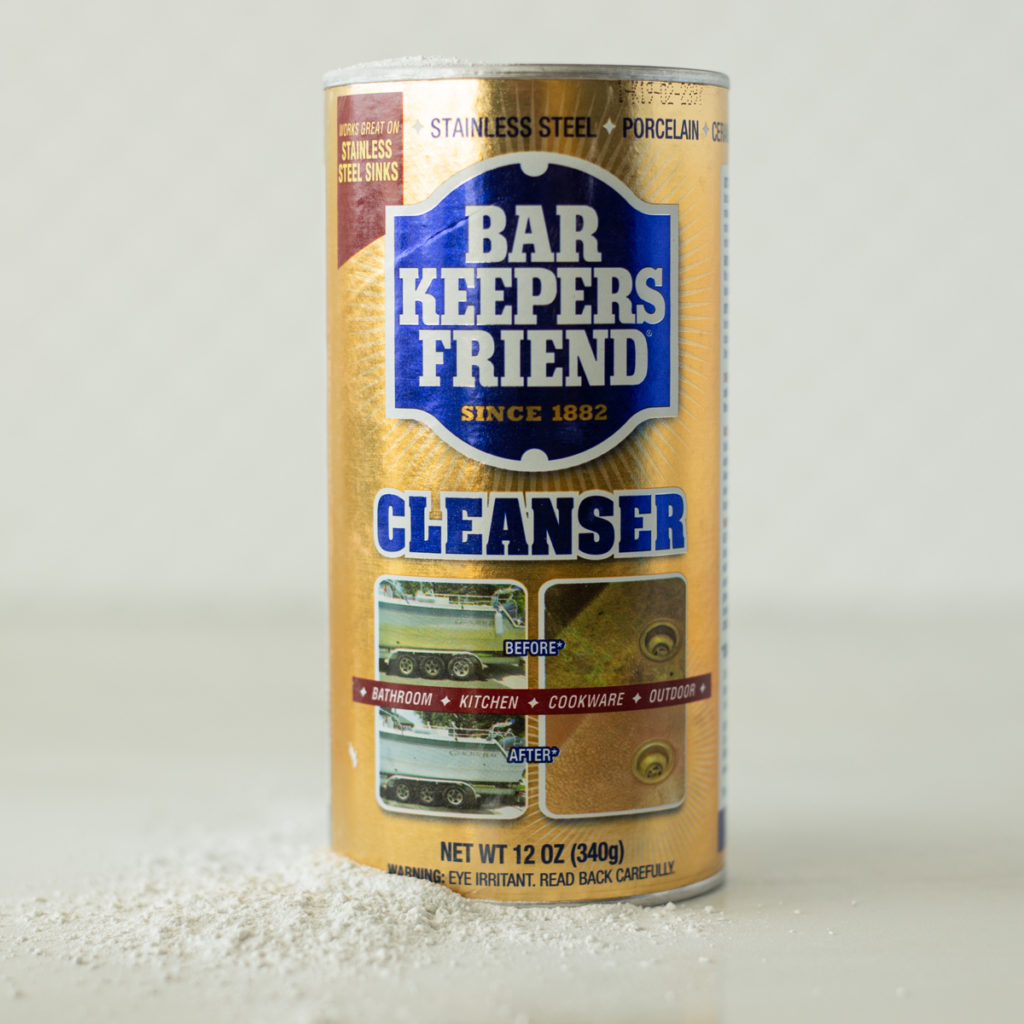 Describing this cleanser as magical feels quite appropriate! It works in so many applications, which is why we wholeheartedly recommend this for your home, too.
Shop our Cleaning Essentials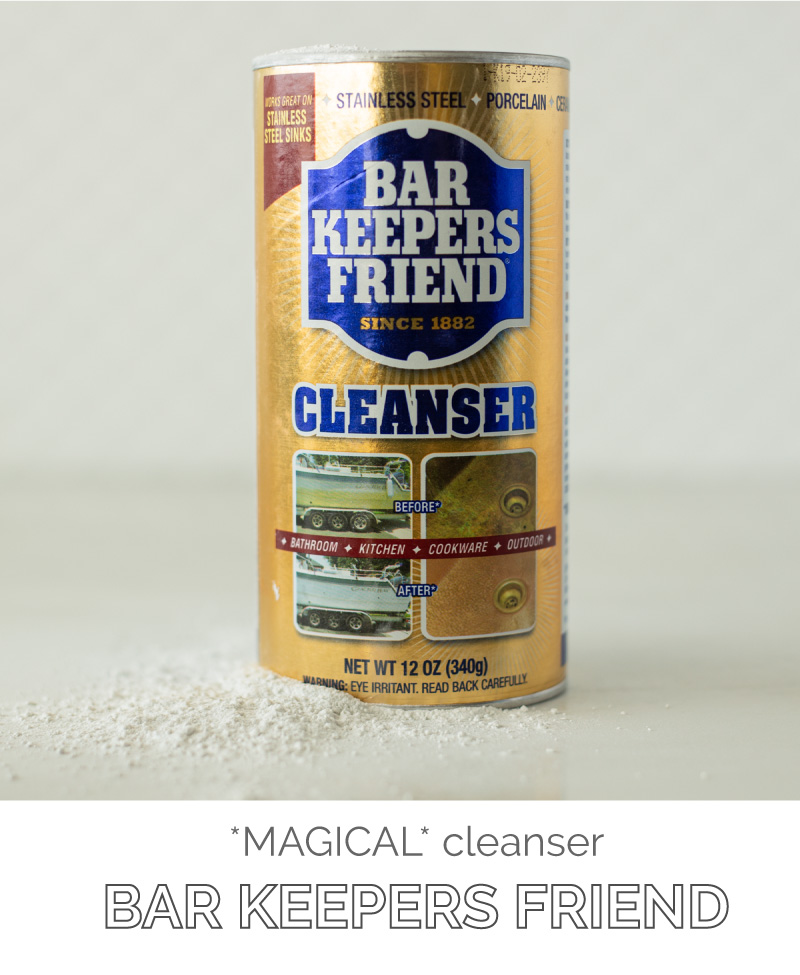 In a cleaning mood? Join us over here, where we are sharing cleaning tips for every corner of your kitchen.