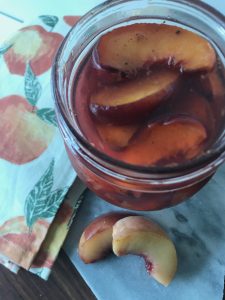 Trust us on this one, if you just can't enough of peaches this year, then you need to try pickled peaches. They're great on salads, as a dessert topping, on a sandwich or burger, or with a slice of brie. These sour, tangy, and just right spicy peaches will give you just one more way to enjoy your summer peaches for a little while longer. And the best part? They pickle in the fridge! No canning required.
Ingredients
2- Quart Mason Jars
1 1/4 cups rice vinegar
1 cup plus 3 Tbsp pure maple syrup
1/4 cup sugar
1/2 tsp ground cinnamon
1/4 tsp ground nutmeg
1 inch piece of ginger, peeled and sliced
4-5 ripe peaches, cut into sixths
Directions
In a small saucepan, over medium heat, combine the rice vinegar, maple syrup, sugar, cinnamon, and nutmeg.
Cook until sugar is dissolved (check for grains on the back of a spoon). Warm the mixture slowly, and avoid boiling, you want to keep the pickling liquid warm, but not hot to keep the peaches from cooking.
Once the sugar is dissolved, remove it from the heat. If it is hot to the touch, allow it to cool.
Divide the ginger and peaches into two jars, layering the ginger first, with the peaches on the top.
Pour the pickling liquid over the peaches, making sure all the peaches are totally covered.
Cover with lids and refrigerate for 1-2 weeks, testing after the first week to check the flavor.
Eat the peaches within the month.