We're coming up on a favorite food holiday, Cinco de Mayo! Combining friends, family, music, fun and tacos, nachos, chips and guac and of course DELICIOUS CHURROS! Churros are a family favorite of ours, we try to make them several times a year and you really can't beat a hot churro on a Sunday afternoon! If you are looking for our usual go to, head back several years-and try your hand at our deep-fried version, here. They are a favorite, you can't go wrong! Just don't forget the salted caramel or chocolate sauce it's a perfect addition!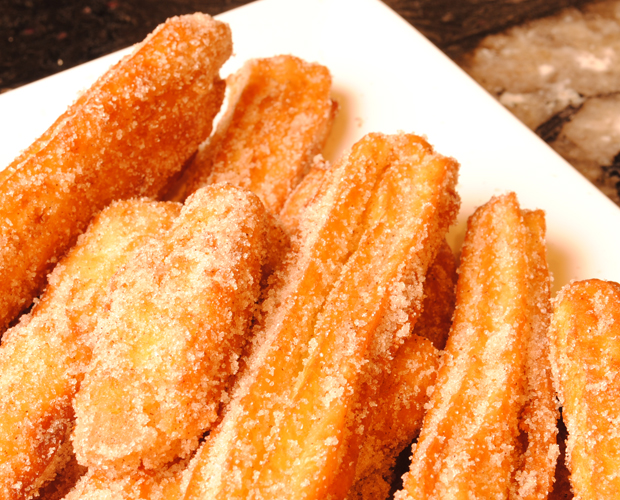 But, we are always up for trying new things. So we decided to try the baked churro option-with a few more twists, but why stop there. There has been hype around Loop Churros (check their site here) and we understand why– thick, deep fried , covered in cinnamon sugar, topped with flavored glaze and THEN adding your favorite toppings. Count me in! But it gets better-served in a cup with soft-serve ice cream! Somehow we seem to find a way to make the best foods even better! (Now before you get too worried about all the sugar- cause yes there is a lot— everything in moderation! Feel up with healthy foods all day and then get yourself this treat- share it to split the calories!).
So with a request from our friends at Studio5, we decided to attempt to combine the baked churro with Loop Churros ideas and see what we could come up with!
Ingredients
CHURRO DOUGH:
1/2 cup unsalted butter
1/2 tsp salt
2 Tbsp granulated sugar
1 cup water
1 cup all-purpose flour
3 large eggs
1 tsp vanilla extract
TOPPING:
1 Tbsp unsalted butter, melted
1/4 cup granulated sugar
1/2 tsp ground cinnamon
GLAZE:
1/4 cup milk
1 tsp vanilla
2 cups Powdered Sugar
Toppings
assorted cereals
m&ms
reese's pieces
crushed oreos
crushed heath bar
whatever treats you love!
Directions
Preheat oven to 350 degrees and line a cookie sheet with parchment paper.
Place a medium saucepan over medium heat. Add butter, salt, sugar and water. Stir butter while it melts and let water to come to a boil.
Add flour all at once and quickly begin stirring to combine. Once dough comes together, continue stirring, over the heat, for 30 seconds.
Remove from heat and begin stirring in the eggs one at a time, mixing well before adding the next. Make sure you stir quickly, and your heat is off. If not you could cook your eggs.
When all the eggs are incorporated, stir in vanilla extract, then place the dough into a pastry bag fitted with a large open star tip. Pipe dough onto prepared baking sheet. You can make these any length you wish, just be sure to leave at least 1" between them to allow for rising.
Bake 25-30 minutes or until they become dark golden brown and crispy. Remove from oven and cool completely on a cooling rack.
For Topping:
Mix 1/4 cup granulated sugar with 1 tsp cinnamon and add to a resealable plastic bag.
Brush top and sides of cooled churros with melted butter then drop one or two at a time into bag with cinnamon sugar. If you are making the loop shape, just sprinkle and carefully dip into sugar mixture- they can be fragile so be careful. Shake to coat and repeat with remaining churros.
Glaze:
Heat milk and vanilla in small sauce pan, or microwave. Add powdered sugar and stir until well combined. This glaze will harden while in bowl, so use quickly and keep hot so it coats evenly.
Once churros have set up with butter and cinnamon sugar, using a pastry brush-brush glaze on loop end of churro and sprinkle favorite toppings on top. Allow to harden before moving.
Enjoy
Baking the churros made it much easier to make a lot. They do bake for about 25 minutes but if you can throw them in the oven and do other things. When frying them its a busy job keeping them in the oil and shaking them in a bag to coat. Not that either technique is hard, baking them just gave me a chance to clean up while they were baking.
The texture of the baked churro is not exactly the same as a deep-fried one. I still enjoyed it, and the addition of the melted butter for the cinnamon sugar mixture to stick to it satisfies that flavor you get from frying. No one will turn down any kind of churro, at least not anyone that I have met. One essential tool– do not forget an open star tip! These are a must for those ridges in your dough!
Once they are covered in cinnamon and sugar-you can have a lot of fun with the glaze and toppings. Just make sure to leave a little time for the butter too set on the churro before you try to spread the glaze.
Most of all– have fun! There's a reason why churros are party food- everyone loves it and a little sweet makes everyone happy! We would love to see your churros- so if you happen to try out this recipe or your own— share with us! Use hashtag #gygieats on Instagram and tag us at @orsongygi—- we can't wait to see what you create!