Molded chocolate can be a little intimidating. You have to think about the shell, the fillings, the packaging. It can be a little overwhelming. But when we bit into this chocolate from Josh and suddenly we knew all the prep and work was absolutely worth it. The German Chocolate Bon Bon had a beautiful, shiny outer shell with delicious coconut, caramel, and ganache layered on the inside. We can't wait to share how he did it.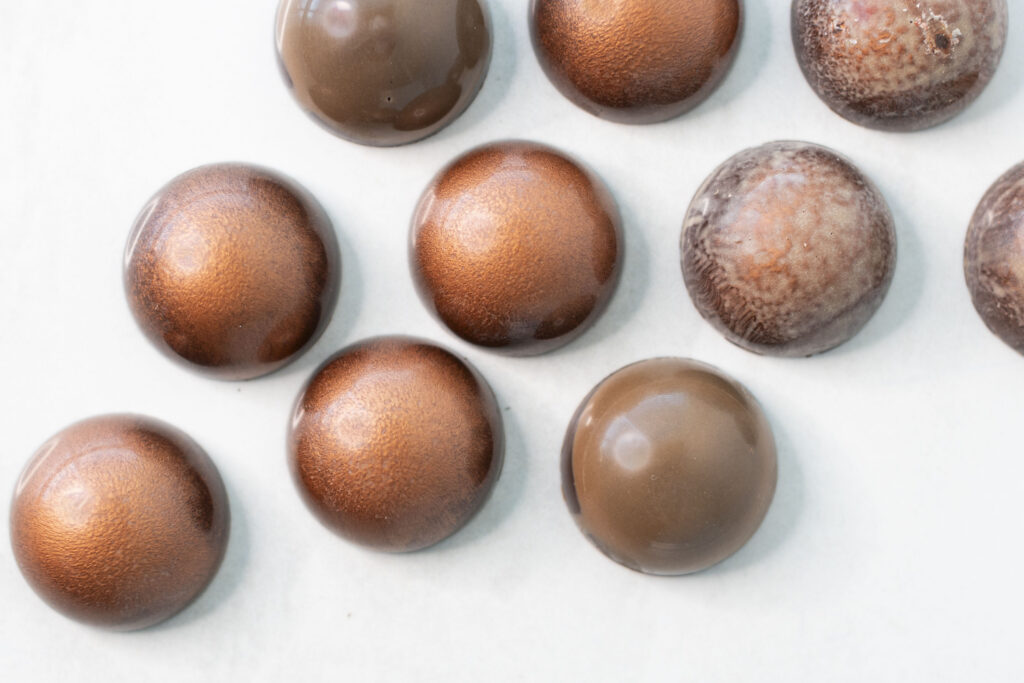 The most important thing to know about this recipe is how to take care of the polycarbonate chocolate molds. Josh told us how to clean the molds with warm water. Once they are dry you can spritz a little rubbing alcohol onto a cotton ball and gently rub the sphere. Then follow up with a dry cotton ball to keep the cavities clean for the best shape and release.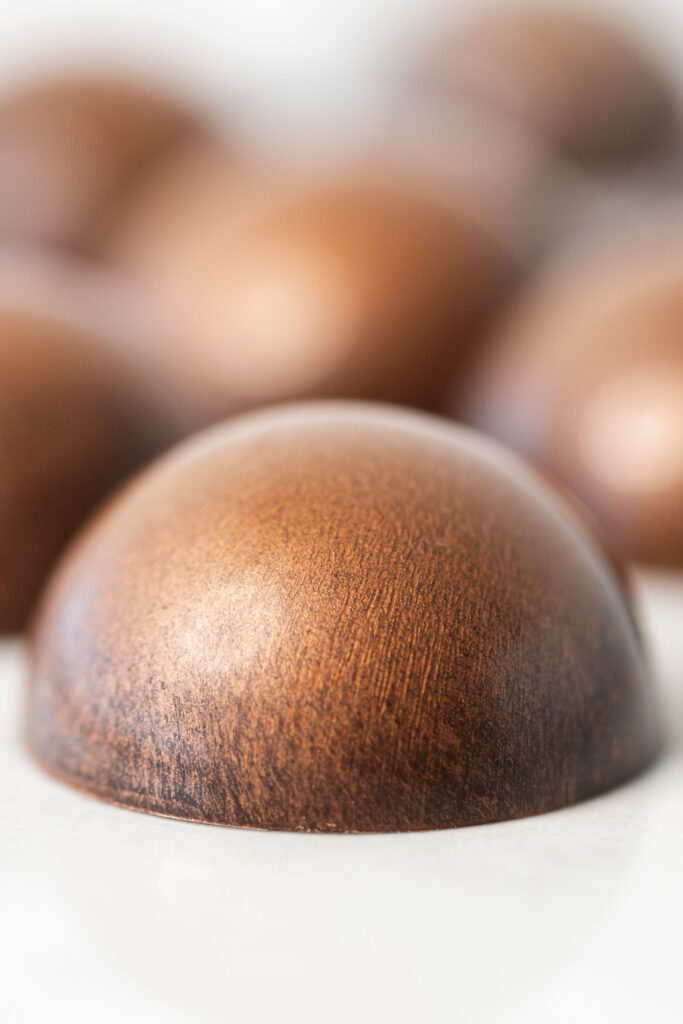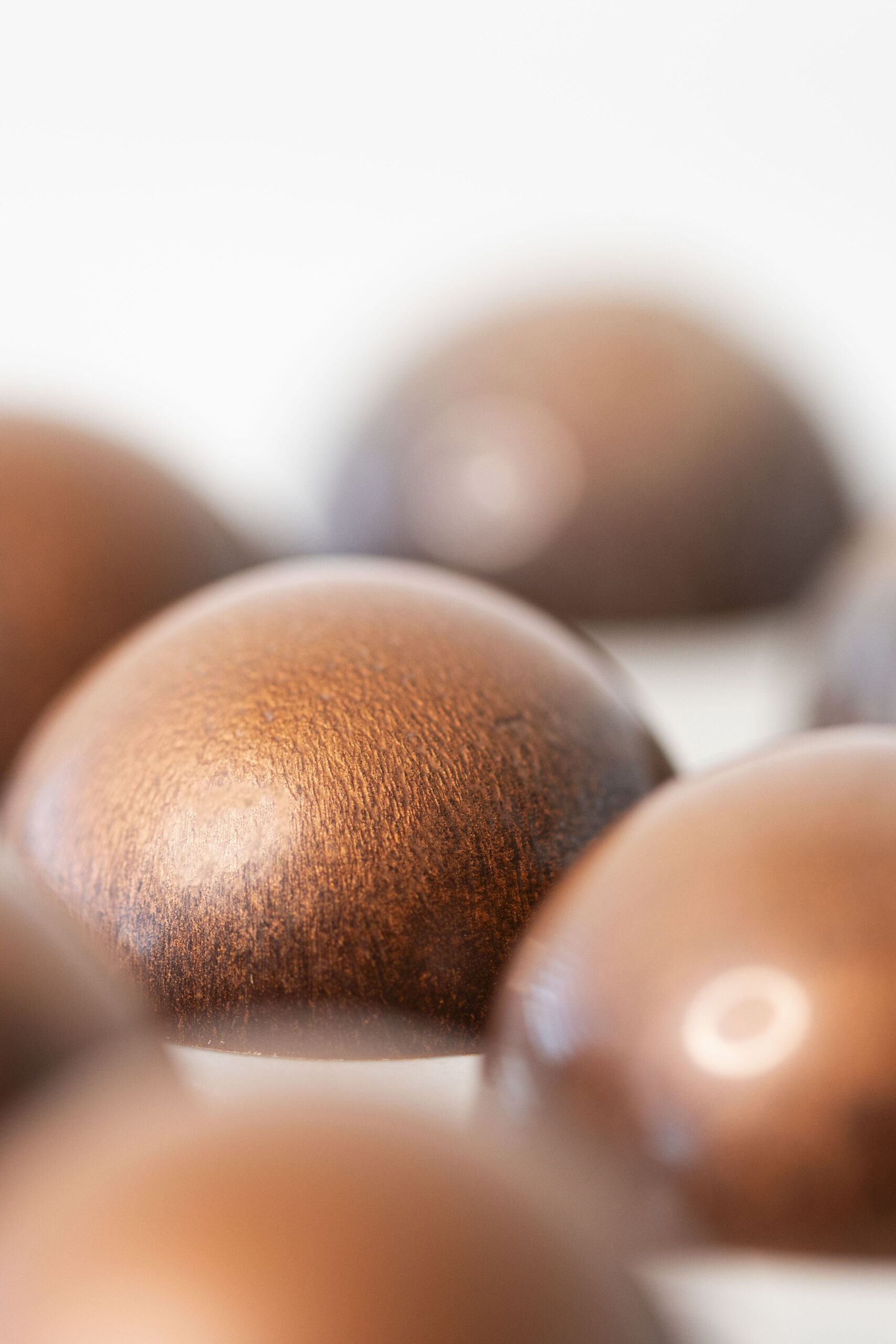 Print Recipe
German Chocolate Molded Chocolates with Josh from Guittard
Ingredients
Soft Caramel Filling
90 g water
250 g sugar
38 g corn syrup
150 g unsalted butter
250 g heavy cream
A pinch of baking soda
1 ea vanilla bean
4 g salt
For the Coconut Filling
60 g water
165 g sugar
25 g glucose (corn syrup)
82.5 g unsalted butter
82.5 g coconut milk (unsweetened)
82.5 g cream
2.7 g salt
220 g shredded coconut (unsweetened)
Chocolate Ganache
210 g heavy cream
17 g invert sugar (honey)
8 g glucose (corn syrup)
235 g couverture chocolate (61% Lever du Soleil)
38 g unsalted butter
Instructions
1

For the Soft Caramel Filling

2

Combine water, sugar, and corn syrup in a medium-large saucepan (don't start cooking until everything else is ready).

3

Combine cream, baking soda, and vanilla in a small saucepan.

4

Set butter and salt aside, ready for next steps.

5

Start cooking the sugar on med-high heat and the cream on low flame.

6

When sugar has a caramel color, reduce to low heat and add butter: stirring until blended.

8

Once all of the cream has been added, continue cooking until reaches 222℉.

9

Allow to cool and hand blend at 100℉. Use an ice bath if necessary.

10

Allow to cool to 85℉ before filling in precast shell.

12

Combine water, sugar, and glucose; bring to a boil, cooking to an amber caramel.

13

Add butter and stir to emulsify.

14

Combine the coconut milk and the cream, add to saucepan while maintaining a boil.

16

Remove from heat and add salt and coconut. Mix by hand for a couple of minutes.

17

Roll between two pieces of parchment paper to about ⅛" thickness.

18

Allow to cool before cutting into discs. Store in freezer until ready for assembly.

20

Combine the cream, invert sugar, and glucose in a saucepan; bring to a simmer and remove from heat.

21

Pour hot mixture over chocolate wafers and allow to sit for 1 minute.

22

Stir to emulsify, ensuring all chocolate has melted.

23

Allow to cool to approximately 100℉, add the butter and emulsify with immersion blender.

24

Allow to cool to approximately 85℉ before piping.

26

Fill precast shell to approximately ⅓ full with caramel filling.

27

Insert roasted pecan pieces into the caramel.