Homemade nougat is such a treat. Add in chocolate, and we are sold! It is always a pleasure to have Chef Rebecca Millican join us in the kitchen and having her a part of the 2022 Chocolate Extravaganza was no exception. She first blew our minds in the demo kitchen teaching us all the science of tempering chocolate before moving into the hands-on kitchen to teach a chocolate nougat class. We are so grateful to her for always sharing her knowledge, tips and tricks, and delicious recipes with us.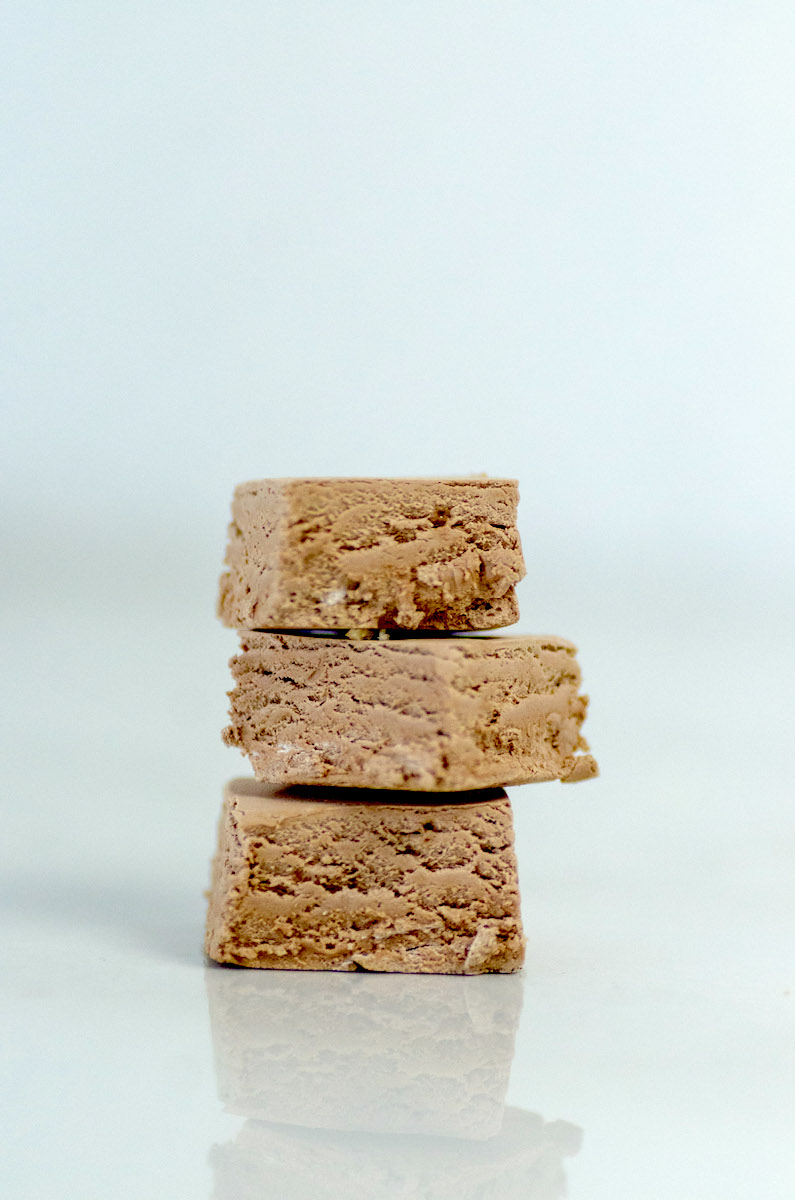 Print Recipe
Chocolate Nougat with Rebecca
Ingredients
2 cups granulated sugar
2⁄3 cup light corn syrup
2⁄3 cup water
2 egg whites
2 oz unsweetened chocolate
1⁄3 cup malted milk powder
1⁄8 tsp salt
Instructions
1

Line an 8x8 pan with parchment. Spray with nonstick spray.

2

Place the sugar, corn syrup, and water in a medium saucepan over medium-high heat and stir until the sugar dissolves.

3

Brush down the sides of the saucepan with a wet pastry brush to prevent sugar crystals from forming.

4

Cook without stirring until the temperature on a candy thermometer reaches 252°F (high altitude). While you wait for the correct temperature, proceed to prepare the rest of the recipe.

5

Chop the chocolate into small pieces and place it in a microwave-safe bowl. Microwave until melted, stirring every 30 seconds to prevent overheating. Stir until completely smooth, then set aside to cool slightly.

6

Place the egg whites in the clean bowl of a large stand mixer fitted with the whisk attachment. Whip the egg whites to very soft peaks.

7

When the syrup reaches 242°F begin to beat the egg whites on medium speed.

8

Once the sugar syrup reaches 252°F remove the pan from the heat.

9

Turn the mixer to high speed and slowly stream in the sugar syrup down the side of the bowl.

10

Continue beating on high speed for about 5 minutes, until the egg whites are shiny, white and stiff.

11

Turn the mixer down and add the melted chocolate, salt and malted milk powder. Mix until well-combined and smooth.

12

Turn the mixer off and scrape down the sides of the bowl very well. (The nougat will have the consistency of Fun-Tak putty.)

13

Scrape the nougat into the prepared pan and smooth it into an even layer. Allow it to cool at room temperature until completely set, then cut into small squares to serve.

14

Store the nougat in an airtight container at room temperature for up to one week. Variation: Add 1⁄2 cup of your favorite nut, chopped.