We absolutely love this as a family tradition. This chocolate-covered popcorn is so easy to make. And with the endless options for flavors, colors, and mix-ins you really can spice things up or color coordinate with any event or season. Once you make this super easy recipe, you just won't be able to stop.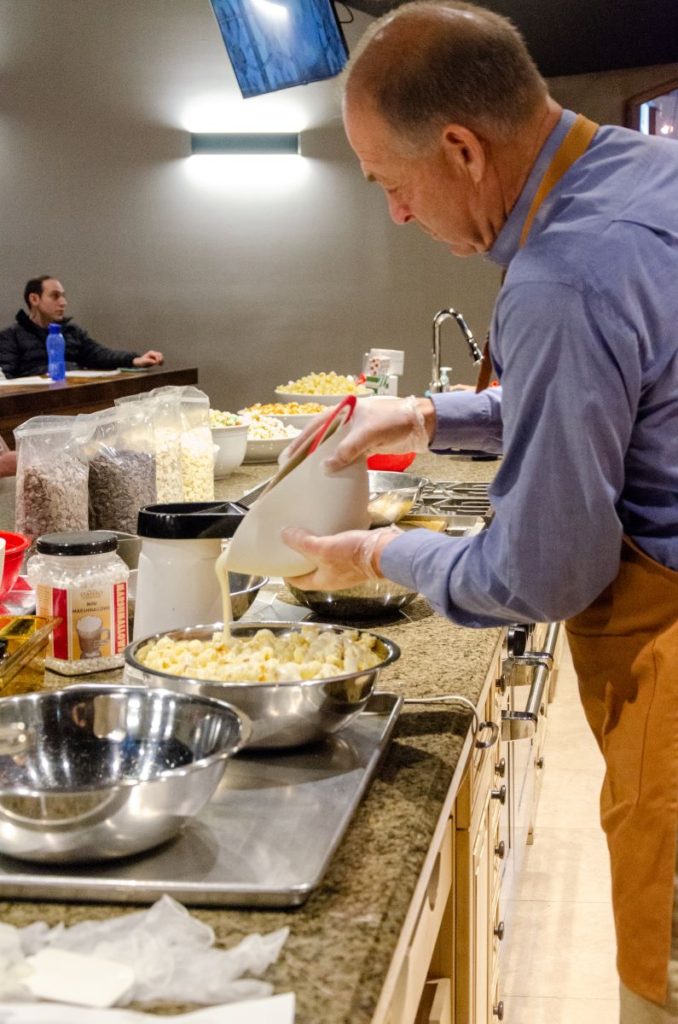 For more step-by-step popcorn tricks and to watch Brad the Dad's virtual popcorn class, check out this post here.
Print Recipe
Chocolate Covered Popcorn with Brad the Dad
Ingredients
1⁄2 cup Mushroom Popcorn Seed
2 cups Compound Chocolate
(Guittard A'peels or Callebaut Snaps)
OPTIONAL INGREDIENTS
Accent colors (colored chocolate, crushed candy, peanuts, etc.)
Flavorings (LorAnn oil flavorings) (Must be oil based, not water based)
Instructions
1

Melt chocolate in the microwave in a plastic or silicone bowl (Cannot be glass or ceramic).

2

This works well at full power for 30 seconds at a time. Stir after each 30 second interval.

3

Pop corn seed. (We find that an air popper or a microwave popper works very well)

4

Divide popcorn in two large bowls or a large paper sack. (A tumbler works great)

5

Pour in a small amount of melted chocolate into the bowls or sack. Shake.

6

Continue adding small amounts of chocolate until all the popcorn is coated. (This step takes the longest and must be continuous so that the coating will be consistent.)

7

Spread immediately on a cookie sheet insuring that the popcorn is spread thinly on the sheet for accent coatings.

8

Allow the chocolate coating to set before continuing. (Allow about 5 minutes)

9

Melt accent colors the same as noted above.

10

Add oil based flavoring and/or oil based coloring.

11

Drizzle over popcorn with a rubber or silicone spatula.

12

Be creative with the colors and the flavors. You can create a treat for any season of the year.