This Mummy Pepper Popper recipe is a delicious twist on a classic appetizer. We've traded out some of the traditional jalapenos for kid-friendly mini bell peppers and mummified them with crescent roll dough. Complete with edible eyeballs, this finger-food is just begging to be at your next Halloween party.
A few tips for your mummy making:
Look for sheets of crescent roll dough. Pillsbury makes them. Unroll your sheet and use a pizza cutter to easily create uniform pieces of dough for wrapping.
Use a cake decorating tip to cut out your eyes! We used a large round decorating tip. It was a game changer.
Use any type of cheese you'd like for your filling.
Also, wear gloves while working with the jalapeños, if you choose to use them. Your hands will thank you.
Last, Mummy Pepper Poppers are best served HOT, but we've been known to eat them cold with no complaints.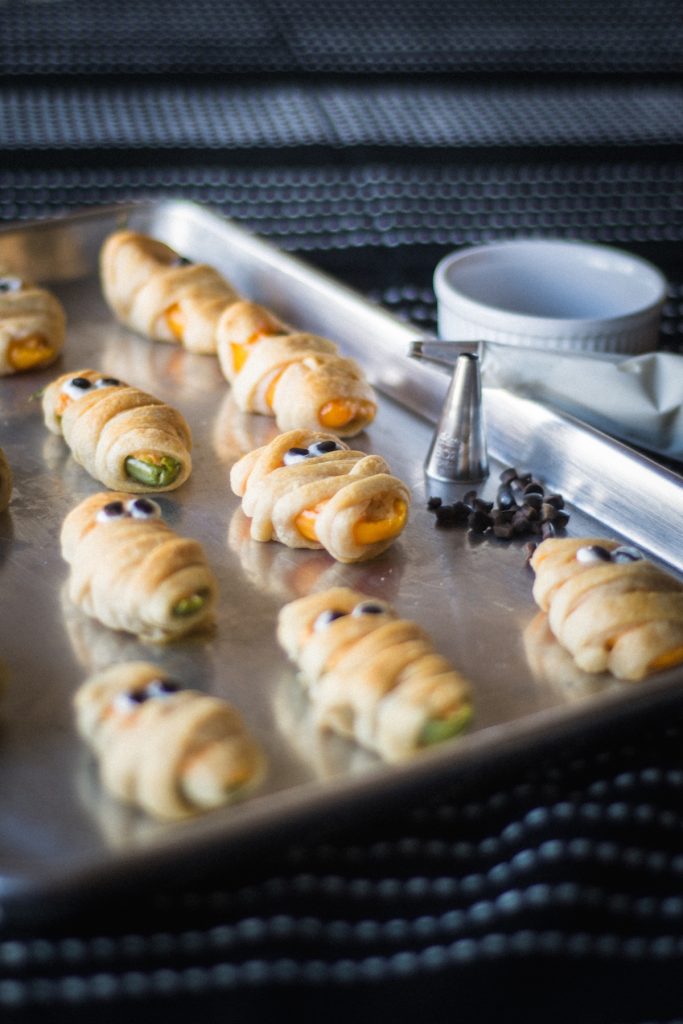 Ingredients
12-14 peppers (jalapeno, mini bell, or other small variety)
8 oz cream cheese, softened
4 oz shredded cheese, we used sharp cheddar
1/2 tsp garlic powder
1/2 tsp onion powder
1/2 tsp smoked paprika
1/2 tsp kosher salt
2 packages of crescent roll dough
olives
sour cream or greek yogurt
Directions
Start by preparing your peppers. Wash and dry them first, then lay them out on your work surface. Cut your peppers in half, making sure they will lie flat once they are cut. If you are using jalapenos or other hot peppers, be sure to wear gloves while working.
Using a spoon, remove the seeds and the ribs of the peppers. Lay the peppers out on a flat baking sheet. Set aside.
In a medium mixing bowl, add the cream cheese, shredded cheese, onion and garlic powders, smoked paprika, and salt. Stir together until thoroughly mixed.
Using your spoon, fill each pepper cavity. Set aside.
Cut your crescent roll dough into 1/4" - 1/2" strips. (I like them cut the short way. I end up using two strips per popper, but I think it's easier to work with when they are short.)
Wrap your peppers, leaving a small slit to later place the eyeballs.
Place on a baking sheet. Bake at 400 for 10-15 minutes or until they start to brown.
While they are baking, cut the olives for your eyes. We used a large round decorating tip to make circles.
When the dough starts to brown, remove them from the oven. Let them cool 5 mins.
Make your eyes. We used some greek yogurt that we piped from a pastry bag fitted with a large, round decorating tip. You can also use a ziploc bag cut in one corner. Top with your round olives.
Serve warm.