At first sight, this Christmas Tree looks like a tasty treat. You may be tempted to take a little nibble! But may we suggest a superior way to enjoy it? You see this, the tree is not just a chocolate creation! It is actually filled with ingredients to create a delicious cup of your favorite winter drink. You see, this chocolate creation makes melting Christmas tree hot cocoa!
When placed in a warm cup of milk, the tree will bounce and bob about until the chocolate melt. Then the contents of the tree are dispersed into the milk. Hot cocoa powder, marshmallows, chocolate, chips, or peppermint pieces are all great options for hiding inside.
These popular treats are as much fun to watch as they are to eat! The result is a sweet and delicious cup of cocoa.
Supplies
In order to make the Melting Christmas Tree, you'll need a few specialty tools. First, a candy mold. This tree mold made the chocolate pictured here. Another great option would be a sphere mold. Or an easter variation would be this Easter egg.
Next, you'll need some chocolate! Use VanLeer Snaps for an easy option. If you're feeling gourmet (and you have a little extra time) Callebaut Callets would be delicious, they just need to be tempered for success.
Now, a bowl for melting the chocolate! Plastic or Silicone are preferred, but glass can work in a pinch.
Next, decide what you'd like to put inside the chocolate mold. Use this Ghirardelli powder for a unique, white chocolate-flavored delight. Or this classic Ghirardelli cocoa for a rich chocolate drink. For a festive twist, include some chocolate chips, tiny marshmallows, or crushed peppermint pieces. A few festive sprinkles are cute, too!
Last, you'll need an icing spatula, a pastry bag, and some parchment paper.
Method
A few tips for success! Coat your mold with plenty of chocolate to ensure it is thick enough. IF it is too thin. it will break.
Place the mold in the fridge to finish cooling. This will make removal much easier.
if the two pieces don't match up perfectly, glue them together with melted chocolate in a pastry bag. Use this chocolate to fill any hole, otherwise, the powder will escape.
Melting Christmas Tree Hot Cocoa can be made in advance! So, make them now and save them for a special holiday party or for a sweet house guest. Or save them for yourself! They are tasty and fun and everyone will enjoy them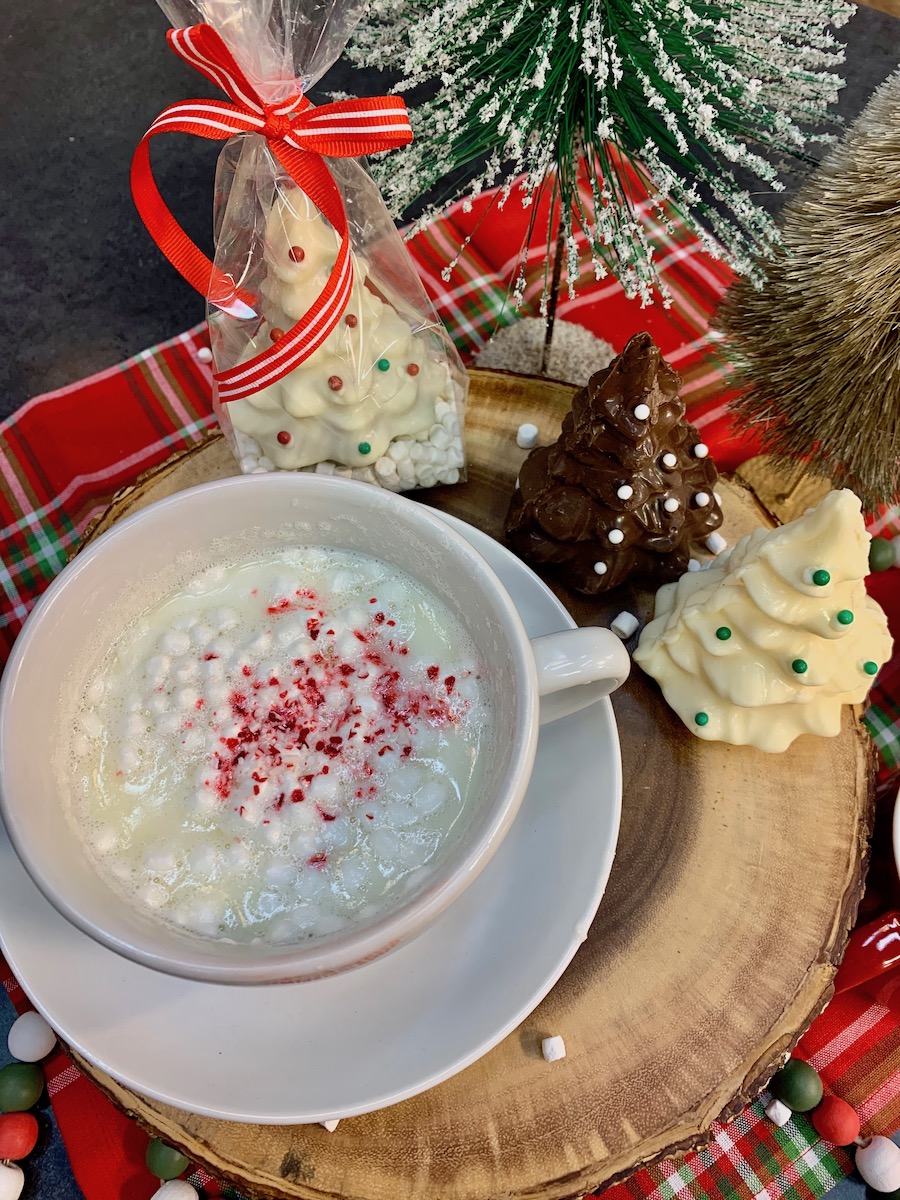 Print Recipe
Melting Christmas Tree Hot Cocoa
As fun to watch as it is to eat! Place this chocolate tree in a cup of hot milk and watch it disappear, revealing hot cocoa powder and fun marshmallows. Stir together for a delicious and drinkable treat!
Ingredients
Melting Chocolate
Hot Cocoa Powder
Optional Additions: Mini Marshmallows, Crushed Peppermint, Mini Chocolate Chips
Large Chocolate Mold
Instructions
1

Melt chocolate in a microwave safe bowl, preferably plastic or silicone. Heat in 30 second intervals, stirring between until melted.

2

Pour chocolate into the mold, filling it halfway. Carefully swirl the chocolate around, coating all the surfaces. Keep moving the mold and chocolate until the chocolate coats the mold with about 1/4 inch of chocolate. Then, dump out the excess chocolate.

3

Place mold in the fridge to finish cooling, about 5-10 minutes.

4

Meanwhile, melt a small amount of chocolate and pour it into a disposable pastry bag or a sandwich bag.

5

When the chocolate in the molds has cooled, remove the molded chocolate.

6

Fill one of the cavities with hot cocoa powder and any other additions.

7

Place the other half on the top and use the chocolate in the piping bag to seal it closed. Let cool completely.

8

When you're ready to make hot cocoa, heat milk in a large mug. Place the chocolate in the milk and watch it melt. Stir together and enjoy!