The Staub pan. We are obsessed. But we didn't want you to just have to take our word for it. So we've sent the our beloved Staub pan around the world to show you that the possibilities are truly endless. The Staub has been to Croatia, Arizona and we're back in Utah to share one of the most unique ways we've ever seen.
Homemade Lollipops in the beautiful Staub with Alanna Story of The Sweet Storyline.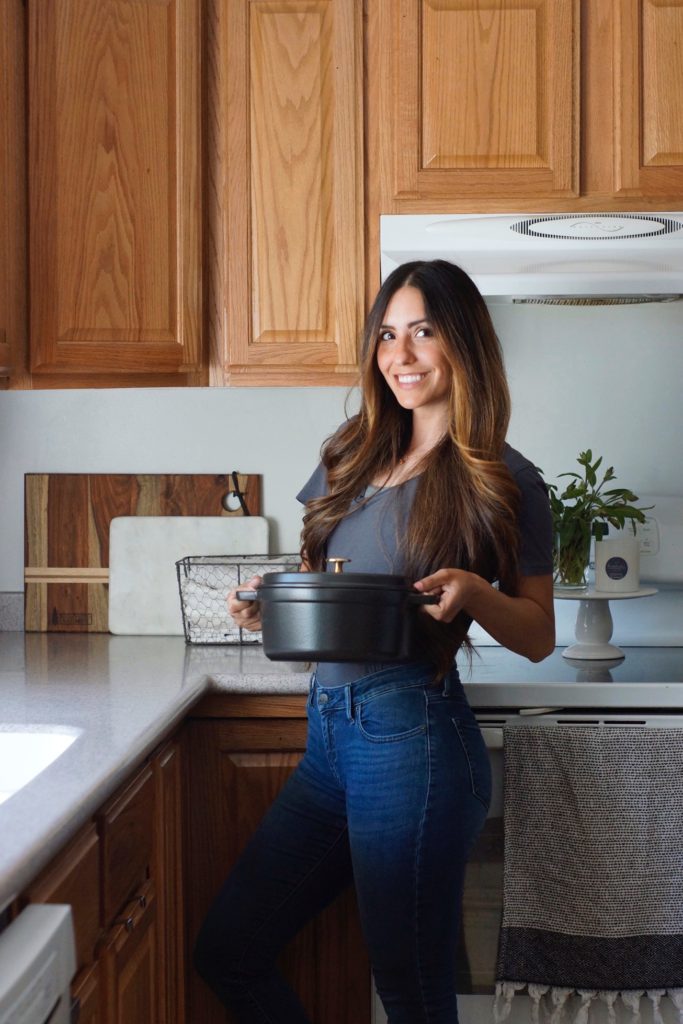 Hello Friends! I'm Alanna Story the creator and founder of The Sweet Story Line! I'm a Mommy to three incredible kids and a wife to my darling husband. I loved being in the kitchen helping my mom cook and bake. It has always been a passion for me, especially candy making!!!!
I'm a major sugar-addict who turned that love addiction into a very fun and unique business.
My love of lollipops started 10 years ago making lollipops for my kids, friends and family as gifts. I always loved homemade gifts. They just seemed a little more special. So whenever I made lollipops I made sure I only made them when I was happy. You know you can taste a difference if it's made with love. It brought me such joy to share these little treats with others.
I originally started as a cake artist in 2019 and had a unique style that had tons of sugar work which included loads of lollipops.
Over the last year I transformed into becoming a sole lollipop artist, playing with different techniques and flavors.
When COVID hit my anxiety spiked beyond belief and my creative outlet was actually making lollipops. It went from just making lollipops, to painting them, to sculpting, to story telling. And that's when an entire new world emerged for me.
I became enthralled with finding new ways to story tell with lollipops. From making sugar salamander lollipops, to sea creatures, to sugar insects, to flowers. Everything around me was starting to inspire me. I could see inspiration and I would get excited to hopefully transform others into a magical setting as I could see it.
I am a huge advocate for childhood fun so it's only fitting to remind your taste buds of those wonderful years one lollipop at a time. Right!?!?
Who would have thought that lollipops would have brought me such a joy, peace and be a fun artistic medium for me?!
One of my favorite quotes from Walt Disney is… "first think. Second believe, third dream. And finally dare."
I had all the above but to finally be brave and dare to start this business after 10 years took a huge leap of faith. It's scary, but man I'm so glad I did it.
I do monthly flavors that are out of this world good, but hurry because they sell out every month. I am based in the SLC UT area. South Jordan. My little lollipop business has become a piece of my life that I will always love. And never regret. Creativity, family, sugar, and bringing happiness to others with my videos and candy is my passion.
Xoxo, Alanna Story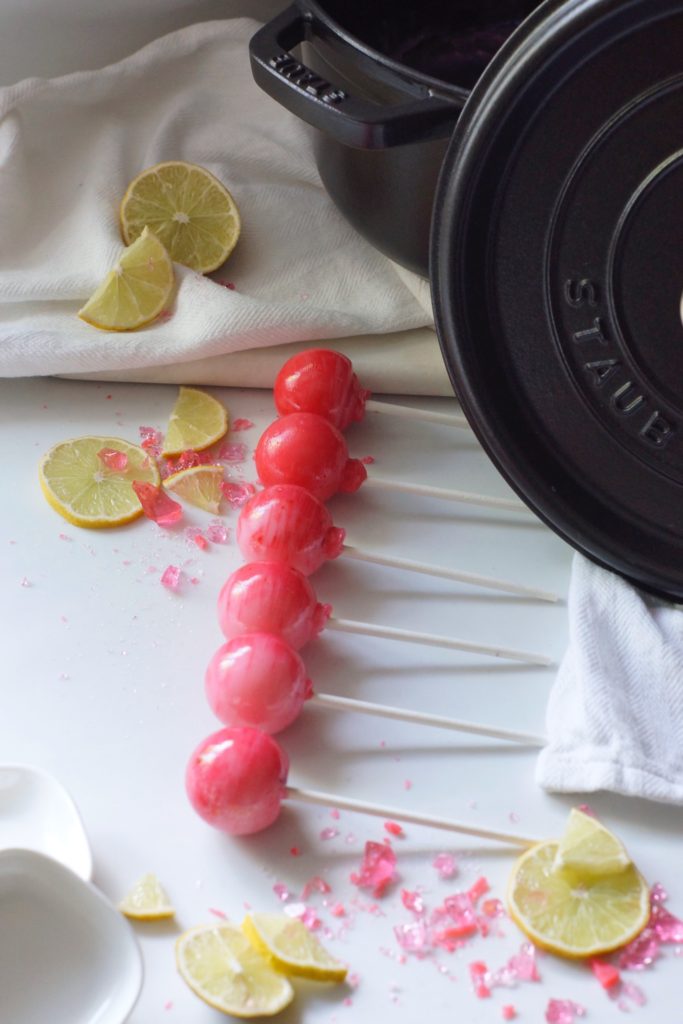 Print Recipe
Watermelon Lime Lollipops
Ingredients
1 cup of granulated sugar
1/2 cup of light corn syrup
1/4 cup of water
1/2 tsp. Lorann oils extra strength watermelon flavoring
1/4 tsp. Lorann oils natural lime flavor
1 drop of Wilton white food coloring
1 drop of Americolor gel food coloring
Instructions
1

Combine sugar, corn syrup, and water in a 4quart Staub pot. And stir with a wooden spoon. Place on medium heat and stir until sugar has dissolved. Bring mixture to a boil WITHOUT stirring. When syrup temperature reaches between 250-260 degrees Fahrenheit add a drop of white food coloring. Do not stir. Boiling action will incorporate color. Remove from heat at 300 degrees Fahrenheit. Add in 1/2 tsp. watermelon and 1/4 tsp. lime flavoring and stir carefully. Avoid rising steam.

2

*optional* Add one drop of pink to one side of mixture and barely stir to create a two toned look.

3

Carefully pour syrup into lightly greased lollipop molds. Or if it's easier to handle, pour into an orson gygi silicone bowl and then into molds. Let cool completely before taking them out of molds. Lollipops will be good for about a month in an airtight container

4

*candy thermometer will help incredibly well with the temperature changes
Alanna used this sphere lollipop mold for these adorable suckers. But you could definitely use a mold like this, or like these to get this same flavor in a different shape.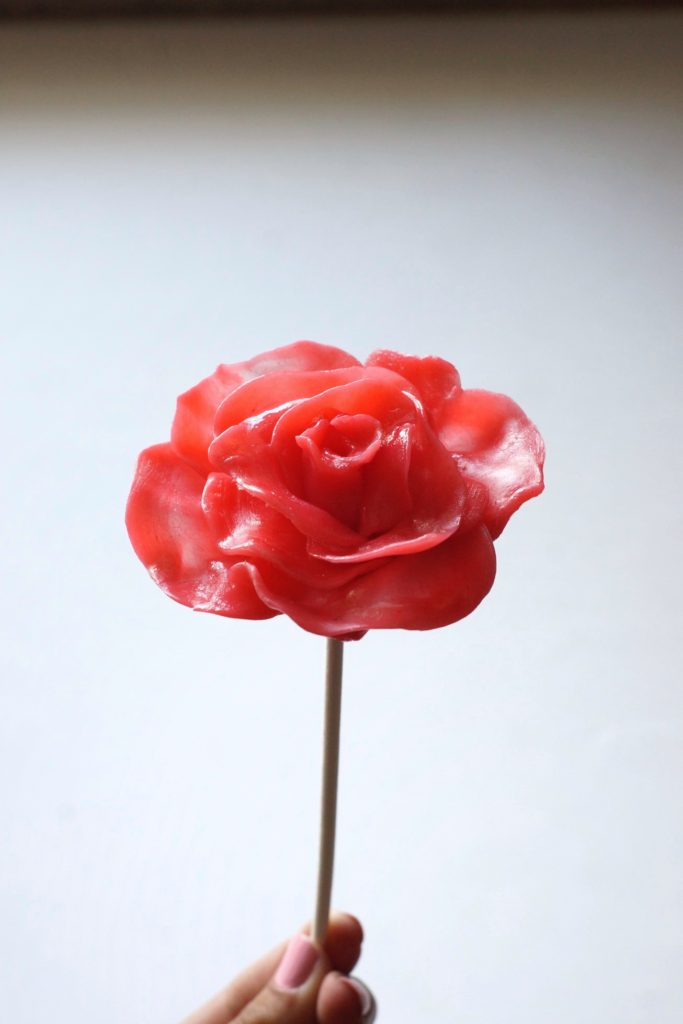 Alanna's sugar creations are stunning! And her videos are mesmerizing. She's so playful and brings great joy to many- on a stick! It's been fun for us to watch Alanna over the past year transform her talents into something people crave and connect with. Check out her sugar art over on Instagram. Check in on her website to see when her June orders for her quick-selling sucker boxes. Such tasty flavor combinations for everyone in the family.
---
Have we said it enough, "we love the Staub Cocotte." If you're new to Staub, or looking for some more ideas to inspire you, we've compiled it all into one resource, The Gygi Guide to Staub Pans.
We are LOVING all your ideas for putting your Staub to use. And we'd love to hear more. Share in the comments what you've been cooking up in your Staub, or tag us on Instagram.