The Staub pan has been making its way around the world. We've stopped into a few friend's kitchens to see how they use their Staub at home. Our goal here is to share that there really isn't a wrong or right way to cook with it, you just gotta use it! And it only gets better and better with time.
We have long loved the girls at Our Best Bites ever since the launch of their first cookbook, so when were dreaming up our Traveling Pan Sisterhood, we knew we wanted Sara to join in. Introducing Sara Wells: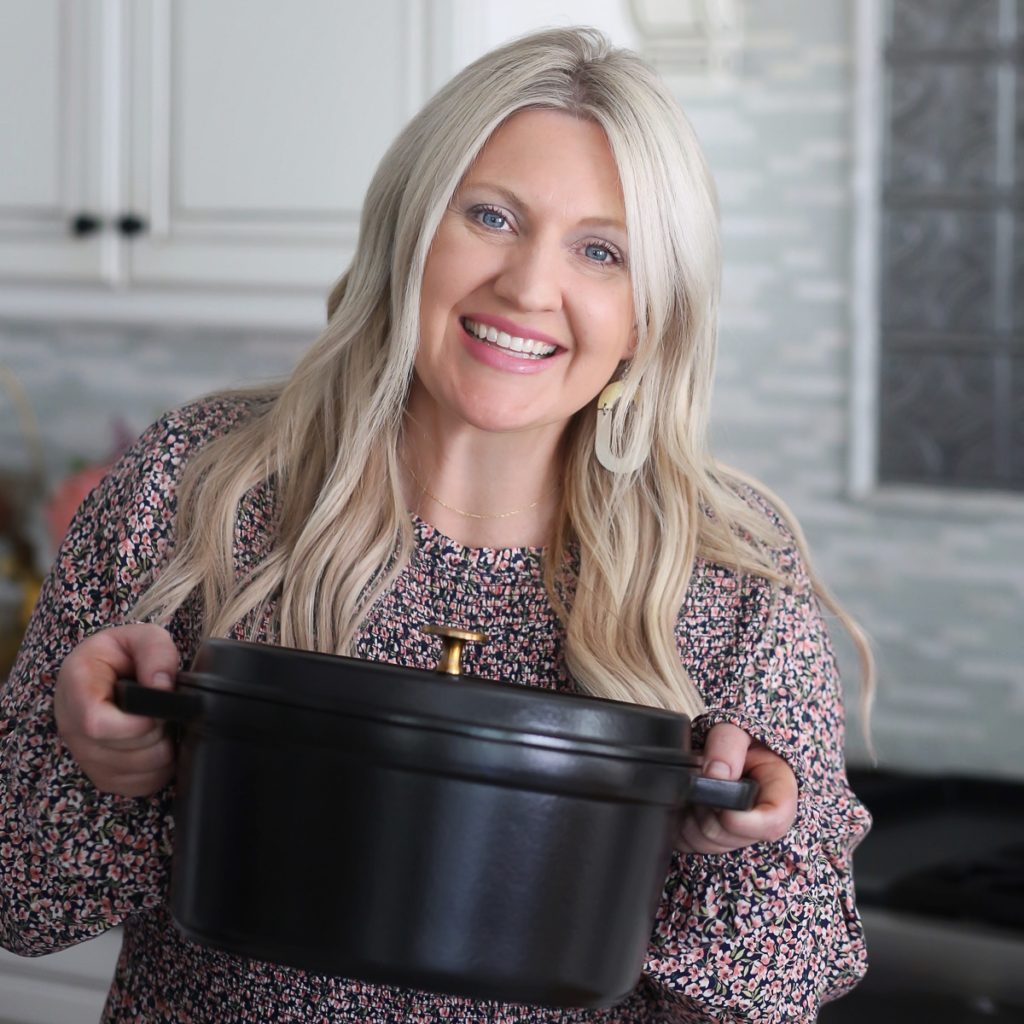 I've had a life-long love affair with food and cooking that started in the kitchen along-side my Mother when I was just a little kid. I love the creative process, I love the science behind it all, and I love the feeling and connection that it creates. Over 13 years ago, my friend Kate and I started a little food blog when no one really knew what a "blog" was! It morphed from a simple hobby space with horrible photos to OurBestBites.com, a community we still create for, with the intention now of sharing food that simplifies meal times for busy families and creates love and connection for those we care about. ❤️
I was born and raised in Seattle, but have called Boise, Idaho home for my whole married life. My Idaho-native husband and I have 4 boys ranging from teenagers down to kindergarten, a life that keeps us busy (and fixing lots of broken things ?). Food is at the heart of our family and we're raising boys who enjoy time in the kitchen as well! My 7qt Staub is basically a 5th child at this point and has a permanent place on my stove top because 1. I use it so often and 2. It's so pretty it looks like an accessory ✨ All the raving about these amazing pots is true. One thing I love specifically about the matte black is that it always looks brand new! The wear and tear on the beautiful colors has its own charm, but that black hides everything and looks so sleek! It's a piece I'll use forever and I think my kids will always have memories of seeing on the table at our family dinners.
---
Sara whipped up some Smoky Potatoes and Onions in her Staub. These would be a great side dish, or a main course, the 7 qt can fit enough for a large family! Or use a 4 qt for a smaller group. Give use that smoky goodness!
The name of the game here is EASY. This only takes minutes to prepare and then the oven does all the work! I've written this recipe for 1 1/2 pounds of baby potatoes because these little 1.5lb bags are easily accessible in grocery stores. You can really use any variety, we love both the golden and the reds and I buy these on just about every grocery trip! Aside from that, you'll need a large sweet yellow onion, salt and pepper, and smoked paprika.
The result is heavenly potatoes with the softest, creamiest texture and dreamy, deep golden caramelized onions that sort of disappear into the potatoes and add amazing flavor depth. It's an amazing, EASY side dish that goes so perfectly with so many things. Try it along side your favorite chicken or beef dish!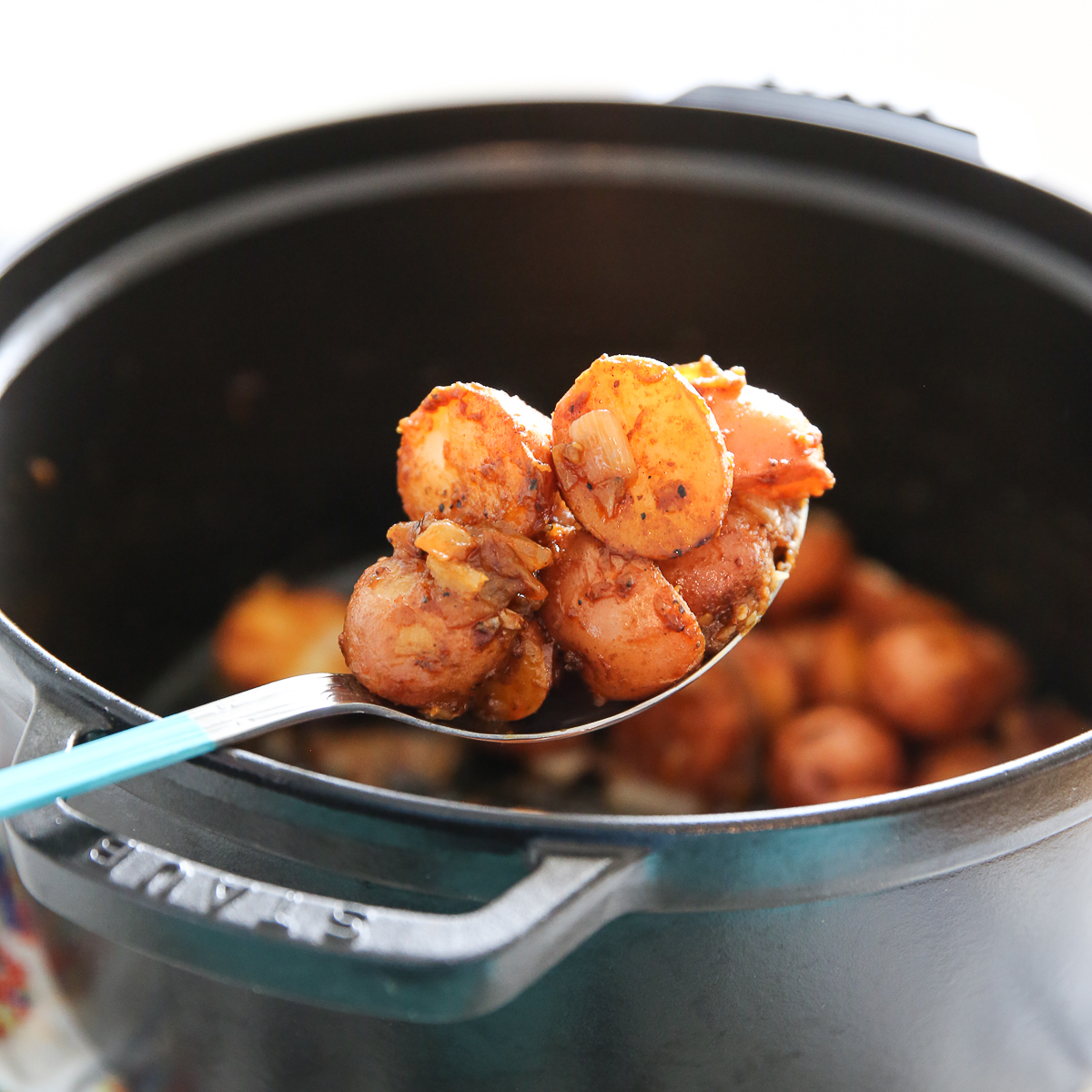 Print Recipe
Smoky Potatoes and Onions
SO simple and insanely delicious. Smoky, soft creamy potatoes with sweet caramelized onions and roasted hands-off in the oven! Cook this in your Staub pan, and serve tableside. Easy and beautiful.
Ingredients
1.5 lbs baby potatoes (golden or red both work great)
1 large sweet onion, sliced into 1/4" slices
2 Tbsp olive oil
1/2 tsp black pepper
1 tsp kosher salt
1 tsp smoked paprika
1 Tbsp butter
Instructions
1

Preheat oven to 400 degrees. Place cast iron dutch oven on your stove top on medium-low heat. Cut potatoes in half and place in a mixing bowl, add onions. Drizzle with olive oil and sprinkle with salt, pepper, and smoked paprika. Use clean hands to toss together so everything is well coated.

2

Drop butter into your hot pan and immediately add potatoes and onions. Stir lightly to coat and then place lid on pan and place pan in pre-heated oven. Cook for 15 minutes and then remove lid, stir potatoes, and return to oven for another 15-20 minutes until potatoes are soft and golden brown and onions are super soft and caramelized. (You can stir occasionally if needed).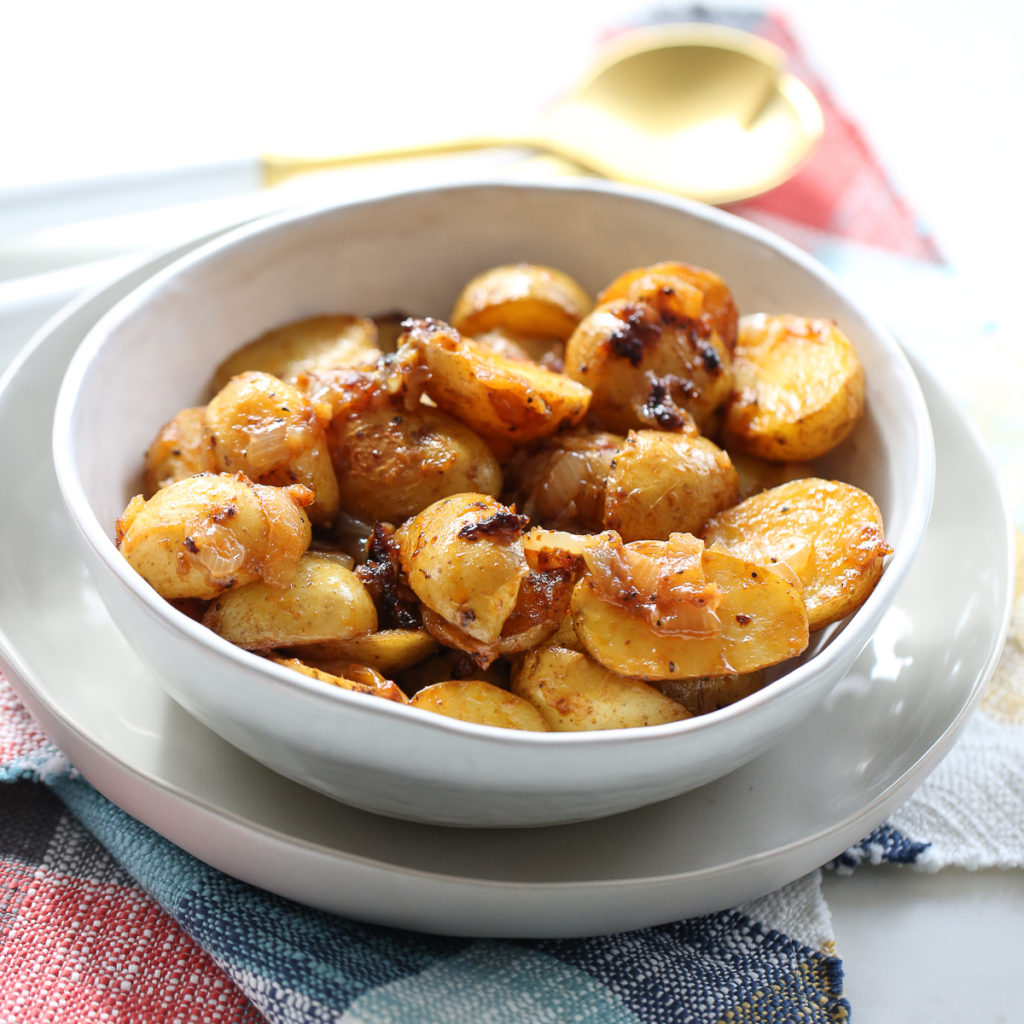 Want to learn more about this magical Staub pan? We've collected everything we can think of in one place!