We really love the Staub pan. If you're not sure why, we've compiled all of our love in the same spot! But we didn't want you to just take our word for it. We've heard from some of you that once you got your new pan, and it just sat on the stove, or was tucked away in a cupboard because you weren't sure how to use it. Well, that changes today!
We are passionate about providing products that earn their keep in your kitchen. Considering this pan can go from the stove, oven, grill, freezer straight to the table- it really can do just about anything. Read more about why we love Staub, here. We wanted to show you that you can use this pan for virtually any recipe.
Enter: The Sisterhood of the Traveling Pan. Our own riff on the movie, The Sisterhood of the Traveling Pants (no idea what we're talking about, check out the movie trailer). We loved the idea that any home, any kitchen, any cook could make their signature meal, treat, dinner, food in the pan- and they would all turn out beautifully.
Lucky for us, we just had to send the pan, and the Staub Cocotte did all the hard work. Scroll through some of our foodie friends to find a new recipe to try out in your enamel cast iron pan, and see how these sisters all share their heart through the food they made.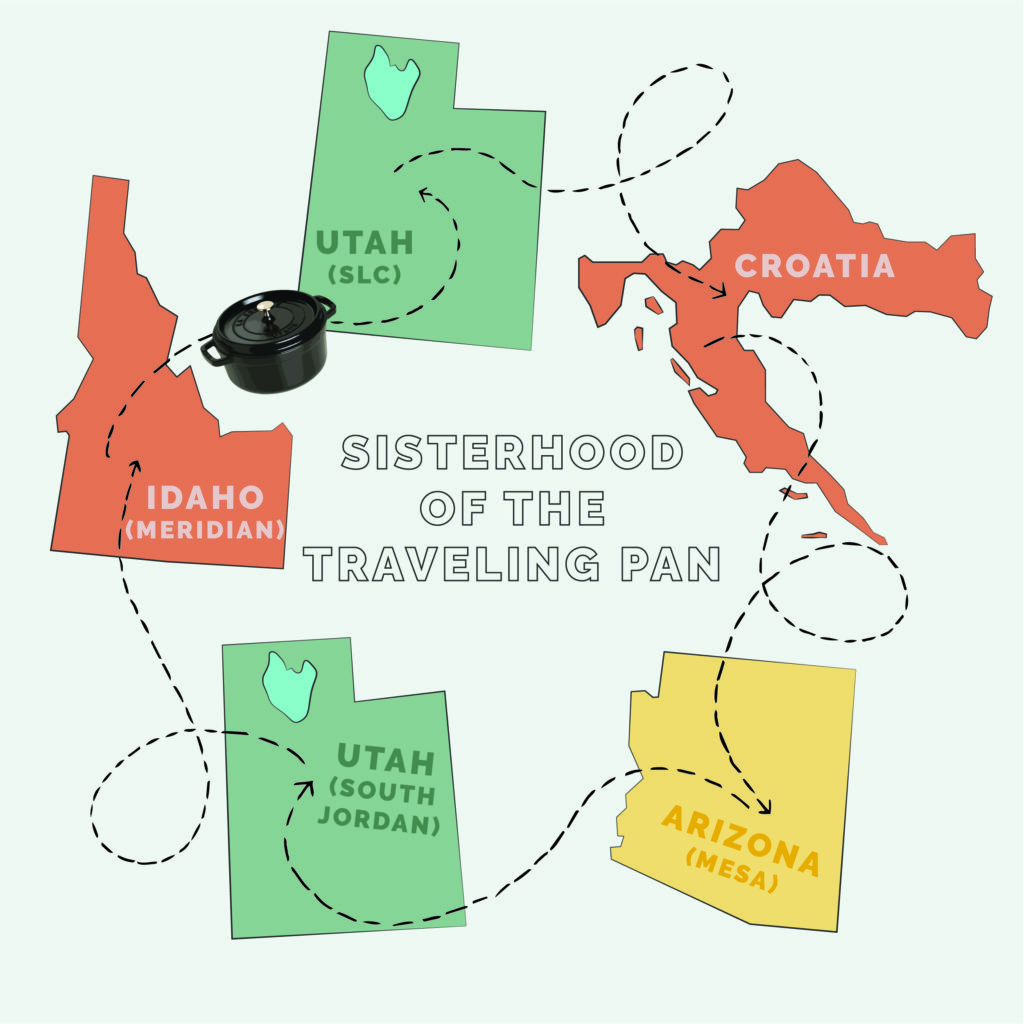 Stop #1 – SLC, UT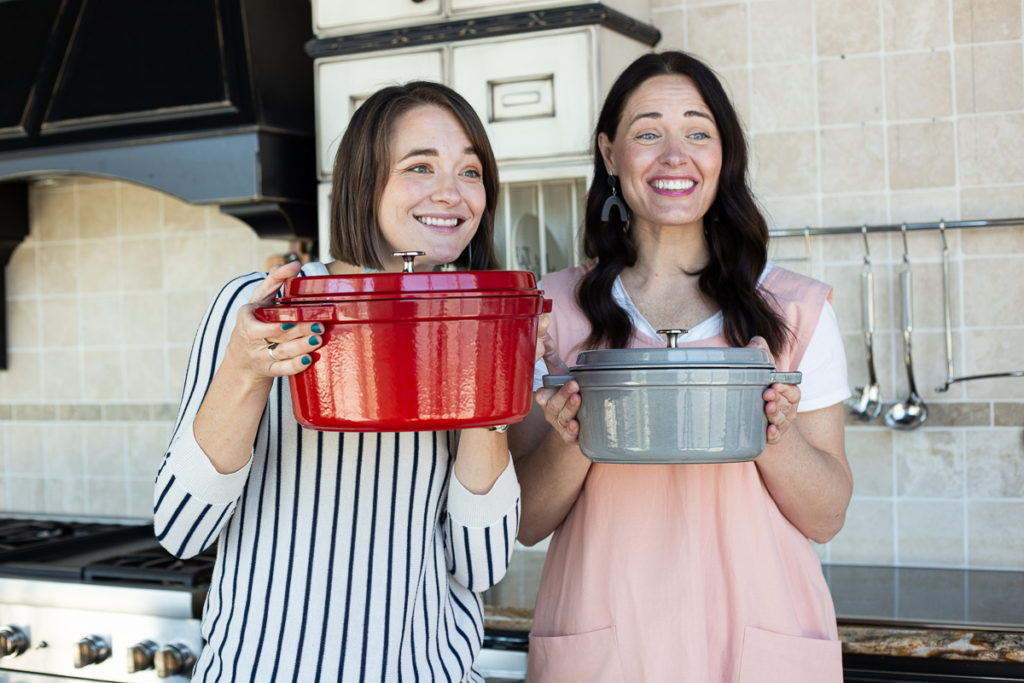 We'd been anticipating a big shipment of the Staub 7 qt Cocotte, lovingly termed "The Mother." We've sold the 4 qt for the past few years, and we were excited for this slightly larger size. It doesn't have a much larger footprint, it is slightly wider and much taller, making it a little more capable of caring for a family. When our new stock of pans arrived, we ran to the warehouse to bask in their glory and immediately grabbed a black matte version, and sent it off to our first stop.
Stop #2 CROATIA with Daniela from "Mogwai Soup"
Daniela bring us a delicious homemade tomato sauce, perfect for throwing on some freshly boiled pasta, slathering on a pizza crust, or eating with a chewy baguette. Coming from Croatia, Daniela has a loving presence and her recipes make you want to get into the kitchen.
Here's why she loves her Staub pan,
"In this amazing pot I also boil the water for my pasta, cook soups, bake sourdough bread in every week and it is my absolute favorite to use for Sunday meals. I roast a whole chicken in it, make pot roast or carnitas. This cast iron magic pot is truly a favorite in my kitchen and I feel so spoiled by it. Food just comes out better in it and makes me look good. "
Stop #3 ARIZONA with Heather Thomas "That Bread Lady"
We love a meal that can feed a crowd, and the 7qt Staub is up for the challenge. Heather started out as a bread maker, and has turned into a resource of knowledge and expertise benefiting many. But it's her desire to make baking a memory with her family that really drew us to her. We are excited to share this fun recipe with you.
If you're looking for a delicious breakfast casserole that everyone will love, this Triple Berry French Toast Bake is for you! It has so many delicious elements: A buttery brown sugar layer on the bottom, perfectly baked (and not soggy!) French Toast squares, a flavorful mix of berries and a cinnamon streusel topping! Made in a big 7-quart cast iron Staub pan, it bakes up perfectly and will feed a small army!
We have been long time fans of Alanna, she is a candy making visionary. With whimsical, fun, and most importantly, sweet ideas to share in mesmerizing ways. She found passion in the kitchen through candy, and we love seeing her grow and expand as a creator.
It only made sense that she should make some of her hard candy in a Staub, and we'd see how it really turns out. The verdict: she loved the pan! The suckers were sweet, and adorable. And the pan cleaned up so nicely when she was done.
"My love of lollipops started 10 years ago making lollipops for my kids, friends and family as gifts. I always loved homemade gifts. They just seemed a little more special. So whenever I made lollipops I made sure I only made them when I was happy. You know you can taste a difference if it's made with love. It brought me such joy to share these little treats with others. " – Alanna
Stop #5 IDAHO with Sara Wells from "Our Best Bites"
We have known Sara, from Our Best Bites, for a while now, and we have always loved the real, authentic, craveable, delicious recipes she's shared over the years. When thinking of a "sister" that shares our love for Staub, we instantly thought of her and her home cooked goodness. She loves the Staub and we love her recipes. A match made in heaven.
"My 7qt Staub is basically a 5th child at this point and has a permanent place on my stove top because 1. I use it so often and 2. It's so pretty it looks like an accessory ✨ All the raving about these amazing pots is true. One thing I love specifically about the matte black is that it always looks brand new! The wear and tear on the beautiful colors has its own charm, but that black hides everything and looks so sleek! It's a piece I'll use forever and I think my kids will always have memories of seeing on the table at our family dinners. " – Sara Wells
Stop #6 UTAH Back Home to the Gygi Gang
It felt so good when our dear pan came back home to us. The Staub made its way around the world, and reminded us that no task is too big, no recipe too simple, no meal unworthy of trying it out in the Staub.
We wanted to finish off with one of our timeless and well-loved recipes that made the Staub famous: Crusty Bread! This no-knead, quick rise recipe can be ready to eat in 3 hours. The Staub helps create steam inside the oven, which makes for a chewy center and crusty outside. We can't get enough of it.
---
Not sure which size is right for you? We list the pros and cons of both pans to help you decide.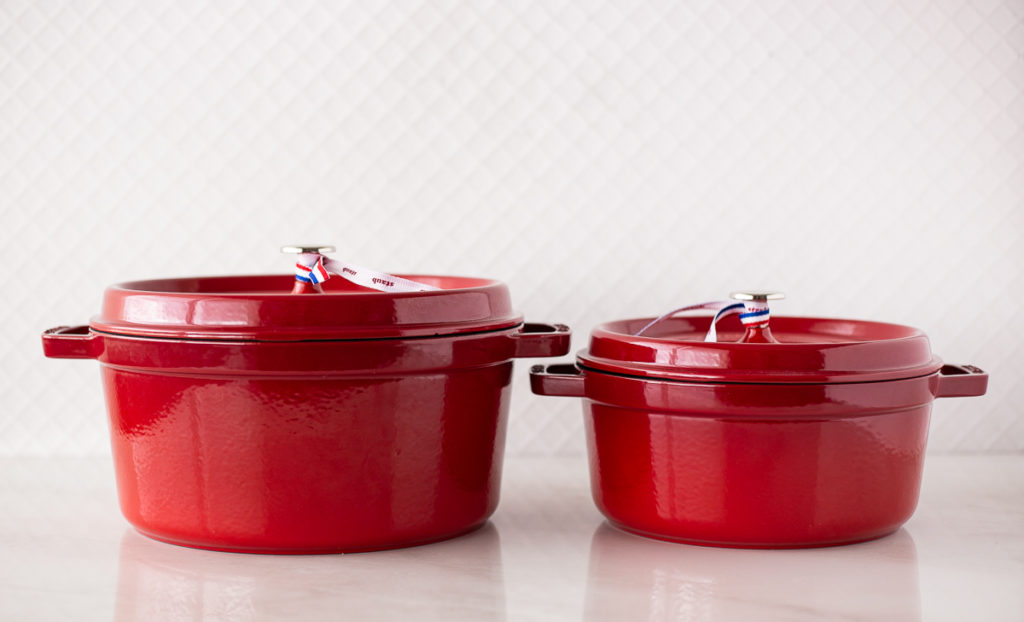 To read more about WHY WE LOVE STAUB! Check out this post here.