I've been making Peanut Butter Truffles for almost 8 years. It's the first truffle I dared attempt – it seemed simple! And it's the first truffle my husband has ever enjoyed, which is why I keep coming back to it! The creamy filling is impossible to mess up and the result is rich and creamy, peanut butter treat.
I also love this recipe, because it makes a lot of peanut butter truffles. Perfect for gift giving! Fill a candy box with a few of these goodies and you'll quickly  become the favorite neighbor.
You need just a few ingredients. Peanut butter chips. Peanut butter. Chocolate.  And the filling takes almost no time! The most intensive part of the process is dipping your truffles. But a little late night dipping session is one of my favorite past times. Add a little Netflix. And I'll keep dipping all night long!
A few tips to make your dipping easier…
1. Chill your filling prior to dipping. It will stay more stable during the dip and the chocolate will harden quickly.
2. Use parchment paper. Your dipped chocolates will easily be removed.
3. Add a little sprinkle to the top. Do this while the chocolate is still wet. It will add some visual interest and disguise any imperfections.
4. Share these with someone. Or you will eat the entire pan yourself.
I like to use Chocolate Snaps for this truffle. They are considered a compound chocolate, which means they don't need to be tempered, as they don't contain any cocoa butter. (Learn more about chocolate, here.) They are easy to use and pair well with the creamy filling, making a delicious peanut butter truffle.
If you are new to working with chocolate, check out this post. And this post for melting chocolate.
Happy Dipping!
Click here to shop for your Peanut Butter Truffle supplies.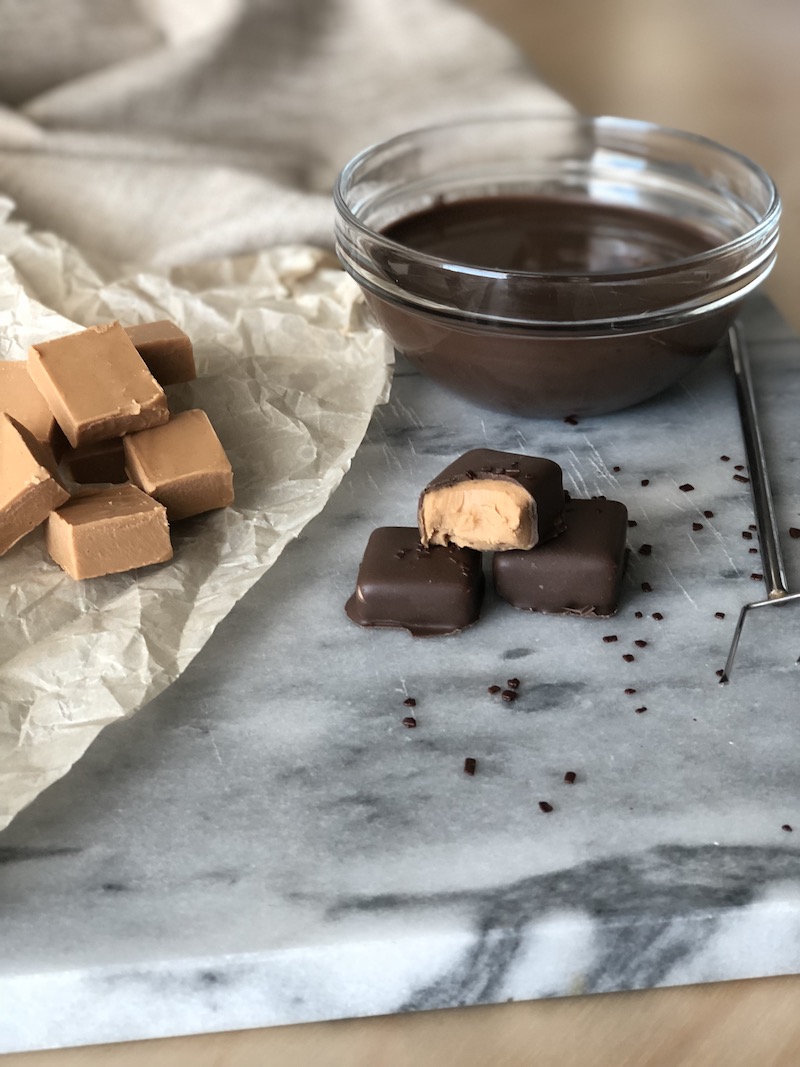 Ingredients
3 cups Peter's Peanut Butter Chips
1 cup creamy peanut butter
2 cups milk chocolate
Directions
In a microwave safe bowl, melt chips in 30 second increments, stirring between.
When chips are melted, add peanut butter and stir until well mixed.
Pour mixture into a 9"x13" pan lined with parchment paper.
Leave mixture to cool, about an hour.
Remove parchment from pan and cut into squares.
In a microwave safe bowl, melt milk chocolate in 30 second increments, stirring between.
Dip peanut butter centers in milk chocolate and let cool on a sheet of parchment paper.

Yield: about 9o 1" square truffles
Check out these truffle recipes on our blog: