Imagine a meal where the whole feast is cooked out on the grill. We love those times when we can fire it up and not dirty a pot or the stove inside. The idea behind these veggie bowls came from the excitement over the simple deliciousness of grilled veggies. The tender crisp texture, with a little charbroiled flavor is irresistible. But serving your family a plate of veggies just doesn't always count as a meal. Enter: The Grilled Veggie Bowl.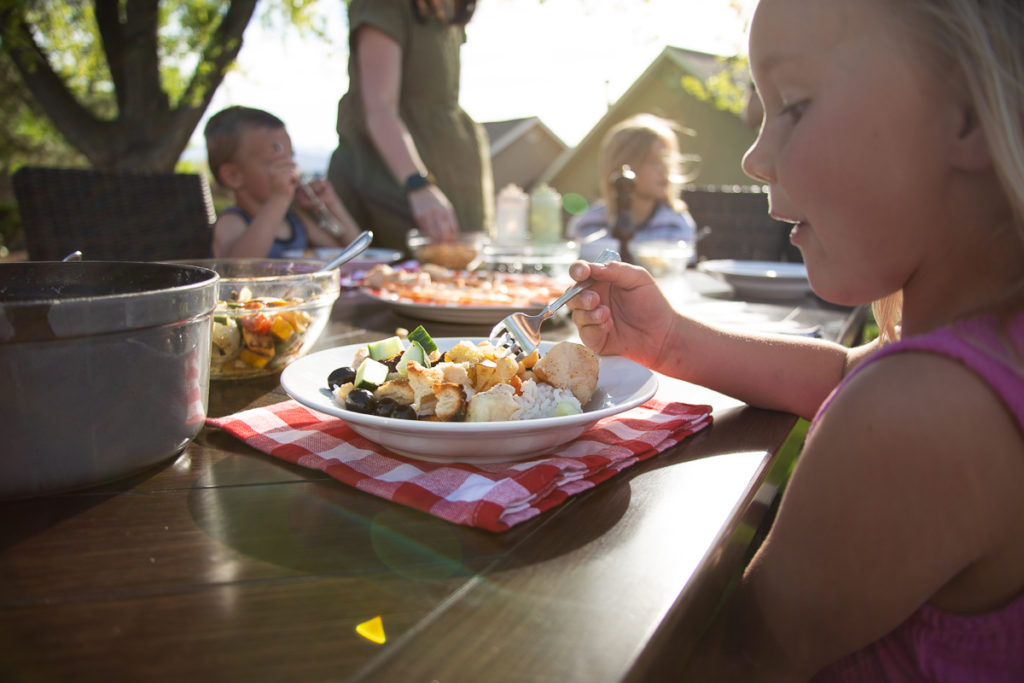 Start with a starch, layer on the veggies, add in some kind of protein, fresh toppings and a drizzle of sauce- and you've created a whole meal. Picking one item or a couple from each category and mixing it all together couldn't be simpler. Cooking it all on the grill makes dinner prep, cooking and cleanup a breeze.
Use this as a backbone for a fun dinner for one, or add more options for larger groups, letting each person build their own bowl. We're sharing this basic idea, but the possibilities are endless. And from our perspective, we've yet to try a Grilled Veggie Bowl we didn't like.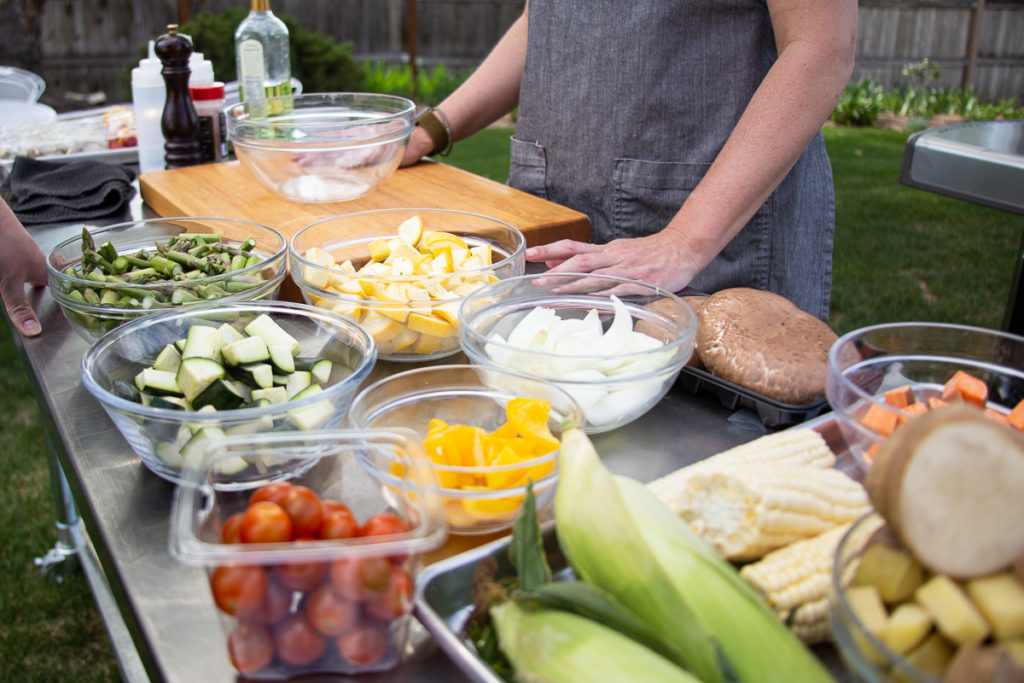 Here are the components we've used. Pick one, two or four from each category, throw them all together in a big bowl and eat it up!
Grilled Veggies
Corn
Zucchini
Peppers
Potatoes
Green Beans
Mushrooms
Tomatoes
Onions
Broccoli
Grain or Starch
Pasta
Quinoa
Rice
Farro
Grilled potatoes
Grilled cubes of bread
Protein
Toppings
Matchstick carrots
Sliced cucumbers
Fresh herbs: dill, cilantro, parsley, mint
Olives: kalamata, black, green
Cheese: feta, parmesan,etc
Beans: black, chickpeas
Hemp hearts
Sunflower seeds
Sauces
(recipes down below)
Mediterranean Avocado
Curry tahini
Korean bibimbap
Chipotle
Magic Green Sauce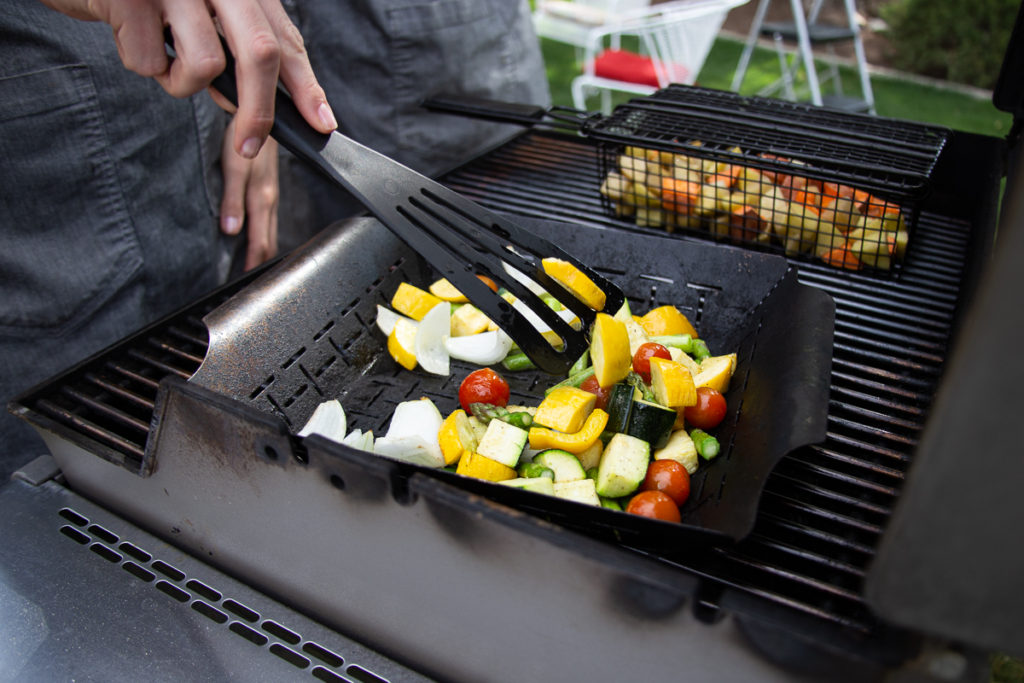 Tips for Grilling Veggies:
We love using a grill basket to pile in the veggies we choose. They are easy to use, don't require much cleaning and allow you to cook anything smallish in size without the fear of your yummy food falling in between the grates.
But here are a few more ideas for delicious grilled vegetables-
UNIFORM SIZE
When prepping grilled veggies, it is best to cut the pieces into uniform size. They should be small enough to fit in your mouth in one bite, but large enough they won't fall through the grates of the grill basket.
PLENTY OF OIL
Vegetables on the grill need a coating of oil. This prevents them from sticking to the grill basket and allows the edges to develop a deep, caramelized flavor. Our favorite oils to use on the grill are grapeseed and avocado. With a higher smoke point, they don't burn like olive oil. Plus, the flavor is mild and delicate.
SEASON, SEASON, SEASON
Add your favorite seasoning to the veggies before they are grilled. Pepper and Kosher Salt are a great place to start. A dash of granulated garlic and onion adds a nice depth of flavor. A sprinkle of Chef Todd's Pit Seasoning adds a punch of flavor. Flavor the vegetables, then taste them! Keep in mind, you can always add more flavor after they're cooked.
TIME IT RIGHT
Vegetables are not created equal. So, they should be treated differently, depending on how long it takes for them to cook to a tender-crisp texture.
If you're cooking potatoes, they take the longest and should be placed in the grill pan first. Zucchini, peppers, asparagus, mushrooms, onions, broccoli, cauliflower, etc. cook similarly so they can be placed in the grill pan together at the same time. Tomatoes cook more quickly, so they should be placed in the grill pan five minutes before the rest of the veggies are cooked. Timing the vegetables correctly is a secret to the ideal texture. If you're adding corn, grill it while the corn is still on the cob. After cooking, cut from the cob to serve.
DON'T CROWD THE PAN
This final tip is the ultimate secret to grilled veggie success: do not overcrowd the pan. If the veggies are too close together, they will sweat and steam instead of roasting and caramelizing. Better to cook in batches than to fill the basket too full.
Tips for Grilling Meat
We love cooking up some kebabs (aka kabobs) for these dinner bowls. Pick a preferred protein (or three!). Then cut the meat into a uniform size. Toss in a little seasoning (as simple as S+P, garlic salt or your favorite seasoning blend) thread onto skewers and throw those babies on the grill next to your grill basket. The meat will cook pretty quickly on the skewers, so keep a close eye, and turn them frequently to get even caramelization on all sides.
Serve a kebab with each bowl, or take the meat off the skewer and serve from a bowl.
If you're making food for a big crowd, we love grilling up a few chicken breasts or a flank steak, and slice them up before serving.
Make a Sauce (or two!) to Seal the Deal
The sauce is totally optional, but definitely doesn't want to be missed. A simple drizzle of balsamic vinegar or a squirt of ranch dressing could hit the spot.For some fun sauce recipes to make your tastebuds soar, try out one of these fun recipes:
Mediterranean Avocado Sauce
1 c plain Greek yogurt
1 large avocado
1 clove garlic
1 Tbsp lemon juice
1 tsp lemon zest
1Tbsp chopped dill
½ tsp kosher salt
¼ tsp black pepper
water or oil
Combine the Greek yogurt, avocado, garlic, lemon juice, dill, salt, and pepper in a food processor. Add water or oil to thin until it is the right consistency to drizzle. Scrape into a medium bowl and serve.
Korean Bibimbap Sauce
1/2 c soy sauce
2 Tbsp sugar
4 tsp toasted sesame seeds
2 tsp toasted sesame oil'
1 tsp minced garlic
Whisk all the ingredients together, taste and serve!
Chipotle Sauce
1 chipotle chile in adobo sauce
1 tsp. chipotle chili adobo sauce
½ c mayonnaise
⅓ c plain Greek yogurt
¼ c cilantro
¼ tsp cumin
¼ tsp dill
Kosher salt to taste
Place all ingredients in a blender or food processor and puree until smooth about 2-3 minutes or until the mixture is nice and creamy. Pour into a jar or small bowl and refrigerate for up to 4 weeks.
Magic Green Sauce
5 cloves garlic, peeled
1 medium serrano pepper, remove seeds and stem
1 cup cilantro leaves
1 cup flat-leaf parsley
1 ripe avocado
¼ tsp salt
3 Tbsp lime juice
1 Tbsp maple syrup
1 Tbsp avocado oil
water
Place all the ingredients into a food processor and blend until smooth. Use water or more oil to thin until it's the perfect consistency. Taste and adjust!
Curry Tahini Dressing
¼ c tahini, well-stirred
1 Tbsp apple cider vinegar
1 Tbsp maple syrup
2 tsp chili garlic sauce
½ tsp curry powder
¼ tsp ground turmeric
¼ tsp kosher salt, or more to taste
water
Pour all ingredients into a medium-sized bowl, and whisk. Add water one tablespoon at a time until smooth and creamy.
---
This fun new "recipe" (can we even call it that?) is part of our Gygi Grilling Gala for 2021. To find more innovative recipes to create a "getaway" in your own backyard, click here!