This salad tastes like summer. It is the perfect way to use up the abundant crop of veggies coming out of your garden or found at the farmer's market. We've shared our favorite combo, but use any vegetables you'd like- as long as the cummulative amount is about 10 cups of chopped vegetables.
This recipe relies on a few basic rules for roasting or grilling vegetables. Read more to ensure your salad is bright, crisp, and delicious, instead of mushy and bland.
Uniform Size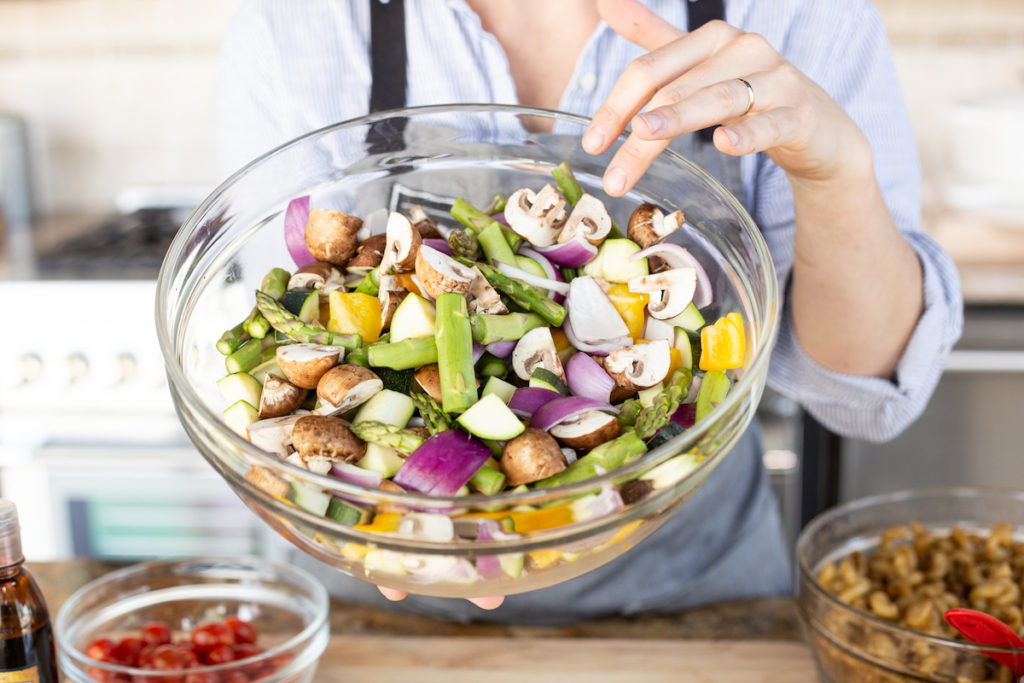 When prepping grilled veggies, it is best to cut the pieces into uniform size. They should be small enough to fit in your mouth in one bite, but large enough they won't fall through the grates of the grill basket.
Plenty of Oil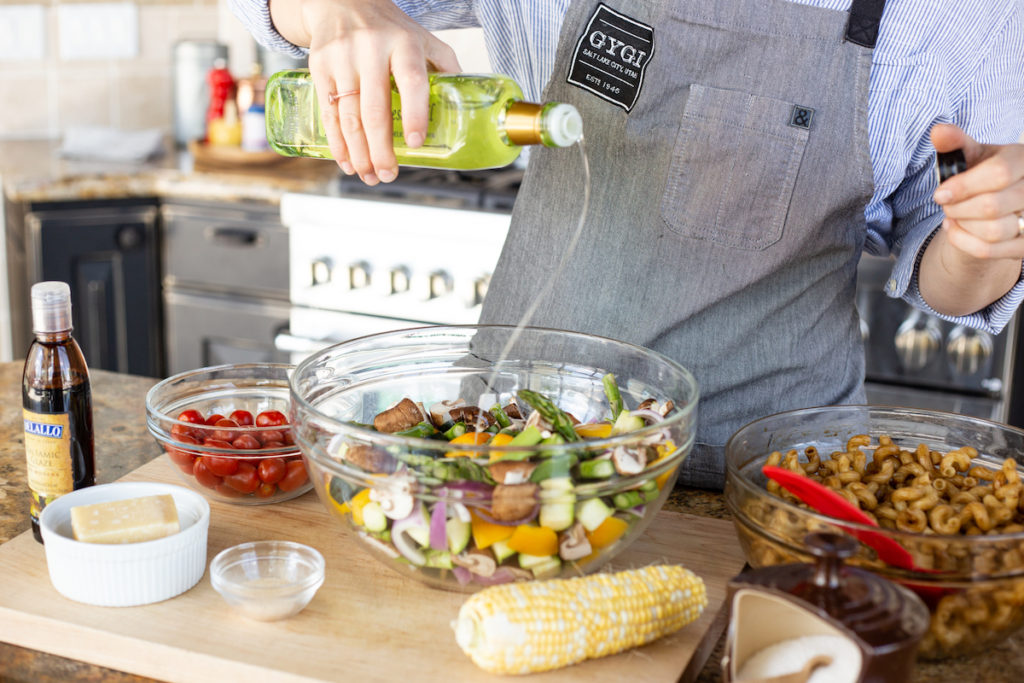 Vegetables on the grill need a coating of oil. The prevents them from sticking to the grill basket and allows the edges to develop a deep, caramelized flavor. Our favorite oils to use on the grill are grapeseed and avocado. With a higher smoke point, they don't burn like olive oil. Plus, the flavor is mild and delicate.
Season, Season, Season
Add your favorite seasoning to the veggies before they are grilled. Pepper and Kosher Salt are a great place to start. A dash of granulated garlic and onion adds a nice depth of flavor. A sprinkle of Chef Todd's Pit Seasoning adds a punch of flavor. Flavor the vegetables, then taste them! Keep in mind, you can always add more flavor after they're cooked.
Time it Right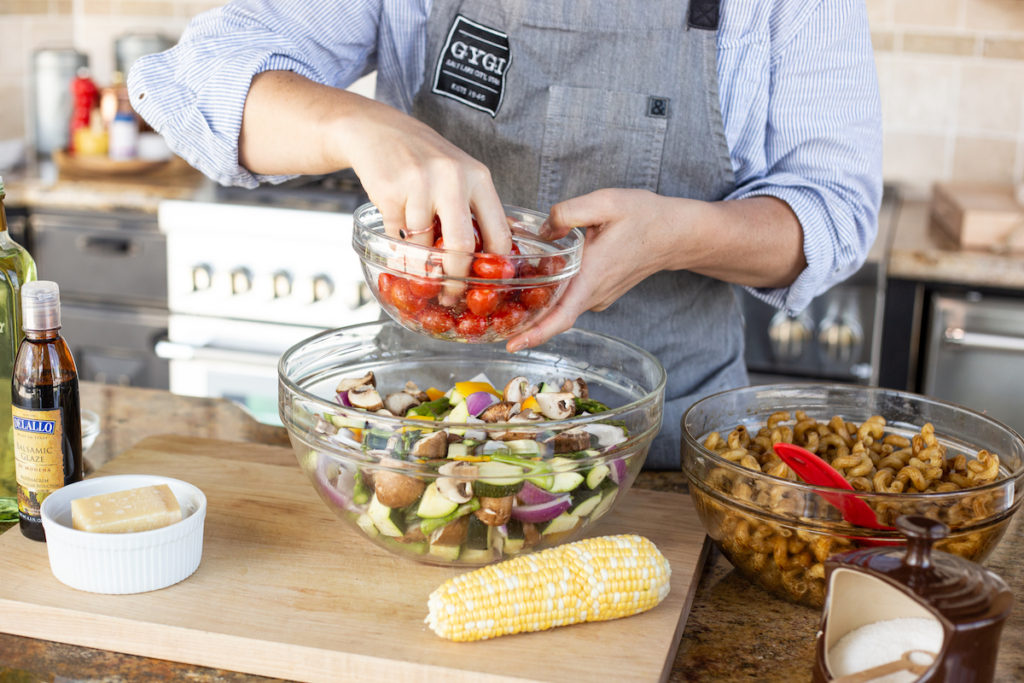 Vegetables are not created equal. So, they should be treated differently, depending on how long it takes for them to cook to a tender-crisp texture.
If you're cooking potatoes, they take the longest and should be place in the grill pan first. Zucchini, peppers, asparagus, mushrooms, onions, broccoli, cauliflower, etc. cook similarly so they can be placed in the grill pan together at the same time. Tomatoes cook very quickly, so they should be placed in the grill pan five minutes before the rest of the veggies are cooked. Timing the vegetables correctly is a secret to the ideal texture. If you're adding corn, grill it while the corn is still on the cob. After cooking, cut from the cob and add to the salad.
Don't Crowd the Pan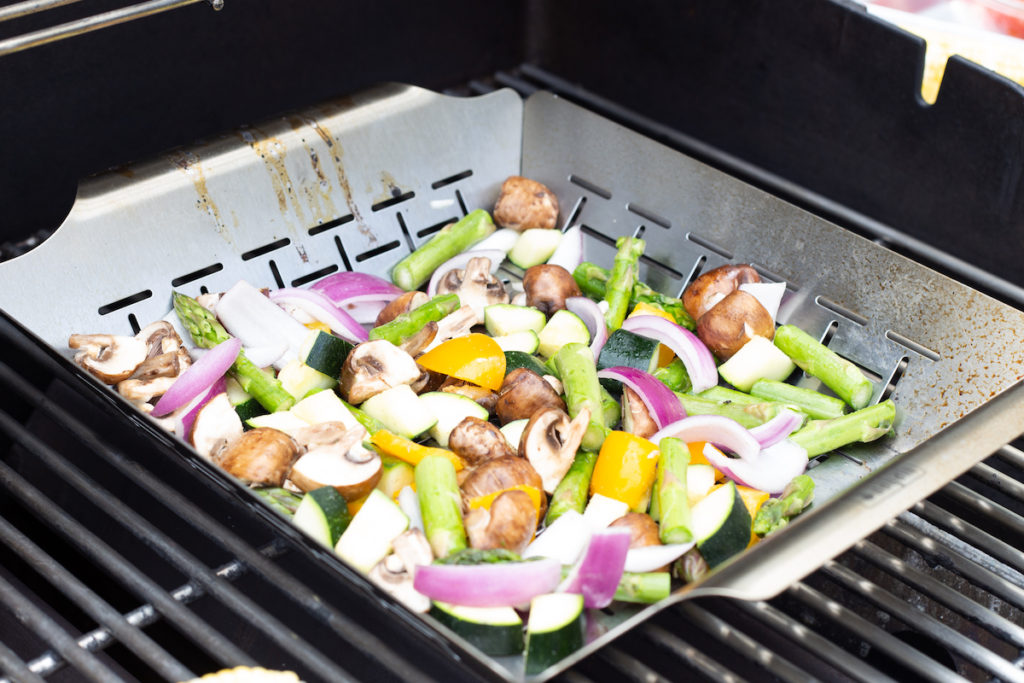 This final tip is the ultimate secret to grilled veggie success: do not overcrowd the pan. If the veggies are too close together, they will sweat and steam instead of roasting and caramelizing. We use two grill pans, which allows us to cook all the vegetables at the same time. But you can also cook in batches, if you're working with one grill pan.
Gas Grill vs. Traeger Pellet Grill
The veggies can be grilled on either a gas grill or a pellet grill. If using a gas grill, keep the temperature at a medium – about 425 degrees. At this temp, the veggies will be tender crisp and caramelized in about 15 minutes.
If using a pellet grill, set the temp to 450 degrees. The veggies will require more time to cook – closer to 30 minutes. The vegetables will not develop as many dark spots of caramelization, but they will be infused with delicious, smokey flavor.
Grill Baskets
A variety of grill baskets are available for purchase at Orson Gygi. We use all three styles pictured above in our grilling endeavors. When selecting a grill basket, choose one with small slits or holes to allow the heat to penetrate while holding the vegetables in.
A basket with a lid allows for shaking to stir the veggies, while an open basket is stirred with a spatula. Both options will work just fine for cooking your veggies.
Ingredients
A note about the ingredients in this recipe. First, use any assortment of veggies you desire. This is our favorite combo. But we often make this salad to clean out the fridge or use up the abundance of veggies coming out of the garden. If you're making a full batch, with a full pound of pasta, you'll need about 10 cups of cut veggies. But you can easily halve the recipe for a smaller batch.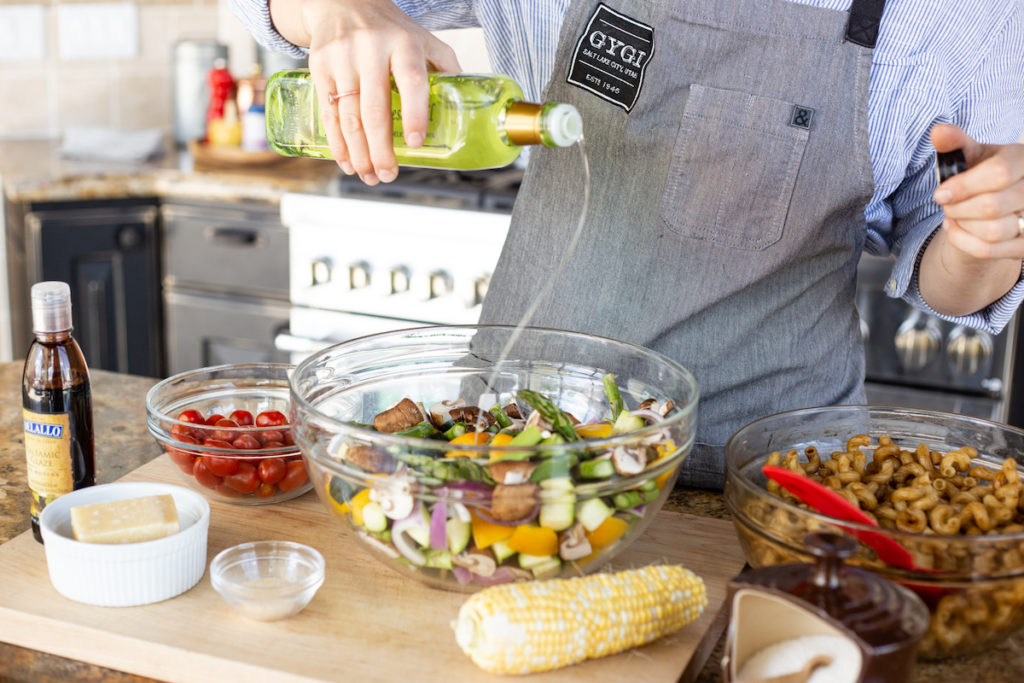 Now, let's talk about the balsamic vinegar glaze. You could make this from scratch, if you have a balsamic vinegar and a bit of time on your hands. Or you can buy it at the grocery store. You'll find it near the other bottles of balsamic vinegar, usually on the top shelf. We've tried several brands and, while they have slight variations in flavor, they are allll delicious. One of our favorite dressings, we use balsamic glaze for a punch of flavor for eggs, pasta, veggies, chicken, salmon, salad, and so much more.
Last, pasta. The recipe recommend penne, only because it is easily found in all grocery stores, but you can use any similarly sized pasta shape. It should be small enough to be eaten in one bite, but not so small that it disappears in the salad.
This recipe is extremely customizable. Use the ingredients you love most. This salad is forgiving and delicious whether you serve it hot, right off the grill or it cools for a few minutes and is eaten at room temperature. In fact, it's quite fantastic a day or two later, too! It's just good. You'll love it.
Print Recipe
Balsamic Grilled Veggie & Pasta Salad
Ingredients
1 pound Penne Pasta
balsamic Glaze (found on the vinegar aisle at most grocery stores)
1 bell pepper
1 bunch asparagus
1 pound sliced mushrooms (we love crimini)
2 small zucchini
1 red onion
2 ears of corn
1 pint grape or cherry tomatoes
grapeseed, avocado, or other high-heat oil
salt & pepper to taste
fresh parmesan cheese
Instructions
1

Cook the pasta in salted water. Drain water and place noodles in a large serving bowl. Drizzle balsamic glaze on noodles and toss together. Set aside.

2

Cut the veggies into bite size pieces and place in large mixing bowl. (Leave out tomatoes and corn, if using). Drizzle 1/4 cup oil and toss. Veggies should be lightly coated with oil, so add more if necessary. Season to taste with S&P.

3

Prep the shucked corn by rubbing with a tablespoon of oil. Season with S&P.

4

Roast veggies at 450 degrees- either in the oven on a sheet pan, or in a grill basket on a gas or pellet grill. Do not overcrowd the pan. So, use multiple baskets or roast in multiple batches.

5

Cook until tender crisp. About 15-20 minutes. They should still be bright and vibrant in color with a bit of bite to them - no mushy veggies! Add the tomatoes during the last five minutes of cooking, as they cook quickly.

6

Cook corn by placing directly on the grates of the oven or grill. Turn every 5 minutes to cook all sides. Remove when the kernels are soft a few char marks are apparent.

7

Toss veggies and pasta in a large serving bowl. Cut corn from the cob and add to the salad.

8

Drizzle with balsamic glaze and season with S&P. Toss. Taste. Add more if needed.

9

Use a peeler to add fresh parmesan cheese shavings to the top of the salad.

10

Then eat it!!! You can eat this warm. Lukewarm. Cold. The day it's made. The day after it is made. All day. Every day. It's amazing anyway you serve it.
Notes
(You'll need about 10 cups of vegetables. So, use any combo you like. This is our favorite combo, but this recipe is a great way to use up an abundance of produce, so use any combo that works for you. Also, this is a large salad - perfect meal prep for the week or ideal for a large party. But you can easily halve the recipe for a smaller batch.)