Ready to branch out and try something in the Traeger that takes a little more effort? Then it's time to try this recipe for Smoked Cheesy Pesto Bread. It yields the most delicious garlic bread that is crunchy on the outside, fluffy on the inside, and incredibly cheesy all over. And smoking it in the Traeger adds the most delicious layer of flavor. 
Do you know what happens when you add garlic, mozzarella, and basil pesto to bread? Pure bliss! This recipe is insanely easy to make. It doesn't require too many ingredients and not a lot of work.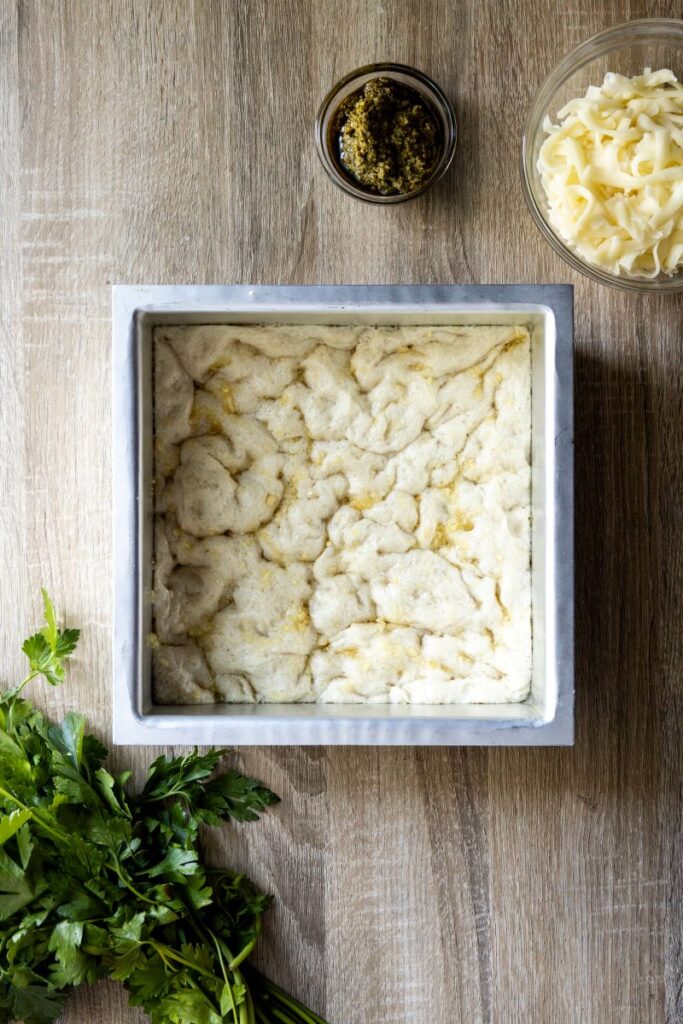 The dough is meant to be sticky, but not too sticky. This is the most common problem when making any kind of bread dough. But it is a problem that is easy to remedy. Most sticky dough comes from too much hydration. Basically, it has too much water. To help combat this issue, you can add a little more flour to the mixture. Another thing is to use oil–more than you might think. Put it on the dough and on your hands when you start working with the mixture. This will allow you to easily shape the dough.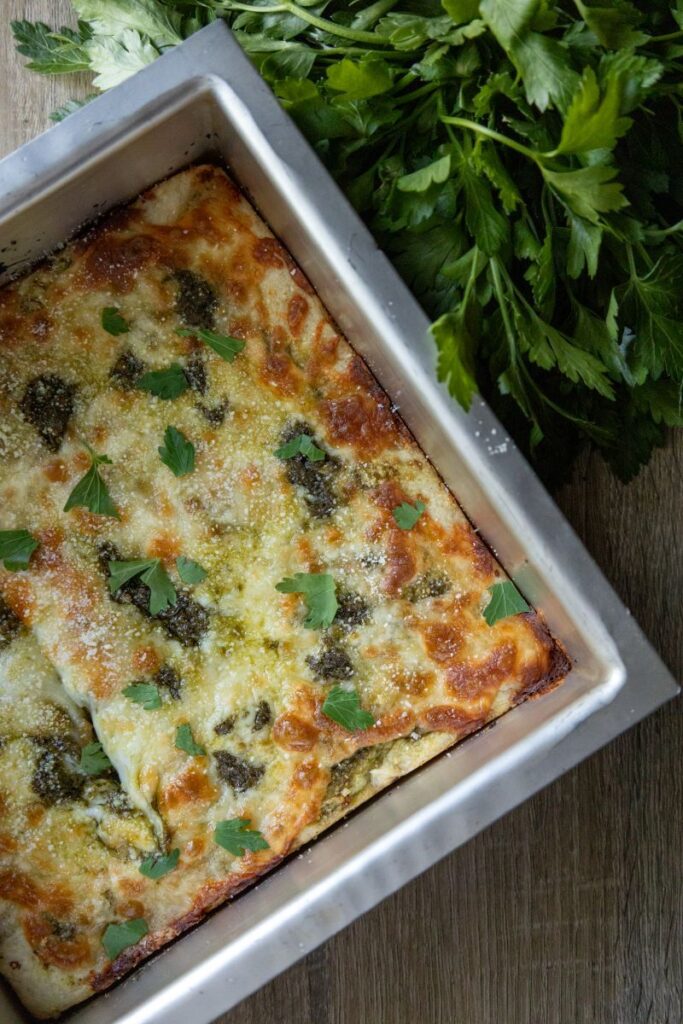 Also, you don't want to deflate the dough. Don't push it flat into the pan. Just continue working it gently–pressing and stretching with just your fingertips to help maintain the dimpled surface. It will look a lot like a focaccia. And keeping the oil on your fingers will help to keep it from sticking to your hands.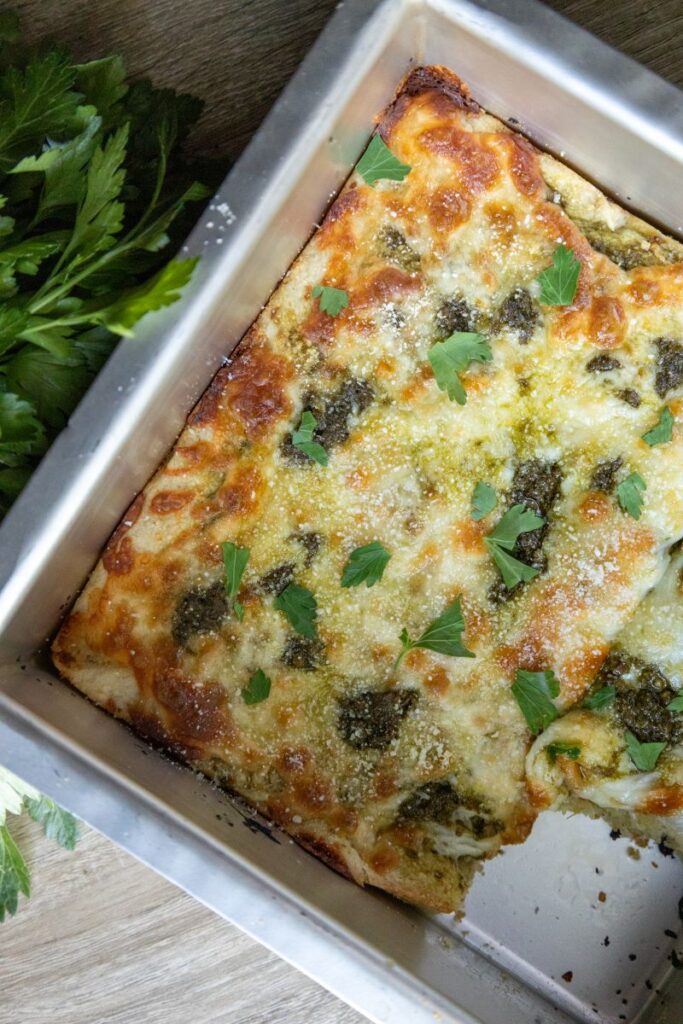 The Cheesy Garlic Pesto Bread tastes best served warm. But it can be stored in an airtight container and reheated in the oven or smoker right before serving. We can't wait for you to give it a try!
Print Recipe
Cheesy Garlic Pesto Bread in the Smoker
Ingredients
For the Bread
150 g bead flour
7 g instant dry yeast
½ tsp fine sea salt
1 tsp granulated sugar
125 g water warm (about 120°F (48°C))
7 g olive oil
For the Toppings
28 g olive oil (plus more as needed)
6-8 garlic cloves (minced)
65 g basil pesto
113 g shredded mozzarella
28 g grated parmesan
Italian parsley (optional)
Instructions
1

In medium bowl, combine bread flour, yeast, salt, and sugar. Stir in water and oil, mixing until a shaggy dough forms and there is no dry flour.

2

Lightly flour a surface. Turn out dough and gently knead for 4-6 minutes until elastic. Transfer back to mixing bowl, cover with plastic, and let rest for 10 minutes.

3

While dough rests, combine oil and garlic in a small cup.

4

Prepare an 8x8-inch pan with 1-2 Tbsp oil. Turn dough into pan and coat fully with oil. Pour about ⅓ of garlic mixture on top of dough.

5

Gently spread dough, shaping into the bottom of the pan by pressing down and dimpling with oiled fingertips. Dough may not reach the edges of the pan, and that is alright. Cover with plastic and rest 15 more minutes.

6

Uncover dough. Add remaining garlic mixture. Stretch and dimple dough until it reaches corners of pan, using extra oil as needed. Cover once more and allow dough to rise for 1 hour.

7

With about 20 minutes left in rise time, reheat Traeger to 500°F.

8

Remove plastic wrap from dough and coax back into the corners of the pan if necessary. Add dollops of pesto sauce and gently spread in an even layer. Do not deflate dough too much! Sprinkle with mozzarella and half of parmesan cheese.

9

Bake 11-13 minutes, until edges get golden and cheese is bubbling and melty. Remove from Traeger and sprinkle with remaining parmesan cheese and chopped parsley. Allow bread to cool 5 minus, then remove from pan onto a cutting board. Serve and enjoy!