New rule–every time the smoker is on, this monkey bread is going in! This recipe for Cinnamon Chip Monkey Bread was the easiest of the day, and maybe even the most delicious. It was so good with so little effort. This is the perfect dessert recipe if you want to try baking on the Traeger. You read that right, you can bake dessert on the Trager. Can you think of anything more perfect when you don't want to use your oven on a hot summer day? 
You start with premade, refrigerated biscuit dough (or you can use your favorite bread recipe, just cut it into pieces after the first rise). After you quarter the biscuits into the perfect bite-sized pieces you coat the dough with cinnamon sugar. We love using our large stainless steel mixing bowls. They are the perfect size and help keep everything contained. For less mess though, you can use a resalable bag to just coat and toss.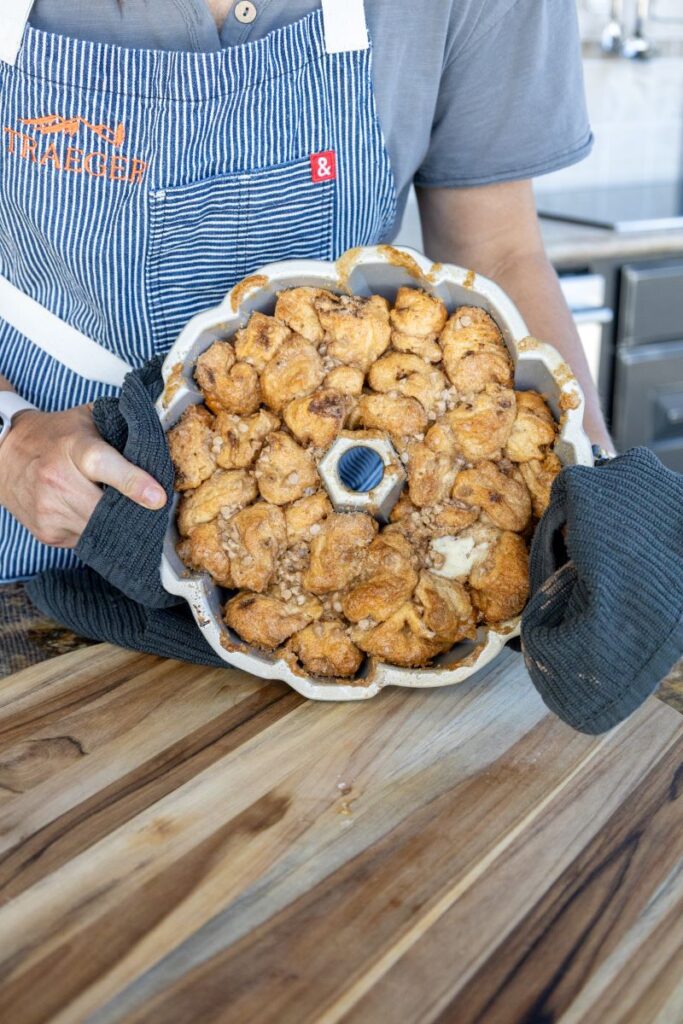 Once the pieces are coated, it's time to make the yummy glaze. Instead of a pot on the stove, we used a silicone bowl to microwave the butter and brown sugar. It is quicker, easier, and less cleanup. Now it is time to bake!
Remember how we tested a bunch of ways to prepare a Bundt pan? Well, now we follow the rules every time. That means preparing the pan right before you fill it, that way the spray coating doesn't drip down into the bottom. Then layer in half the dough pieces, sprinkle in the cinnamon chips, and the rest of the dough pieces. Now comes the best part, pour the melted butter and brown sugar all around so it can seep down between the pieces. That's it! You are ready to bake.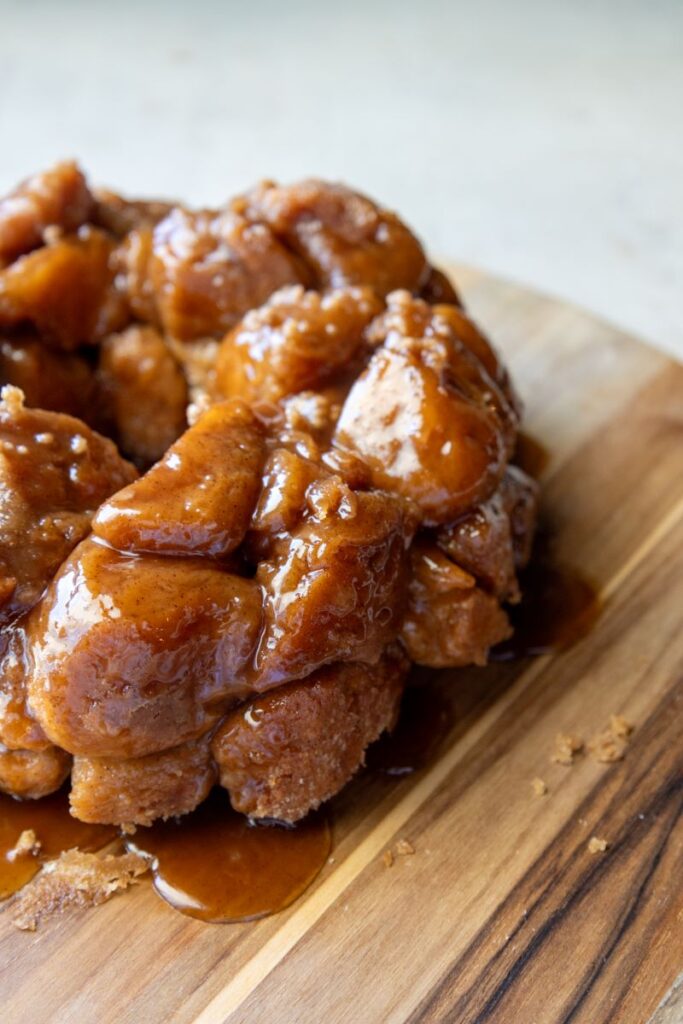 This Cinnamon Chip Monkey Bread came out golden, gooey, and delicious. Waiting for the pan to cool was the longest and most tortuous 15 minutes. But turning it out onto the cutting board was completely satisfying. We plan to make this recipe again and again–every time the Traeger turns on. Not joking!
Print Recipe
Cinnamon Chip Monkey Bread in the Smoker
Ingredients
2 cans Pillsbury Grands Southern Style Buttermilk Biscuits
1 cup granulated sugar
1 Tbsp ground cinnamon
1 cup unsalted butter
1 cup dark brown sugar
½ cup cinnamon chips
Instructions
1

Set Traeger to 350℉ and preheat for 15 minutes.

2

Cut premade biscuits into quarters. In a large bowl, combine sugar and cinnamon. Add quartered biscuits to the large bowl and toss to coat.

3

Prepare a large Bundt pan with Baker's Joy. Dump half of coated dough into pan. Sprinkle in cinnamon chips. Dump rest of the dough.

4

In microwave safe bowl, melt butter and brown sugar. Stir until sugar has dissolved.

5

Pour butter mixture over biscuits in Bundt pan. Place in the center of the grill. Bake for 45 minutes.

6

Remove from Traeger and cool in pan for 15 minutes. Turn out onto a cutting board or serving plate. Enjoy!