Peaches, pistachios, honey, and marzipan are just a few of the flavorful ingredients that combine for this unique Traeger Baked dessert.
Where do I even start with this Peach and Honeycomb Galette???
First – I'm obsessed. Kelly Cahoon! This recipe is a slam dunk. It's simple, yet classy and unique. It has a rustic feel with a gourmet taste – I'm in love.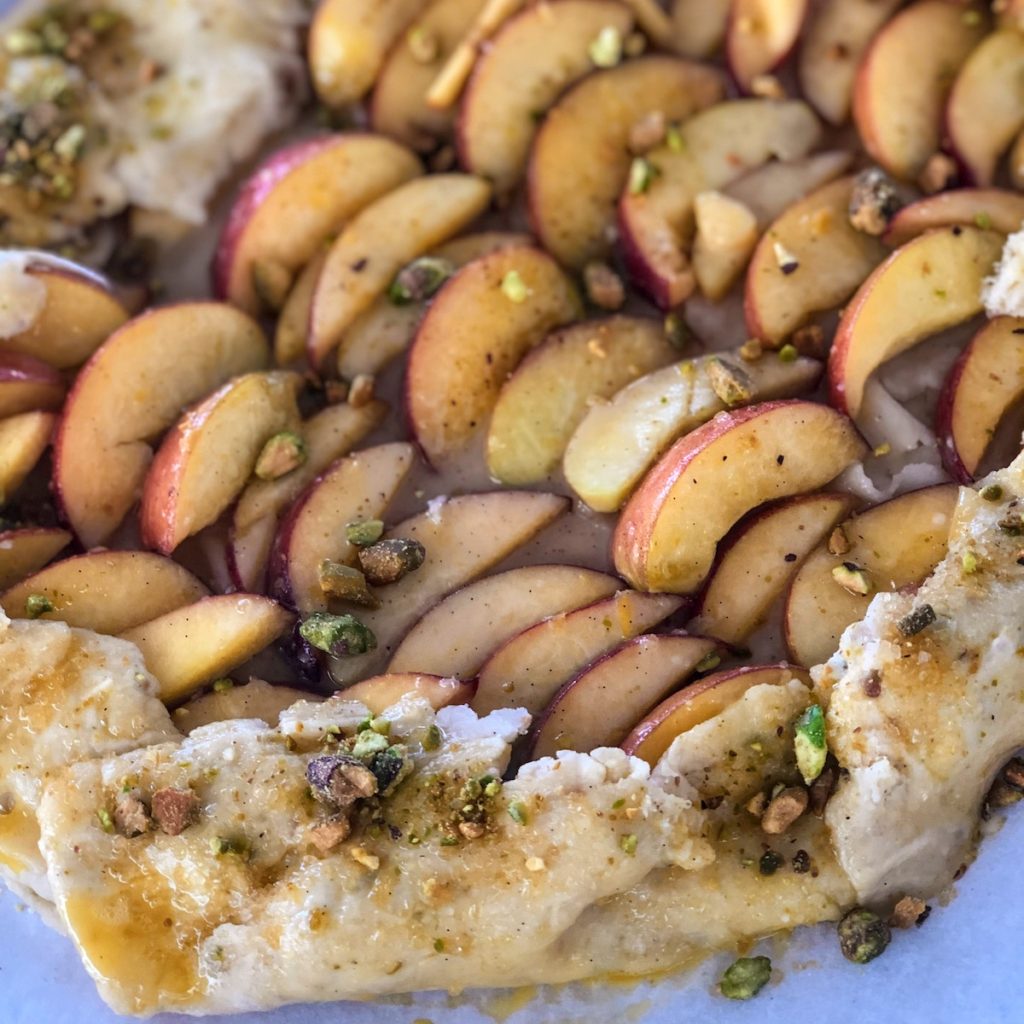 The crust is light and flakey, with earthy tones – thanks to the crushed pistachios.
The filling is fresh and flavorful! Peaches, ginger, honey, vanilla? Yes, please!!
But the magic is in the marzipan. The rich almond cream is sweet and rich and magical. Eating this galette has me thinking, "Why are we not adding marzipan to every dessert?" I might just start…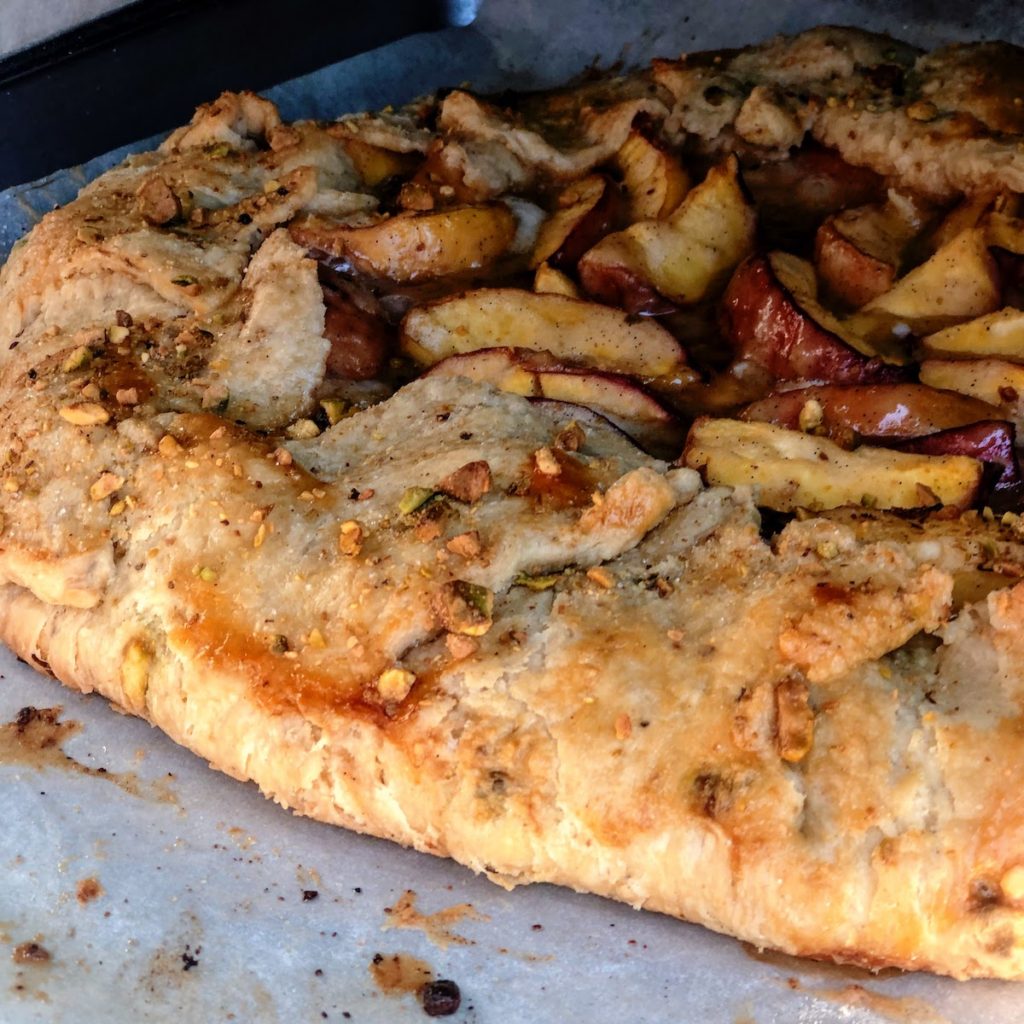 Oh! And the honeycomb!!! Talk about a showstopper!!! When we served this at a dinner party, our friends "ooooohed" and "ahhhhhed" when we topped the gorgeous galette with thin and gooey slices of honeycomb!! So classy.
This dessert! I'm telling you!!!! Amazing.
Plus!! The whole thing comes together in just 30 minutes. And it bakes on a Traeger Grill! Perfect for summer time entertaining. The convection-like environment of the Traeger bakes the galette quickly with no smokey taste left behind. Just stick with a pecan or apple wood pellet.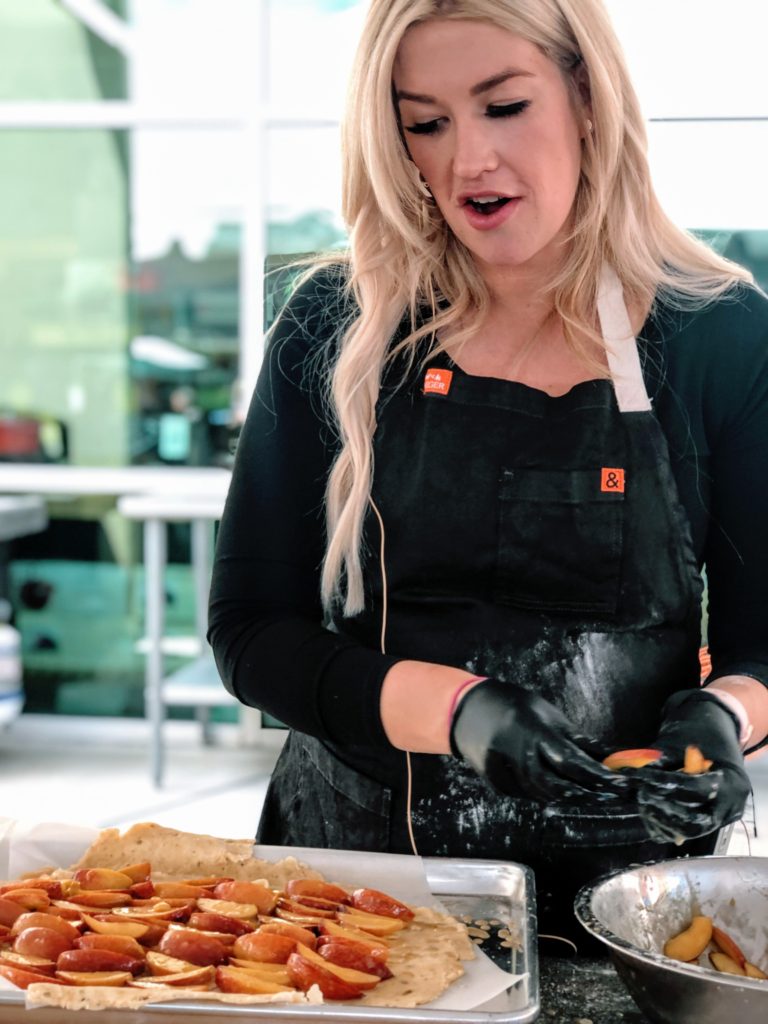 Kelly! You've revolutionized summer dessert for me! Thank you for sharing your recipe with us. I'll be making marzipan-lined galettes everyday!!!! And I can't wait to try other summer fruits- cherry is up next! Then plum!
Need more delicious inspiration for your grill or Traeger? Read here for all the recipes from our 2019 Grilling Gala.
Print Recipe
Peach & Honeycomb Galette
Ingredients
2 cups all-purpose flour
1 teaspoon vanilla bean salt
1 Tablespoon granulated sugar
1 cup butter flavored shortening
1/2 cup ice water
4 Tablespoons (divided) pistachios, crushed
1 Tablespoon turbinado sugar
1 egg, beaten
1/3 cup marzipan, room temp
4 large peaches, sliced (skin on)
1/4 cup honey
2 Tablespoons flour
lemon zest from 1/2 lemon
1 teaspoon ginger, zested
1 1/2 tablespoons corn starch
1/2 teaspoon vanilla bean paste
1/2 cup fresh honeycomb or honey
Instructions
1

When ready to cook, start the Traeger on smoke with the lid open until a fire is established (4-5 minutes). Set the temperature to 375 degrees and preheat, lid closed for 10-15 minutes.

2

In a large bowl mix the flour, vanilla bean, salt, 2 tbsp pistachios and granulated sugar.

3

Use a pastry cutter to cut the shortening into the flour mixture. The dough will look crumbled and flakey.

4

Slowly add the ice water while stirring with a metal fork until the dough just comes together in a ball. Set aside.

5

In a separate large bowl stir together the 1/4 cup honey, 2 tbsp flour, lemon zest, ginger, corn starch, and vanilla bean paste. Set aside to allow flavors to combine.

6

Flour a clean surface and rolling pin and roll the dough to 1/4 thick round. Use your hands to even out all the edges. Place the dough on a sheet pan lined with oversized pieces of parchment paper. (The dough will hang over the sides.) Set aside.

7

On the same surface, roll out the marzipan as thin as you can. Rip into 1/2 inch pieces and line the galette dough, leaving a 2 inch border. The dough should be covered in a single layer of marzipan.

8

After slicing the peaches, remove the round edge pieces and pat remaining peaches with a paper towel to remove any excess moisture. Very carefully add the peach slices to the vanilla-honey mixture and fold with a rubber spatula until the peaches are coated.

9

Starting from the outside, layer the peach slices on top of the marzipan making sure that they're all facing the same direction and overlapping the next row on top of the previous row until all the peaches are gone.

10

Use a paring knife to cut 1 3/4 inch slits into every 4-5 inches of the border crust. Fold each section over the one next to so it tops the peaches and creates a decent sized border. Pinch all corners and any rips that may have happened to keep liquid from coming out during the cook. Rip or cut off any parchment paper hanging over the edge of the sheet pan.

11

Brush the crust with beaten egg and sprinkle the remaining 2 Tbsp pistachios and turbinado sugar over egg. Place on the center rack of preheated smoker and cook for 30-35 minutes, until the edges are golden.

12

Use a butter knife to cut 8-10 super thin slices of fresh honeycomb and dot the galette. Serve warm with vanilla bean cream garnished with more crushed pistachios.

13

Optional Vanilla Bean cream: Before serving, in a large mixing bowl combine 1/2 cup heavy whipping cream, 1 tsp vanilla bean paste, and 1 Tbsp Traeger simple syrup and whip to stiff peaks.