Mom's Favorite Apple Pie is baked on a Traeger Grill for a summer dessert you'll love.
There are few things better than a slice of pie. And there is no pie better than Mom's Favorite Apple Pie from Si Foster of A Bountiful Kitchen.
She's shared her classic recipe with the world for years. It combines a light and flaky crust with fresh apples, generously coated in spices and flavor. It is everything an apple pie should be!
We've been making this recipe for Thanksgiving for years. Our family is in love. But we never make it in the summer months. Who can handle the oven on for an hour??? Not me! Therefore, apple pie had been reserved for the cooler months of fall and winter.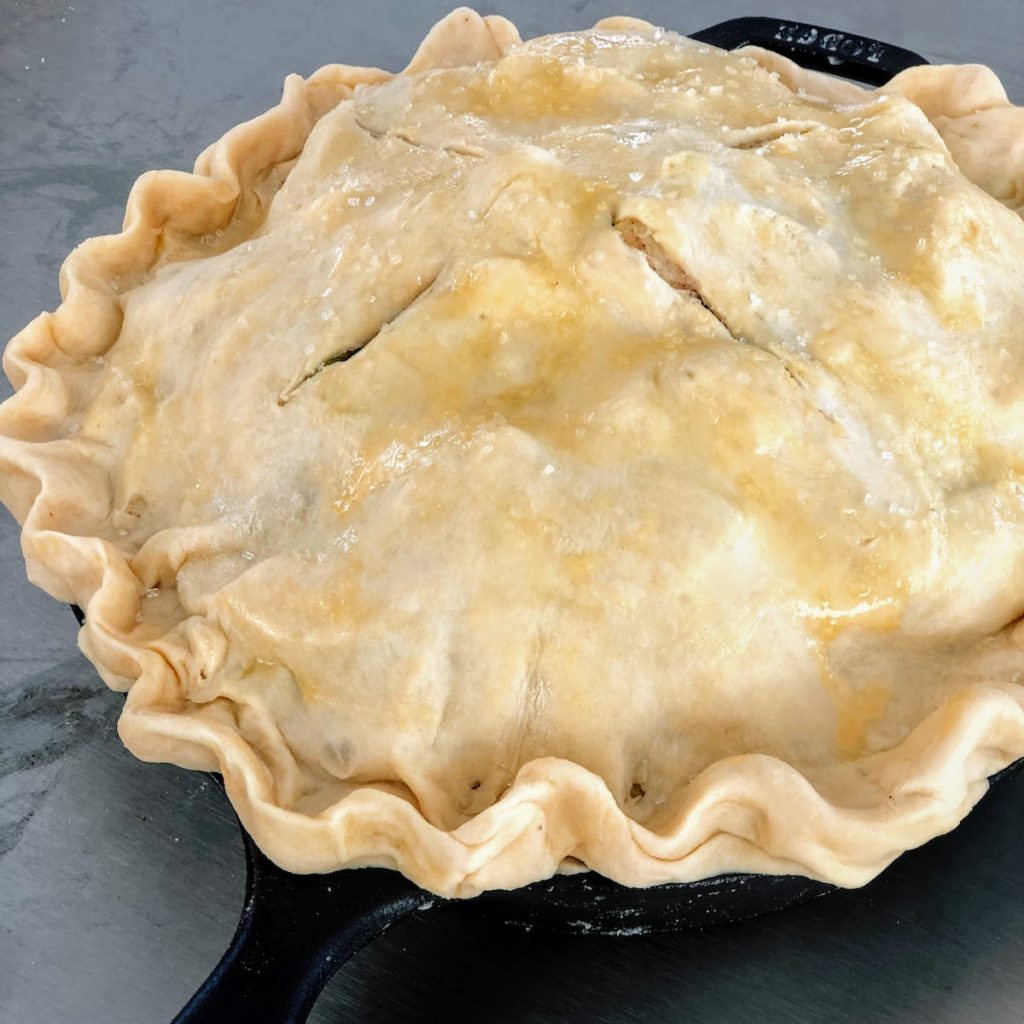 Well… not any longer! Apple pie can be made any time of the year, when you use your Traeger Grill as an outdoor oven!
Before you go running – imagining the smokiness of what this pie could be – hear me out! And trust me.
If you cook your pie at 375 degrees, it will not taste smokey!!! Not at all! And that is because cooking at higher temperatures produces less smoke. The pie is simply cooking in the fan-fed convection-like oven of the Traeger Grill!
If you want your pie to taste smokey, you could start the pie on the smoke setting – letting those flavors infuse for 10-15 minutes before baking at 375 degrees.
But if you're just wanting a nicely baked pie (or cookies or bread or cake), simply use your Traeger as an outdoor oven, without smoking the food!
We recommend using apple or pecan pellets, as they are mild in flavor. Woods like hickory or mesquite will have a more distinctive flavor.
We love the result when you bake your pie in a cast iron skillet. The crust is crunchy and flakey! And it completes the outdoor cooking feeling. Use an 8″ skillet with the recipe as it is written. Or make 1 1/2 times the recipe for a gigantic 12″ skillet.
If you're looking for more pie tips, you can learn more from Si over on her blog, A Bountiful Kitchen. (Including her brilliant recommendation for peeling, slicing, coring apples the fastest way humanly possible! Use a one of these!)
Check out more from the 2019 Grilling Gala! Read the recap with all the recipes here. Including another fantastic Traeger Baked dessert – Peach & Honeycomb Galette.
Print Recipe
Perfect Apple Pie on the Traeger
Mom's Best Apple Pie is baked on a Traeger Grill. A winning combination!
Ingredients
2 cups flour
1 teaspoon salt
1 cup shortening (half butter/half regular)
1/2 cup very cold water + additional tablespoon or two if needed
6-8 large apples (mixture of Granny Smith & Jonathans)
3/4 cup sugar
1-2 teaspoon ground cinnamon
1 teaspoon nutmeg
1/2 teaspoon salt
4 tablespoons flour
1 tablespoon lemon juice
2 teaspoon vanilla extract
Butter
Egg, sugar, & cream for top crust
Instructions
1

Preheat the Traeger grill on smoke with the lid open, until the fire is established (4-5 minutes) Then, set the temperature to 375 degrees and preheat 30 minutes with the lid closed.

2

Make the pie crust. Mix flour and salt. Cut in shortening with pastry blender or knives. Add water

3

Fold with spatula or fork until flour is absorbed and dough comes together. Gather dough together into a ball. Split in half if making a two crust pie.

4

Flour surface and rolling pin well. Flatten dough gently with hand to make a round shape. Roll out from center to make 1/8" thickness. Fold in half, lift onto pie plate.

5

Open and shape to pan. Make sure to fit dough into edges of pan. Set aside.

6

Prepare apple filling. Peel, core, and slice apples. Set in a large bowl. Mix in sugar, spices, flour, and lemon juice.

7

Pour apples in to prepared pie crust. Sprinkle with vanilla and dot with butter.

8

Top with crust. Crimp edges. Cut steam vents. Brush with either beaten egg or cream and sprinkle with sugar.

9

Bake at 375 degrees for 50-60 minutes, or until the apples are tender and the crust is golden brown. May need to cover with foil for half of baking time. Remove from Traeger and cool 2-3 hours prior to serving.
Notes
- Dough may be easier to handle if chilled for an hour or so. - Try rolling the dough around the rolling pin and then unrolling right onto the plate. - Some people like to "cut" the flour in with their fingers. - Don't cut the flour and shortening too much, the pieces of shortening are what make the crust flaky, you want to have pebble or pea size pieces of dough before adding the water. - If your pie is getting too brown on the edges, but not on top, take a piece of foil, fold in half to make a square then cut a half circle out of the middle. Unfold and put over your pie. - Do not stir the dough at any time. Remember, folding the dough is the best way to achieve a light flaky crust. - One of the most important keys to apple pie that does not turn out runny is to let it COOL for at least 2 hours. 3-4 is better. It takes time for all of the filling to set up and solidify. If you cut into a pie while it is still hot, it will be juicy and runny. You can speed up the cooling process by placing the pie in the fridge on a cool cookie sheet for an hour.