Use bakery emulsions for an added boost of flavor in all your favorite goodies.
We've been selling and using bakery emulsions at Orson Gygi for decades. Before our current beautiful rainbow assortment of flavors was available, we sold bakery emulsions in gallon-sized bottles to commercial bakeries in the Salt Lake area.
Emulsions have been a secret ingredient of professionals since 1923, providing a boost of flavor to baked goods. But what are they, and how can they be used in your kitchen?
---
What is a Bakery Emulsion?
A bakery emulsion is flavoring wherein the flavor is suspended in water. This is done by microencapsulating the flavor in natural stabilizers and then suspending it in water. Many bakers prefer this to alcohol-based extracts because the flavor is not compromised by the taste of the alcohol. Additionally, the flavor will not "bake out" like with alcohol-based flavorings, resulting in a final product that is more robust in flavor.
The true-to-taste nature of emulsions allows the baker to have a better sense of the finished food before baking. Knowing that the flavor will not be lost during the heating process allows the baker to taste the batter or dough and add flavoring accordingly.
This secret of bakery professionals has been used by bakeries for decades, but we are happy to provide a more accessible product for small businesses and home chefs.
How do I use a Bakery Emulsion?
Switching to emulsions is an easy process. The conversion ratio is 1:1, meaning that every teaspoon of extract your recipe calls for can be replaced by 1 teaspoon of emulsion.
You can use bakery emulsions in all your baked goods – cookies, cakes, cheesecakes, muffins, quick breads, cupcakes, etc. You can also use them in other confections – frostings, fondants, royal icing, macarons, glazes, ice creams, and puddings. If using an emulsion in frosting or a confection, start out using half the amount called for. This way you can taste the product before adding more and making sure the flavor intensity is what you would like.
The only applications that will have issues with water-based emulsion flavorings are chocolate and hard-candy making. Stick with oil-based flavorings and super-concentrated flavors for chocolate and hard candy.
---
Putting Bakery Emulsion to the Test
We recently conducted a Vanilla Taste Test at Orson Gygi. Our goal was to establish the effectiveness of pure vanilla extract in baking applications. With the steep increase in price over the last year, we wanted to know if we could tell the difference between an alcohol-based extract or a flavor emulsion and if there was a preference for one or the other.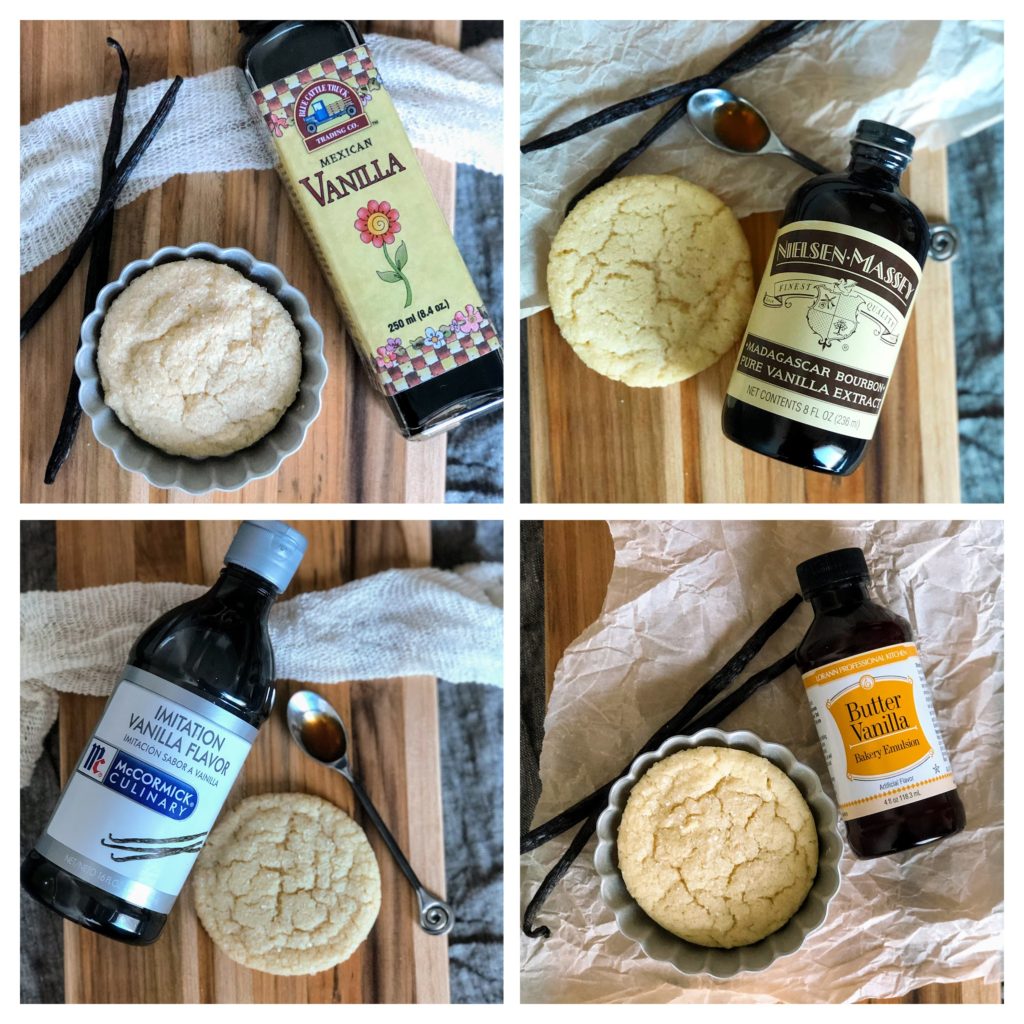 We tested four vanilla flavoring options (Pure Madagascar Vanilla, Traditional Mexican Vanilla, Imitation Vanilla, and Butter Vanilla Bakery Emulsion). The winning flavoring, with 52% of the votes, was the Butter Vanilla Bakery Emulsion. (Read more about our Taste Test here.)
Knowing the effectiveness of bakery emulsions in baked goods has inspired and motivated us to keep experimenting with the 20 different flavor options we offer. Below are a few recipes to motivate creativity in your own kitchen.
---
Emulsion Flavors
Almond – This emulsion pairs well with so many flavors. Add it to chocolate cake. Or in your favorite sugar cookie recipe. This Blyss sugar cookie recipe uses both an almond emulsion and vanilla extract.
Banana – Add a burst of flavor with banana emulsion– swap out the vanilla in your favorite caramel recipe.; make banana-flavored ice cream, or simply add a teaspoon or two to your favorite banana bread recipe. The result will be delicious. Try this Banana Snack Cake from LorAnn oils.
Blueberry – This emulsion packs a flavorful punch of fresh blueberry flavor (and a hint of blue coloring, too).  I love this in a blueberry muffin or quick bread recipe. Add a dash of lemon emulsion, too, for one fresh treat! The Blyss girls use this emulsion in their blueberry cobbler cookie.
Butter – Add a sweet, buttery taste to your shortening buttercream, or to your maple syrup, or homemade bread! It's a great way to add a buttery flavor without the calories and fat!
Butter Vanilla – This emulsion gained popularity quickly when it won our Vanilla Taste Test! It's a great compliment to any of your baking adventures, imparting a sweet, buttery flavor with hints of vanilla. Give the winning Sugar Cookie recipe a try, to see for yourself!
Buttery Sweet Dough – The combination of sweet butter with hints of citrus make this emulsion a great pairing for breakfast pastries. Think scones, donuts, and cinnamon rolls! But also french toast, pancakes, and waffles!
Cherry – The fresh cherry flavor of this emulsion is a great pair for anything chocolate. Add a teaspoon to your favorite truffle filling, for a decadent cherry truffle. It's also great in cakes, cookies, and brownies. This cherry emulsion is bursting with flavor!
Cinnamon Spice – Add a delicious kick of rich cinnamon flavor to gingersnap cookies, quick breads, and coffee cake, with this versatile emulsion.
Coconut – This emulsion is fresh and flavorful! Awesome in frostings and fillings and cakes– all of which combine in this Coconut Cream Cake.
Coffee – If you're looking for the flavor of coffee without adding coffee grounds, use a coffee emulsion. It is a great alternative. Try these delicious cookies, or add it to any chocolate dessert to enhance and compliment the cocoa.
Cream Cheese – Add cream cheese emulsion to your favorite buttercream for a tangy twist! It's also delicious in a glaze for cinnamon rolls and paired with red velvet cupcakes.
Hazelnut – This emulsion has a delicious, rich, nutty flavor. Use it in cookies, cakes, and sweetbreads.
Lemon – Lemon emulsion imparts a vibrant, bright citrus flavor to your treats and breakfast pastries. Lemon flavor fizzles out of most baked goods, but this will stay robust in your lemon poppyseed creations. It also brightens the classic sugar cookie or buttercream frosting. You can also replace lemon zest with emulsion. (1 tsp zest = 1/2 tsp emulsion)
Orange – Made from real orange, this emulsion is bright and vibrant, and fresh. Pairs well with chocolate chip cookies or scones. It also gives a fresh flavor to any quick bread – think zucchini, raspberry, or banana bread!
Peppermint – To add a bold, bright, minty flavor, try LorAnn's Peppermint Emulsion in any of your baked goods. Use it in your recipes for cakes, cupcakes, cookies, brownies, and frostings. Peppermint pairs especially well with anything chocolate – even white chocolate.
Pumpkin Spice – Skip the dried pumpkin spice blend and use this emulsion instead. The flavor will be more vibrant and robust! Give these pumpkin cream cheese brownies a try!
Princess Cake and Cookie – This sweet blend of almond, vanilla, and citrus is actually the flavoring combination of the iconic Twinkie! Make some homemade Twinkies with all the deliciousness (but without the weird-lasts-for-20-years-without-rotting qualities of store-bought Twinkies). This flavoring is also great in pancakes, waffles, or french toast.
Raspberry – This emulsion tastes like fresh raspberries! Use fresh raspberries in your cookies, cakes, frostings, and fillings for an added kick of flavor. Or you can combine it with an almond emulsion and use it the next time in your baked goods too. Want to find a way to incorporate this emulsion? These raspberry glazed brownies are a great place to start.
Red Velvet – This unique offering combines the iconic red velvet flavor with the necessary red food coloring, allowing you to make delicious red velvet cake or cookie from your favorite recipe or cake mix. If you're looking for a favorite recipe, check out this Red Velvet Cupcake.
Rum – all the flavor with none of the alcohol with this rum emulsion! Use in place of rum or rum extract in your favorite recipes. Need a place to start – try this pineapple cake with rum frosting.
Strawberry – This gorgeous emulsion combines flavor and color for a gorgeous finish in your baked goods. Cakes, cookies, frostings, fillings are all robust and delicious with this emulsion. Try flavoring your macaron shells with this flavor/color combo!
---
Experiment with Bakery Emulsions in Your Kitchen
Emulsions are the ultimate inspiration for experimenting with flavor combinations in all your favorite desserts. The flavors are vibrant and delicious, and that makes them so fun to play with.
Now, go get busy in your kitchen! Share all your emulsion adventures with us! Tag us on Instagram or Facebook.
(Product Images via @lorannargentina)
Update! Check out this segment from Studio5 KSL: