We want to share with you a simple, but brilliant way to revamp your kitchen.
Introducing, My Bennett Station.
We fully believe that when the right tools are at your fingertips, prep is much easier and more fun! By removing barriers that make it harder to get in the kitchen, you'll find yourself less frustrated or intimidated by approaching the space. And it turns out, if you enjoy cooking, you'll actually spend more time in the kitchen.
And that's a good thing! We believe life is better in the kitchen! ? There's food there. 
We've partnered with the best crew to bring you everything you need to make your own "My Bennett Station"!
We need to back up just a bit and introduce you to two very important people in this visionary new way of getting to know your kitchen, Ellen and Alison.
Ellen Bennett, from the apron empire, Hedley & Bennett, got her start working as a line cook at Bäco Mercat and 2-Michelin starred Providence in Los Angeles, Bennett realized the drab, essentially disposable aprons that served as their uniforms needed a major upgrade. She continued working both line cook jobs and threw herself into growing her apron business, spending time at farmers markets on the weekends and busting into kitchens, introducing herself to chefs from all over.
Ellen is a long-time icon of ours at Orson Gygi as we've watched her hustle, stretch, and overcome the Apron industry. We're over the moon excited to work with her on "My Bennett Station.
Alison, from The Alison Show, is a writer, speaker, and self-proclaimed nonsense dancer. She prides herself on being a very reasonable unreasonable human. She believes in creating a life you love, leaning into your strengths, and dancing inappropriately. She also is a self-proclaimed vegetable hater when she has to cook it herself.
So where do we come in? It was past time for Alison to find her place in the kitchen again amongst piles of junk on her counters and drawers filled with useless gadgets.
Ellen took over Alison's kitchen and whisked her away to Orson Gygi to help her set up her very own " My Bennett Station." She's been a very willing and happy guinea pig as her kitchen drawers were emptied and filled with the tools she'll love grabbing time and time again.
Now we want to teach you all about the Bennett Station so you can get one set up in your own home!!!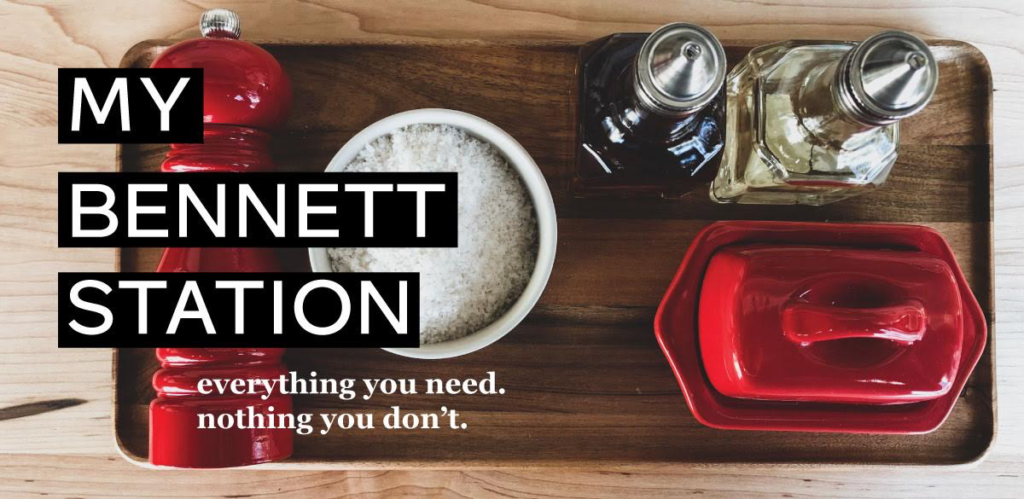 How to get started:
1. Grab yourself a kitchen uniform.
A Hedley & Bennett apron. Wearing the right gear gets your head in the game. Getting an apron on your body tells your mind it's cooking time!
2. Find a good sized cutting board.
Not some tiny board where the vegetables fall off the edges. Lay a towel underneath the board, this keeps it from jiggling all over the place. Set that board right next to your stove.

3. Set up your Flavor Station.
Fill it with:
Pepper Grinder– fresh pepper has flavor. Pepper in a box is dirt. Don't eat dirt.
Bottles for Olive Oil, Grapeseed Oil, Vinegars (Red Wine and Apple Cider)
Dish for high-quality salt, leave the lid off, your salt will be just fine and you'll actually use it when it's sitting there open and waiting for you.
4. Utensil crock with just a few of the best tools.

5. Knives
You just need 3 knives to dominate in the kitchen.

5. Mixing Bowls
You need 4-5 stackable mixing bowls. Leave one on your counter next to the cutting board at all times. Fill it with lemons, limes, onions, garlic. This is where the flavor is created!!!

6. Hedley & Bennett Gear
Hedley & Bennett are makers of premium aprons and culinary gear for the best chefs, home cooks, and makers in the world.
Each product is handcrafted from start to finish using top grade materials. Their unique pieces are built to last – tested to handle the rigorous hustle and bustle of a professional kitchen.
Hedley and Bennett believe when you look the part, you feel the part, and thus perform the part like a boss.
Their aprons are essential! Perfect pockets and gorgeous brass hardware make their aprons as functional as they are beautiful. But don't stop there – with gorgeous Chef Socks and Vans shoes, you can embody a chef from head to toe. If you're taking your cooking game on the road, you need a Work Shirt and Knife Bag! The absolute best in the industry!
Now you have a complete station and the gear to get the job done! You are empowered, prepared, and ready to take on any kitchen adventures.
Now what do I make with this?
Take a baking tray, fill it with veggies from your fridge, toss it in the olive oil, sprinkle with your salt and pepper. Pull out a lemon, squeeze it all over, then slice that up, layer them over the veggies. Roast at 400 degrees until you see a change in color.
Share your "My Bennett Station" on Instagram. We want to see how it's transforming your kitchen experience. And we want to give you "Opulent praise" with a capital O.
We can't believe our eyes. These words are from Alison herself:
"Just a few simple changes in kitchen gear and set up can take you from making dinner NEVER (like me!) ?, to cooking multiple times a week with the whole fam! ME NOW! We want to encourage you to get your butts in the kitchen and have fun too!?

-Alison Faulkner of The Alison Show
Now, get out there. Set up your work station (you likely already have much of what you need in your kitchen right this minute!) Clear your space and clear your mind so you can be the boss of your own kitchen and share with us what you've made with #gygieats. We're cheering you on!
Use this handy sheet to take inventory of your My Bennett Station!