Hot cocoa can be a daily routine with Everyday Hot Chocolate from The Food Nanny. 
The only thing getting me through the winter months is a daily dose of hot cocoa. Everyday Hot Chocolate from The Food Nanny is a major upgrade to the powdery mix from an envelope. Rich chocolate liquor is combined with sweet chocolate syrup to develop and rich and decadent drink.
Simply heated on the stove or the microwave, this drink comes together in minutes! Then, add a little froth for a cafe style drink from you own home. 
Let me tell you why it's so magical!
Chocolate Liquor
Chocolate Liquor (also called cocoa mass, cocoa liquor, pate de cacao, unsweetened chocolate, baking chocolate), is the product of grinding the nibs from a cocoa bean. The grinding produces a thick, gritty paste that liquifies when heated. When cooled, it is sold in chunks of chocolate liquor. It is roughly half cocoa butter fat and cocoa solids. This becomes the base of all forms of eating chocolate. Various combinations of milk, sugar and other additives combine to create the chocolate we love to eat.
Chocolate liquor is also used for baking. It lends a pure, rich, chocolate flavor that compliments the other ingredients. You can control the intensity and sweetness of the dessert with the other ingredients you add. Many baking recipes will call for unsweetened chocolate or baking chocolate, but they all use the same product – pure, unsweetened chocolate!
We love using unsweetened chocolate liquor in hot chocolate for the rich flavor it provides. Then you can add chocolate syrup to your liking! We also like the quick melting of the chocolate liquor! It melts quickly and blends easily, making it easy to enjoy this Everyday Hot Chocolate.

Chocolate Syrup
Hershey's Chocolate Syrup is a classic and easily found in many pantries! It is a great sweetener and easily mixes into the milk. The recipe calls for 4 Tablespoons, but add it to your liking. More syrup=sweeter hot chocolate!
For a fun alternative, consider adding some caramel syrup to your hot chocolate. An easy caramel sauce uses our block of Peter's Caramel. Simply melt 1 cup of caramel and stir in 2 Tablespoons of milk for a delicious and pourable sauce. (Learn more here.)
Froth
The Food Nanny swears by their frothy hot chocolate! It feels more indulgent and fancy! And you all deserve to feel fancy on the daily! We have a couple great options for frothing.
A French press is the classic way to create a frothy drink. You can froth a batch of hot chocolate (2 servings) at once! This frother is microwave safe, allowing you to heat your hot chocolate and froth from the same container! Simply move the screened plunger up and down and watch as it produces creamy froth! The pour into your mug!
We also love the electric frother! It works well in a large pot or in a small mug! Once your drink is heated, insert the frother and turn it on. Keeping the frother submerged, move it close to the surface and watch the bubbles form!
Taking this extra step to froth your drink transforms it into a cafe-quality indulgence.
Everyday Hot Chocolate
We hope you'll give this recipe a try. Thank you, The Food Nanny, for sharing your recipe and your hearts and your kitchen with us! We love you. Check out their website for cookbooks, recipes, products, and the cutest mother-daughter duo you've ever seen.
UPDATE: Watch The Food Nanny make Everyday Hot Chocolate on their LIVE video! Check out their Facebook page.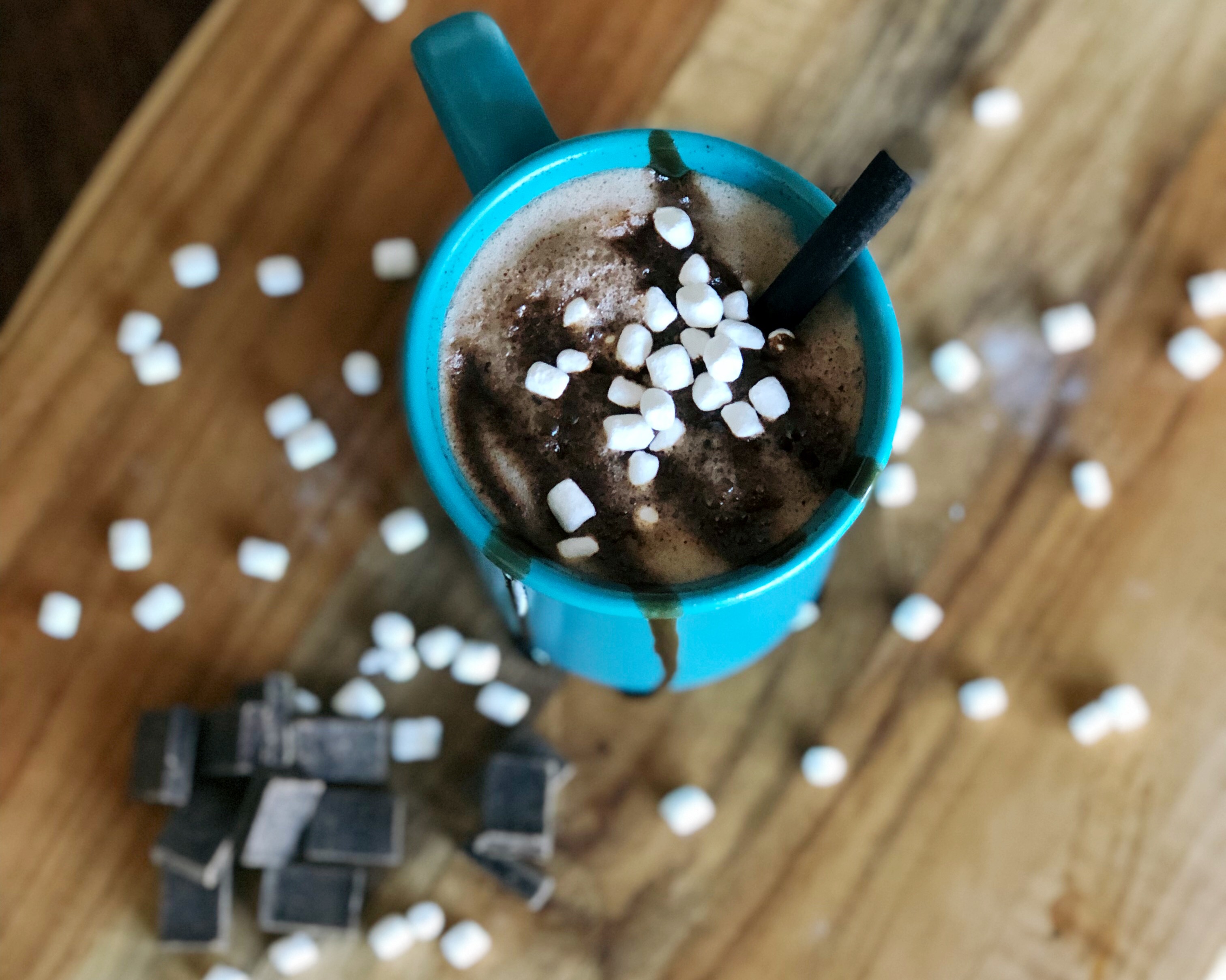 Print Recipe
Classic Hot Chocolate with The Food Nanny
Rich chocolate liquor is combined with sweet chocolate syrup to develop a rich and decadent drink.
Ingredients
1 1/2 cups 1% milk

4 Tablespoons Hershey Syrup

3 Squares Callebaut Chocolate Liquor
Instructions
1
Place all ingredients in a small saucepan.
2
Heat on medium-low until chocolate liquor is melted and milk is heated through.
4
Pour into two mugs and enjoy.
5
Place milk in a microwave safe dish. Heat in microwave for 2 minutes.
6
Add chocolate liquor and syrup, Stir until melted.
8
Pour into two mugs and enjoy!