At the beginning of the month, we shipped out a few packages containing some of our favorite kitchen tools as well as our Gygi Cinnamon Baking Chips. And it has been so fun to see all of the fun and creative ways our friends are using our specially made ingredient in their own kitchens. We have to say, our favorite thing to do with cinnamon chips is to take a classic recipe and glam it up just a little. This is exactly what Chelsea of Priceless Bakes does with her Cinnamon Chip Coffee Cake.
This is a nostalgic recipe made modern with little bursts of cinnamon flavor from the decadent batter to the delicious crumble topping. It is basically cake for breakfast, which is something we can definitely get behind. And we are huge fans of anything with streusel! Adding the cinnamon chips to the crumble topping as well as to the batter took this dish to a whole new level. And topping it with just a little bit of drizzle has us swooning. Delicious! Thanks again Chelsea, for sharing! We are so excited to make this in our kitchens and can't wait to see what you all think about this cinnamon chip coffee cake.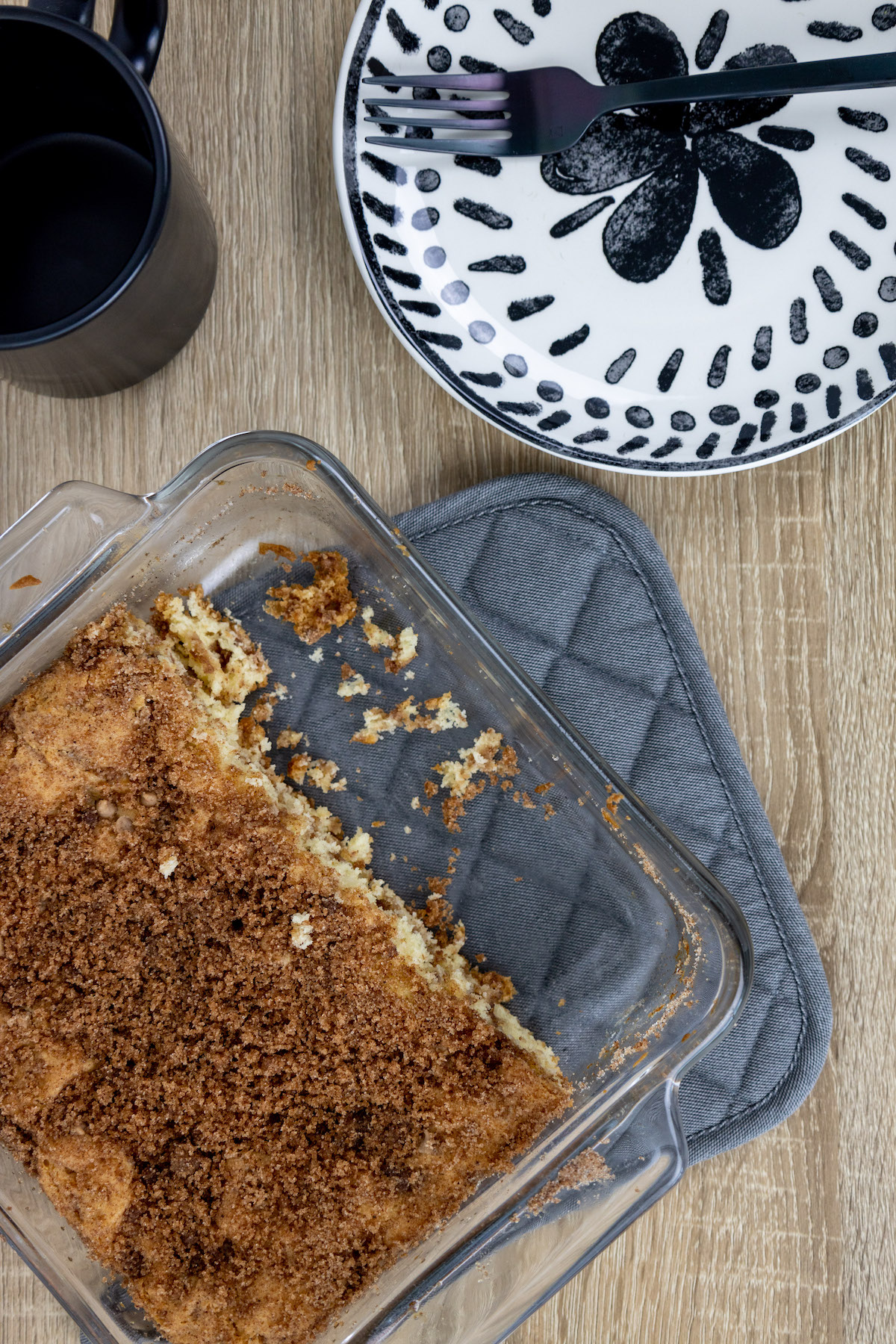 Print Recipe
Cinnamon Chip Coffee Cake
Ingredients
For the cake
3 Tbsp melted butter
¼ c oil
1 egg
1 tsp vanilla
½ c buttermilk
¾ c granulated sugar
½ tsp salt
1 ½ tsp baking powder
1 ½ c flour
¾ c cinnamon chips
For the crumble topping
4 Tbsp melted butter
¾ c brown sugar
2 tsp cinnamon
¼ c flour
½ tsp salt
2 Tbsp cinnamon chips
For the drizzle
¼ c powdered sugar
2 Tbsp milk
Instructions
1

Preheat oven to 375℉ and prepare an 8x8" pan with baking spray and parchment paper.

2

In a large bowl combine butter, oil, egg, vanilla, and buttermilk. Then stir in sugar.

3

In separate bowl whisk salt, baking powder, and flour.

4

Add wet ingredients to dry ingredients and mix until just combined.

5

Fold in the ¾ cups of cinnamon chips.

6

For the streusel crumble, combine melted butter, brown sugar, cinnamon, flour, and salt.

7

Spread the crumble over the top of the batter and sprinkle 2 Tbsp cinnamon chips over the top.

8

Bake cake at 375℉ for 25-30 minutes.

9

Remove from the oven and let cool in pan for 15 minutes before removing and transferring to cooling rack.

10

For the drizzle, combine powdered sugar and milk and pour over the top of the cooled coffee cake.