We have shared our obsession with Staub pans over and over again, but we didn't want you to just have to take our word for it. So we're passing the pan to some dear friends and sisters who find joy and love in the kitchen. They will show you many different ways to use your Staub pans.
Our first stop is in Croatia, let us introduce you to, Daniela!
---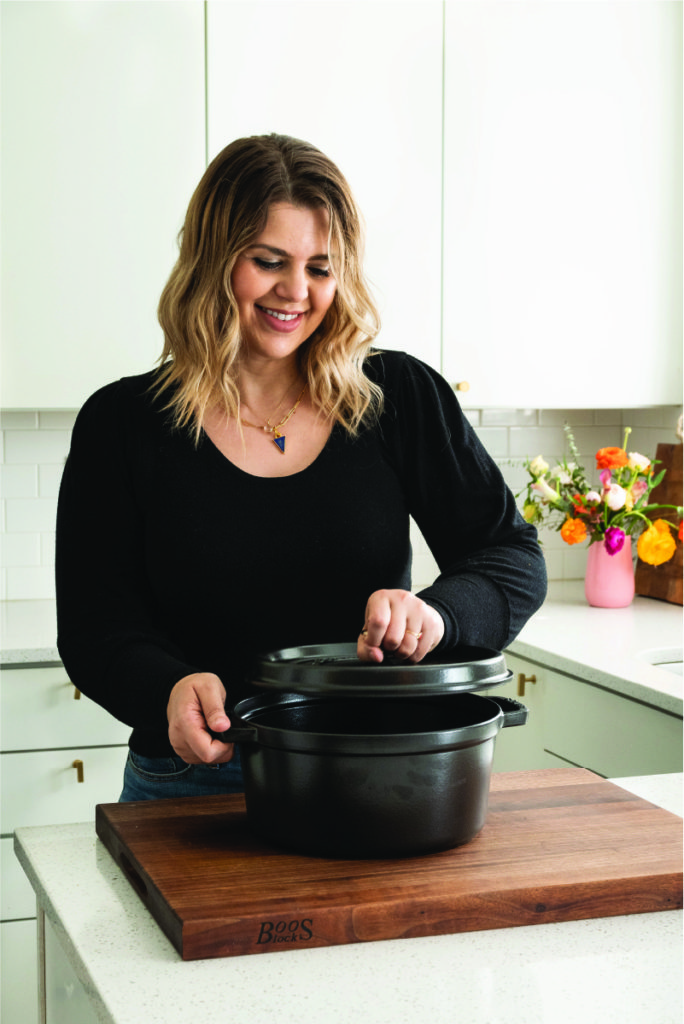 Hey there. My name is Daniela and I am here because nothing makes me happier than cooking and sharing that food with people I care about!
I'm originally from Croatia and I've been living in Utah for seventeen years now, but someone forgot to tell my tummy. I absolutely love sharing and eating Croatian food whenever I can, it is incredibly delicious, but it also takes me home, even if just for a moment. By cooking my grandmother's and mom's recipes, I feel like they are with me when I miss them so much. I think it is a gift I was given to be able to realize the life I was meant to live and to be able to feel them with me in that way.
There have been hundreds of Skype phone calls to my mom over the years asking her for tips and tricks and that is a big part of our relationship and bringing us closer. It is my absolute joy to share those recipes here with you, as all the others I've created and tried over the years. I'm not always great with words, and truthfully I completely freeze in front of a camera but behind the camera and in the kitchen is where the magic happens for me. I show love through my cooking and speak through my photography, so what I do was kind of meant to be.
I can't wait to share one of my most loved (and eaten every single week) recipe I made in this gorgeous 7 qt Staub pan, my mom's tomato sauce. We make a big batch and freeze it and that makes dinner happen during the week in less than 15 minutes, but it also tastes out of this world. You'll never want to buy store bought sauce again! In this amazing pot I also boil the water for my pasta, cook soups, bake sourdough bread in every week and it is my absolute favorite to use for Sunday meals. I roast a whole chicken in it, make pot roast or carnitas. This cast iron magic pot is truly a favorite in my kitchen and I feel so spoiled by it. Food just comes out better in it and makes me look good. Something I love to hear is when people ask if there is more and just enjoy my food!
Print Recipe
Ingredients
1 28oz can diced tomatoes or petite diced tomatoes
1 small yellow onion
4-5 cloves of garlic
1/2 cup finely chopped parsley
1 teaspoon sugar
salt and pepper
Olive oil
For a big batch:
5 28oz cans diced tomatoes
5 small yellow onions
20-25 cloves of garlic
2 1/2 cups finely chopped parsley
5 teaspoons sugar
salt and pepper
Olive oil
Instructions
1

Chop the onions and peel and mince the garlic. Heat up some olive oil in your pot and cook the onions until completely translucent, about 8-10 minutes. Add the garlic and cook for another minute, then add the tomatoes in. Season with salt and pepper and add the sugar, cook for about half an hour to 45 minutes occasionally stirring.

2

Add the parsley and cook for another hour, check for seasoning. If you are doing a big batch you will need a bit more time to cook. I sometimes like to blend it just a tiny bit with an immersion blender if there are some larger chunks that didn't cook down.

3

If not using immediately, let it cool before portioning it out in jars or zip lock baggies.

4

I use between 1 1/2-2 cups of sauce for 1lb spaghetti or pasta so that's how I portion it for the freezer.
---
Thanks, Daniela! We are already thinking of ways we can eat this tomato sauce nearly every day. Can't you just feel the love oozing from Daniela and her Staub pan? That's the power of cooking from the heart. Feel more of Daniela's big warmth and check out her Instagram and blog. We learn so much, and feel so loved whenever we interact with her!
Want to learn more about this magical Staub pan? We've collected everything we can think of in one place!