The smoky taste from the barbecue and the rustic appearance of a galette make these simple pastries a perfect companion for your pellet smoker. Using just about any food from your fridge, sweet or savory, you can whip these up for a weeknight meal, or share them with your loved ones for a special treat.
You start with a simple dough, layer up your fillings, fold the edges over- and throw that baby on the smoker.
Use these simple techniques as your starting point, and then run with it!
Step 1: Make the dough
Start with this simple recipe that will honestly work for any galette you can dream up:
1 ½ c all purpose flour
10 Tbsp butter
1 tsp salt or sugar (salt for savory, sugar for sweet- or both for a really good time)
¼ c cold water
For a juicy filling, like garden tomatoes or fresh berries, you can add a little cornmeal into the mix to keep the crust crispy:
½ c cornmeal
10 Tbsp butter
½ tsp salt
¼ c cold water
For a fancy crust idea: start with the basic recipe and add in a ¼ cup roasted and ground nuts. We're dreaming about pistachios, almonds or pecans. The nutty flavor develops a delicious depth while smoking. So tasty.
To make the dough: Add the flour (and cornmeal or nuts, if using) and salt to a large bowl and slightly whisk. Using two knives or a pastry cutter, cut in the butter until it resembles coarse sand. Using a wooden spoon or your fingers, mix in the liquid until large lumps form. Pat the lumps into a ball; do not overwork the dough. Cover with plastic wrap and refrigerate for 1 hour.
You can also make the galette with a food processor: Add the flour (and cornmeal or nuts, if using) salt, sugar and butter to a food processor. Pulse until the mixture resembles coarse sand. Add the water and continue to pulse until the dough comes together.
WATCH THE FULL VIRTUAL CLASS HERE:
Place the dough over on a floured surface and roll into a ball. Cut the ball into 2 halves, and flatten each one into a disk. Wrap in plastic wrap and refrigerate for at least an hour.
Step 2: Make the Filling
Sweet:
Mixed Berries
Strawberries
Sliced Peaches
Sliced Apples
Toss fruit in:
2 tsp lemon juice
2 – 6 tsp sugar, taste to adjust
2 Tbsp cornstarch
Use about 3 cups of fruit and stir with other ingredients. Let it sit for 5-10 minutes.
Savory:
Tomatoes
Zucchini
Potatoes
Leeks
Mushrooms
Candied onions
Cheese
Pancetta or bacon
Slice all your ingredients very thinly, and begin with a layer of cheese (if using). Then throw down your sliced toppings over that. Sprinkle with some bacon, herbs and a little more cheese/
A variety of textures and flavors can be fun. Here are some of our favorite combos:
Herbed goat cheese. Potatoes, leeks, crumbled bacon
Brie, sauteed mushroom and candied onions
Sharp cheddar cheese, tomatoes, grilled corn and zucchini
Step 3: Roll the doll and assemble
Prep: Preheat Smoker to 400°F. Line a large baking sheet with parchment paper.
After the dough has chilled, roll each piece into a rough circle about 12 inches in diameter. In the middle of each circle, place 1/2 of the filling. Leave a border about 2 inches. Gently fold up the sides of the galette over the filling all the way around. Repeat this with the other ball of dough, and rest of the filling. Brush the pastry crusts with a beaten egg whisked with water, and sprinkle with sugar, salt, poppy seeds or chopped nuts.
Using a large spatula, transfer the galette to the baking sheet, and then onto the smoker. For a more crisp bottom crust, bake directly on the smoker grates. For a softer crust, cake on the parchment lined baking sheet. Bake for 35-45 minutes until the crust is golden brown and the middle is bubbly.
After your galette is finished, top it off with some of these fancy finishing touches:
Honey
Honeycomb
Balsamic reduction
Fresh herbs (like basil or parsley)
Scoop of ice cream
Dollop of whipped cream
Chocolate or caramel sauce
Sprinkle of cinnamon sugar
How to serve:
Think of these like a rustic pie. You can slice them into the classic wedges, or squares. Serve them family style and let everyone dig in, or make some smaller versions so each person gets their own.
The galette truly can be served at any temperature. They're best if they have cooled for 10-15 minutes after taking them out of the oven, this gives your filling a minute to set up. Just like you can add any filling, there's no wrong way to eat up your galette.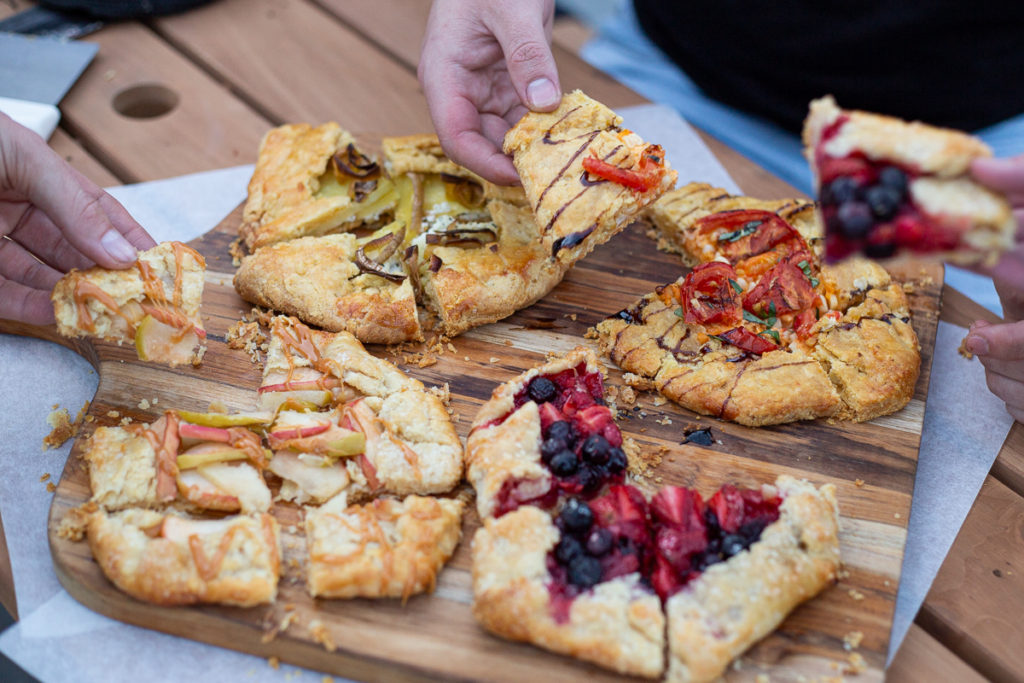 ---
This post is part of our 2021 Grilling Gala, check out all the virtual classes, here!