There are exactly two adjectives I use to describe good chicken – juicy & flavorful. If you follow these tips, you will learn how to grill chicken breast that is both juicy and flavorful.
Grilling chicken breast has always been hard for me! I was careful. I would pull the meat off right as it reach 165 degrees, but it was never juicy. So, I started grilling chicken thighs and drumsticks! Dark meat is much more forgiving! I've continued to feel stumped by chicken breasts.
Last summer, we consulted with our family chicken expert, our dad, Brad. His grilled chicken breast is juicy and flavorful – everything we want it to be!! He gave us a few tips, we went home to try it, and it turned out dry. So, I grilled dark meat the rest of the summer. haha.
So, this year we took things a step further and joined him as he grilled a bag of chicken. And it alllll clicked. We took notes. And timed his process. And we took that information home and grilled delicious chicken!! Flavorful and juicy!!! A true chicken success.
Here are his tips for how to grill chicken breast.
Ingredients and Tools
Let's start by talking about the chicken. Brad has the best luck using frozen chicken breasts. Fresh will work, but frozen chicken ends up juicier. He buys the ten pound bags from Costco. But I used frozen chicken from Smith's with the same results. You do want to make sure you're using something that is boneless and skinless for this method, but anything frozen will likely have the same results.
You also need a good seasoning – we LOVE Chef Todd's Pit Seasoning. It is fantastic on anything savory – chicken, burgers, steak, roasts, soups, sauces, vegetables! All of it. I love the flavor it adds. I also love that it is not heavy on salt. It allows you to make very flavorful food without fear of it becoming over salted. Brad also loves McCormick's Montreal Chicken Seasoning.
Now for the tools. You don't need anything too fancy to grill chicken. A good grill brush will help keep things clean, but you can also use it to oil your grates. Simply spray cooking spray on the brush and then rub it over the grates. Do this before you heat the grill. Also, do not spray the cooking spray over the grill if there is a flame. You will have a big flare up!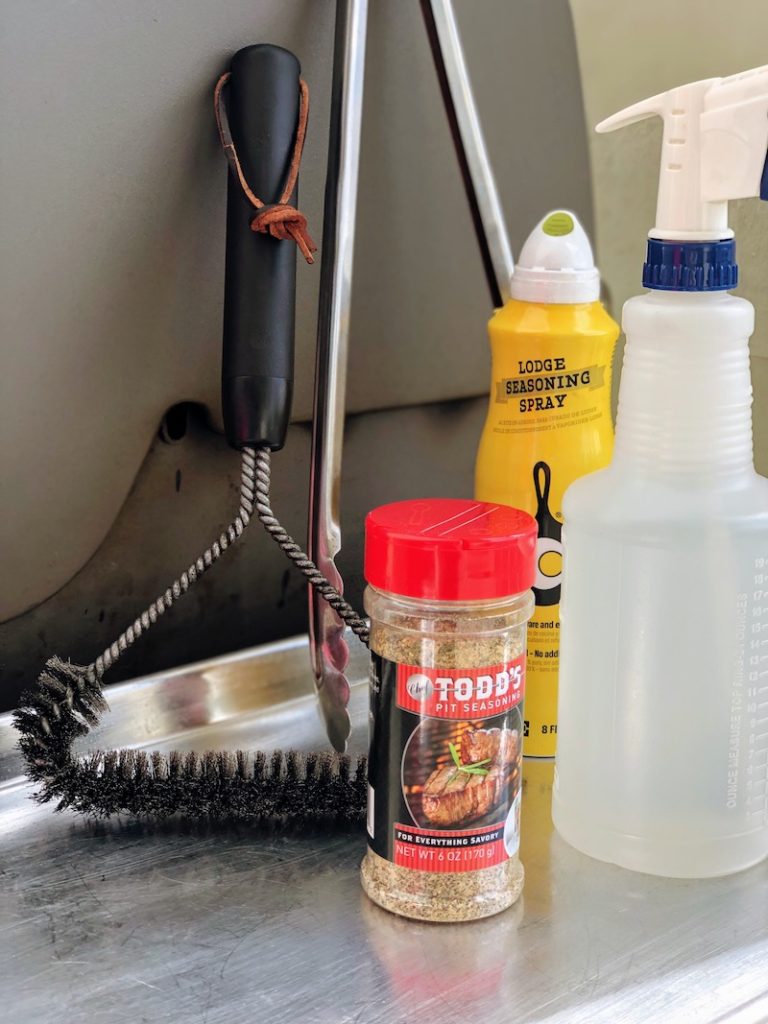 Brad recommends using long handled tongs to turn the chicken. Also, an instant read thermometer is helpful to ensure your chicken is cooked properly.
The last tool/ingredient you need is a squirt bottle filled with water. This is Brad's secret weapon. He uses a squirt bottle to moisten the chicken. This allows the spice to stick to the meat. He also uses it to keep the grill moist, preventing the meat from drying out.
Method
The basic idea for this method is that you will heat the grill nice and HOT. This will sear the outside of the chicken, creating the ideal grill marks and the caramelized flavor we crave from grilled food. Then you will turn the grill temperature down, allowing the chicken to gently finish cooking.
While the chicken is being cooked, you will squirt it with water every three to five minutes. This keeps the grill nice and humid, promoting a juicier meat when you're finished.
A few tips to keep in mind:
Leave the lid closed as much as possible. If you're looking, you're not cooking! When you spray with water, just barely crack the lid open.
Turn the meat only once. The more you play with it, the longer it takes to cook. And the longer it takes to cook, the drier your meat will be.
Spray the meat with water every 3-5 minutes.
Place the smaller pieces on the outside edge of the grill. Turn these sections down to medium after you flip them the first time.
Use a thermometer to check for doneness. Remove them from the grill when they reach 165 degrees F.
When they are done cooking, cover with foil and let them cool to 125 degrees F before eating, which usually takes about 10 minutes.
Hopefully these tips will help you learn how to grill chicken breast! Print this recipe and take it with you to the grill. Let me know how it turns out for you!
For more grilling tips and recipes, join us at our Annual Grilling Gala – a free event celebrating outdoor cooking. This year's party is on Saturday, June 15, 2019. For more information check this out!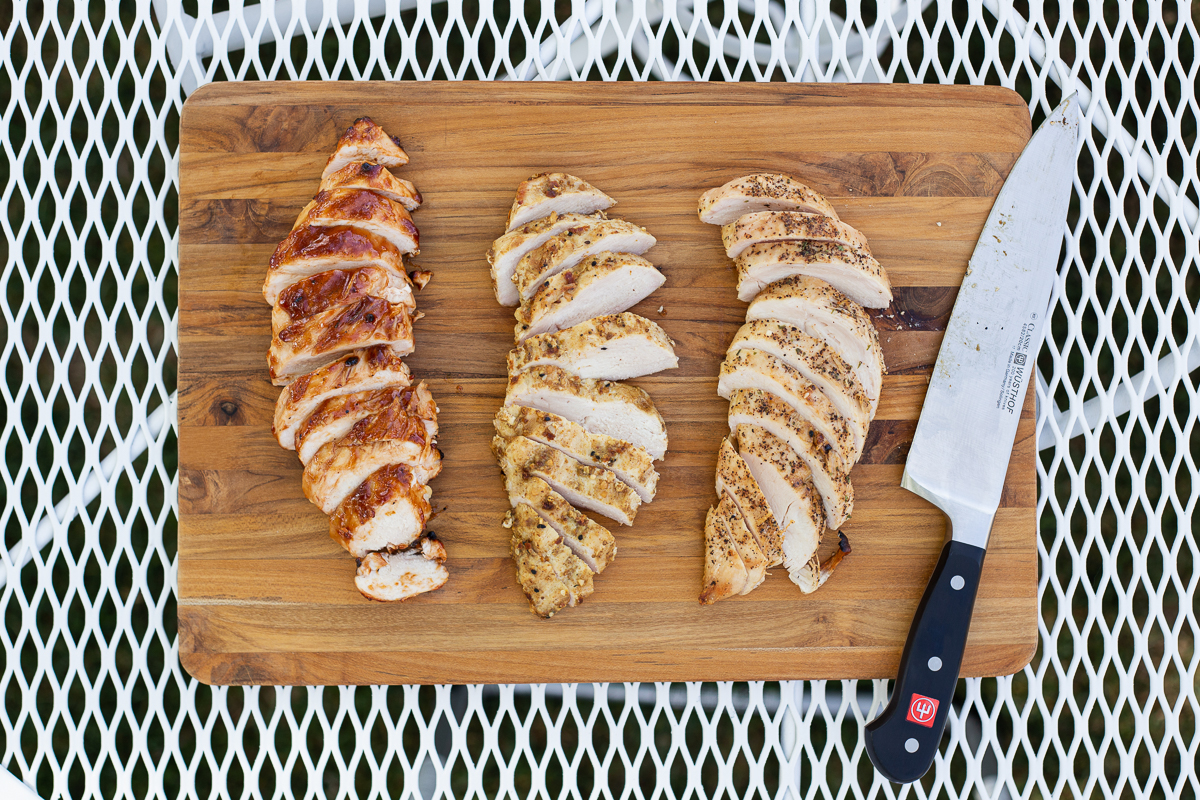 Print Recipe
Ingredients
Frozen Chicken Breast (we love the 10lb bags of chicken from Costco)
Chef Todd's Pit Seasoning
Cooking Oil
Instructions
2

Heat grill on high until it reaches 400 degrees F.

3

Place frozen chicken on the grill. Keep the larger pieces in the middle section. Place the smaller pieces in the outer sections.

4

Spray a couple pieces of chicken with water from a squirt bottle. Sprinkle with seasoning. Repeat with remaining pieces of chicken, until they are all seasoned.

5

Close the lid to the grill. Do not move the chicken until the grill reaches 400 degrees F. Moisten the chicken every 3-5 minutes, by cracking the lid and spraying more water on the chicken.

6

When the grill reaches 400 degrees F (about 15 minutes), check the chicken. If it has browned, flip the chicken to the other side.

7

Spray a couple pieces of chicken with water and sprinkle with seasoning. Repeat with remaining chicken.

8

Close the lid. Turn the heat down to medium on the smaller pieces of chicken. After five minutes, turn the heat down to medium on the larger pieces of chicken, too. Keep moistening chicken every 3-5 minutes.

9

After about 10 minutes, check the smallest pieces of chicken for doneness.

10

Using a digital thermometer, check the temperature of the chicken - when they reach 165 degrees, remove from grill and place on a sheet pan. Cover with foil and let chicken rest for 10 minutes before serving.

11

Continue cooking the larger pieces of chicken until they reach 165 degrees F.

12

When all the chicken is cooked, turn off the grill and brush the grill clean.
3 ways to add more flavor to your chicken breasts:
Use Chef Todd's seasoning blend (or your favorite one)
Slather the chicken breast (one side at a time) with your favorite barbecue sauce
Use a marinade (like this Thai blend) to step things up a notch

Thai Marinade

½ c coconut milk, stirred

Stir together, and baste on chicken while it's cooking. If using thawed chicken breasts, this can also be used as a marinade and let the chicken soak for 3-5 hours before grilling.