This is a summer must-make recipe. The Raspberries and Cream pie is fresh and light making it the best treat for hot afternoons and evenings. As much as we love a classic pie, sometimes it's nice to have one ready without ever turning on the oven. This one doesn't require any baking. Win. It does require some time to chill, so make sure you give yourself a little time to let it set up in the fridge.
Don't have fresh raspberries? Swap them out for any berries or seasonal fruit. Just make a little sauce topping, and adjust the flavor to make sure it's perfectly sweet for you!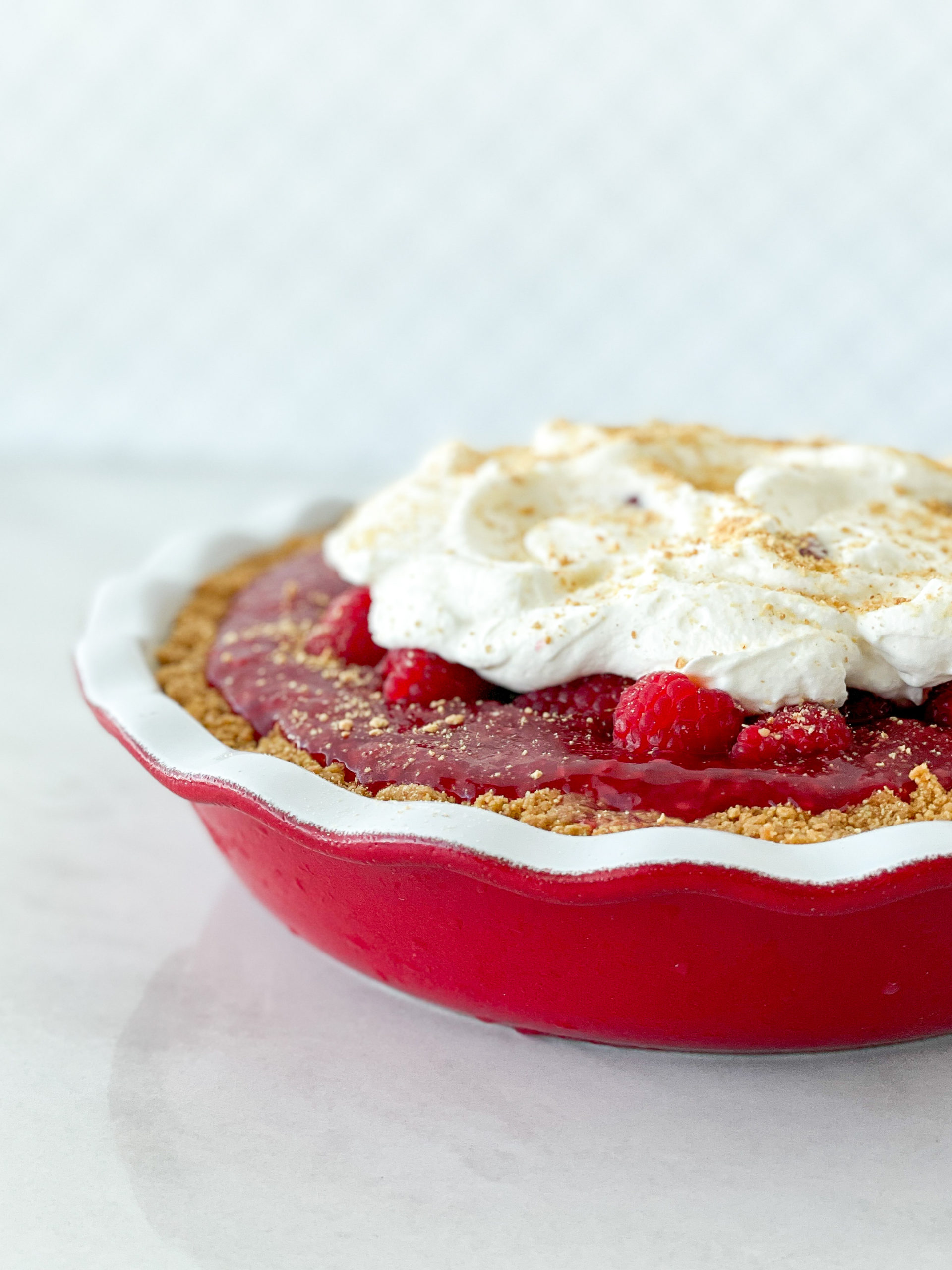 Print Recipe
Raspberries and Cream Pie
This fresh and light pie is the perfect companion to any summer meal. We love how easy and quick it is to whip up at a moment's notice.
Ingredients
CRUST:
2 cups graham crackers (about 11 full crackers)
1 ½ sticks of butter
2 Tbsp powdered sugar
1 tsp kosher salt
FILLING:
1 package of cream cheese (8oz), softened
½ cup powdered sugar, sifted
1 tsp vanilla extract
1 Tbsp orange juice
1 cup heavy whipping cream, whipped to soft peaks.
RASPBERRY TOPPING:
2 ½ cups fresh raspberries (about 2 pints)
1 cup granulated sugar
2 tbsp cornstarch
¼ cup orange juice
1 tsp salt
Whipped cream to garnish
Instructions
1

Combine the graham cracker crumbs, butter, sugar, and salt. Press into the bottom and up the sides of a greased 9-in. pie plate. Make sure to compact the crumbs in as even a layer as possible. Place in the freezer for at least 30 minutes.

2

In the bowl of a stand mixer fitted with the whisk attachment, beat the cream cheese, sugar, vanilla, and orange juice until light and fluffy. Fold in whipped cream.

3

Spread into the prepared crust. Chill until ready to serve.

4

In a small saucepan, combine sugar and cornstarch; stir in the juice and 1-1/2 cups raspberries. Bring to a boil; cook and stir for 2 minutes or until thickened. Slightly mash the berries to create a thick sauce. Transfer to a bowl; refrigerate until chilled.

5

Spread topping over filling. Garnish with remaining berries and dollops (or piped stars) of whipped cream.
Hope you enjoy your tasty treat. Want to learn more about pies? Check out this post where we share all our best tips for making delicious pies.