Nothing quite satisfies a sweet tooth like freshly baked sugar cookies. Add frosting and candy decorations or eat one plain, these cookies are simply irresistible. Let's break down the three main types of sugar cookies and how they're made:
Roll and Cut
Our favorite roll & cut sugar cookie recipe: Blyss Cookies' Traditional Dough
---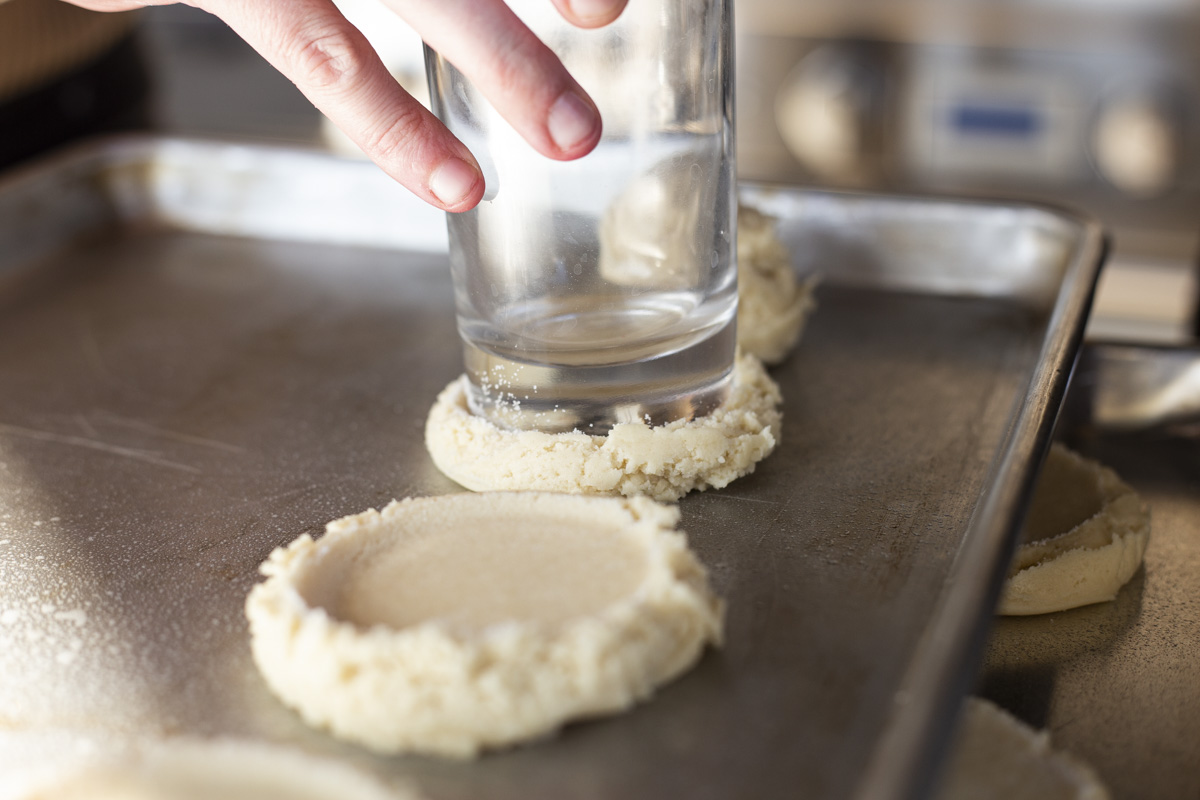 Smashed
Smashed sugar cookies are a sort of cross between a roll and cut and a rolled in sugar. First, form a dough ball, then smash the cookie with a glass or other flat object to create a flat surface perfect for spreading frosting.
Our favorite smashed sugar cookie recipe: A Bountiful Kitchen's Almost Swig Sugar Cookies
---
Rolled in Sugar
A true classic. These cookies are simple to make and are great for "little helpers." Roll the formed dough in sanding sugar, nonpareils, sprinkles, plain granulated sugar, or other toppings. Whatever you choose, this cookie is a fun and sweet treat.
Our favorite rolled in sugar cookie recipe: Serious Eats's Soft and Chewy Sugar Cookies
---
In true Gygi fashion, we had to put the dough to the test. We started by making a batch of each of the sugar cookie recipes. From there, we made one roll and cut cookie, one rolled in sugar, and one smashed cookie with each of the doughs. Because each recipe has similar ingredients, we wanted to see if the recipes could be used universally. We plopped the cookies of each style in the oven according to the doughs bake time and not-so-patiently waited to see if there would be a difference.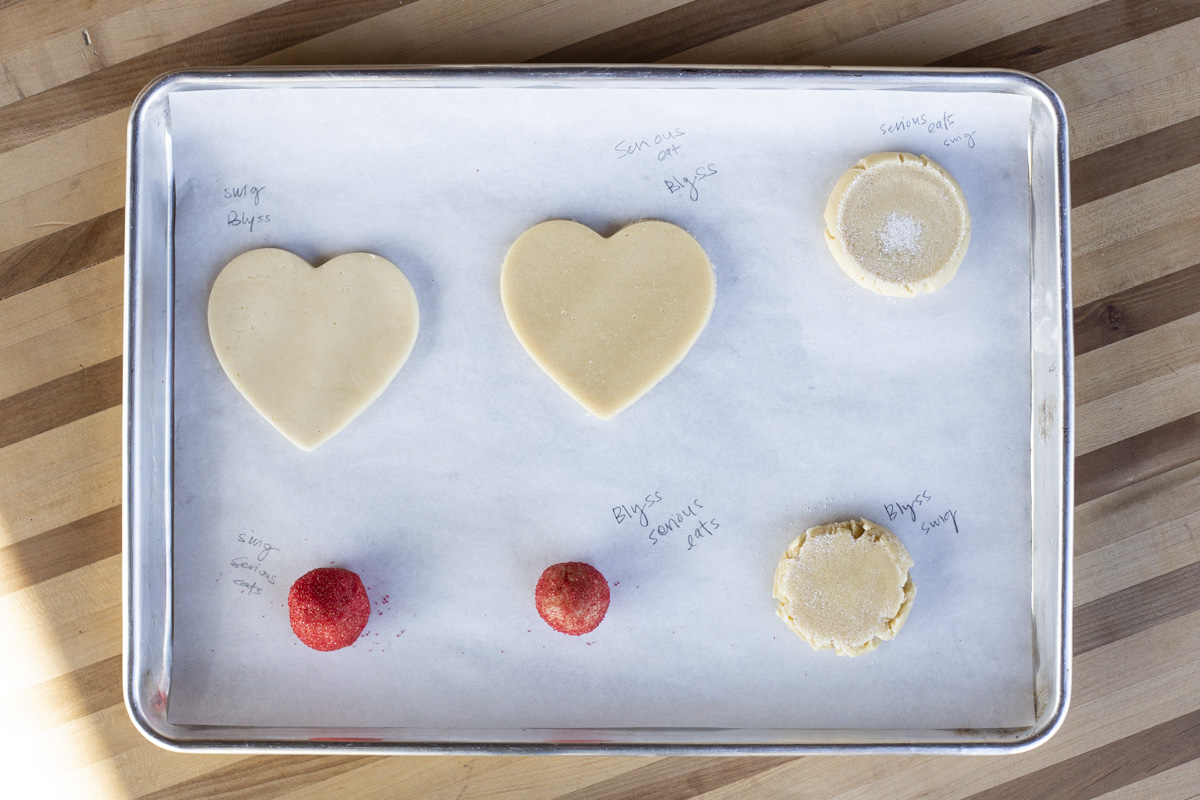 ---
Rolled in Sugar (Serious Eats) Method
• the Serious Eats [control] recipe for this test creates a soft cookie with a pleasant chew and thin crispy exterior. The perfect texture!
• ABK RECIPE: the abk recipe held its shape so well that it barely spread during baking.
• the Blyss cookie dough didn't settle at all during baking. It's not meant for this method of baking!
Roll and Cut (Blyss) Method
• the Blyss recipe resulted in the perfect heart-shaped cookie with a flat top and ideal straight sides. Which makes sense since that is what it was designed for.
• when rolled and cut, the abk dough did lose some of its shape and especially lost the crisp straight edges, but ultimately performed better than we hoped!
• the serious eats recipe spread the most and lost its definition. Still cute, but didn't perform as a roll and cut cookie.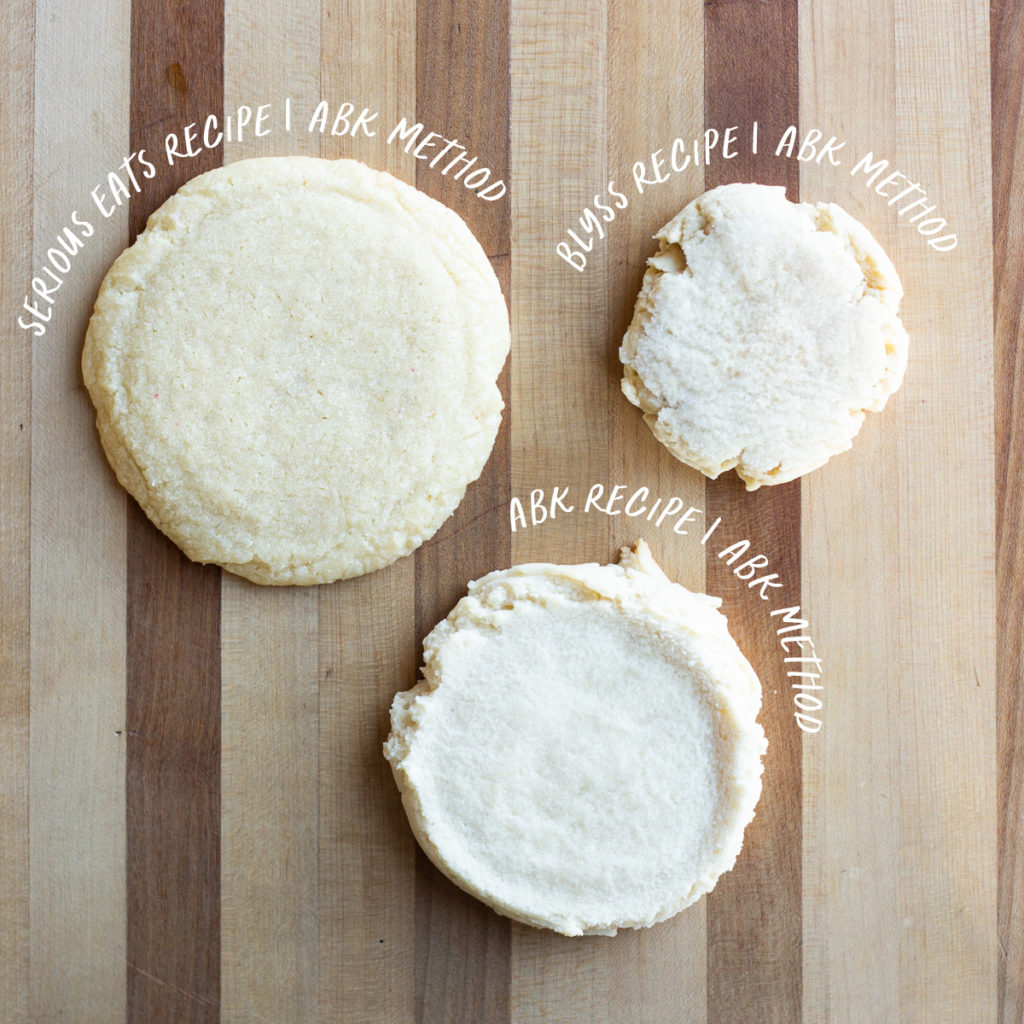 Smashed (ABK) Method
• When baked according to the recipe, the abk cookie is out-of-the-park delicious. 
• the serious eats recipe held its shape the least, it pretty much flattened out and didn't have the nice, concave area meant for frosting. Still a cute cookie though!
• this was the second test that really proved the Blyss recipe is meant for roll & cut, it held its shape and didn't spread one tiny bit.
We can't say that we were too surprised by the outcome of our cookie dough test. While these recipes each have very similar ingredients, the proportions of these ingredients and a couple of extra additions make them each so unique. When it comes down to having success with making sugar cookies, using the right recipe for the right job is crucial. All sugar cookie recipes are not universal. Knowing this can relieve a lot of stress and disappointment when it comes to baking.
Conclusion:
Soft, chewy, crunchy, frosting, no frosting, vanilla flavored, almond-flavored… there is not just one kind of perfect sugar cookie. Sugar cookies can be a great base or the star of the show. These scrumptious treats are so easy to customize to your palate. Either you have your tried and true recipe or you are on the quest to find one that checks all of your boxes. No matter where you are in your sugar cookie journey, we hope that this little guide helps you learn something new and how to make your perfect cookie.