You'd never describe this cookies as soft or gooey. Sorry undercooked-cookie lovers, the Rock Cookie is not for you! If you find yourself reaching for the corner brownie or going for crispy biscotti to dip in your hot drink, you'll love this recipe!
Instead of dipping a soggy cookie that'll fall into your hot cocoa, the rock cookie will soak up your delicious beverage like a sponge. In the end, you'll still end up with a moist cookie – ya know, if that's what you're into. This cookie truly mimics biscotti in every way. We made them very large, and it does take quite some time and stomach to get through one. If you're making them for a party that's serving multiple cookies, we recommend making each cookie smaller, since these are fairly dense.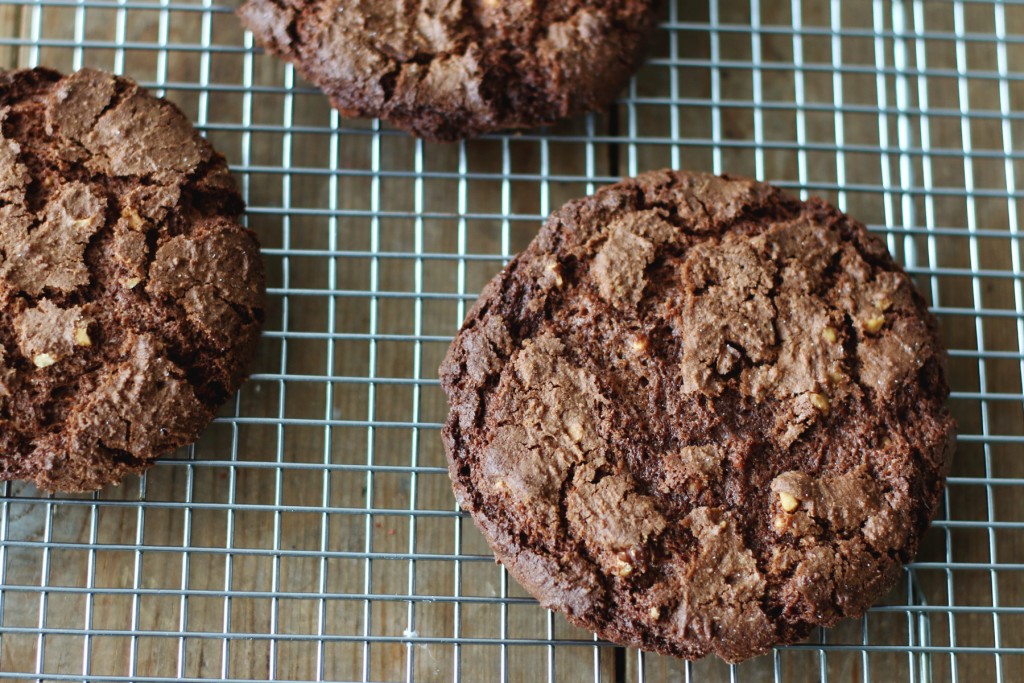 Ingredients
2 cups flour
1⁄2 cup unsweetened cocoa powder (sifted)
1 teaspoon baking soda
1 teaspoon salt
1⁄4 cup butter, softened
2 tablespoons butter, softened
1 1⁄4 cups sugar
2 large eggs
1 1⁄2 cups chopped walnuts
Directions
Set oven to 350 degrees.
Line a baking sheet with parchment paper. In a small bowl whisk together flour, cocoa powder, baking soda and salt.
In another large bowl with an electric mixer beat together 1/4 cup plus 2 tablespoons softened butter with 1-1/4 cups sugar until light and fluffy (about 5 minutes).
Add in eggs and beat until well combined.
Stir in flour mixture to form a stiff dough.
Stir in chopped walnuts; mix to combine.
Divide the dough into large balls on the prepared baking sheet and flatted into a little over a 1/2 inch thick.
Bake for 25-35 minutes or until slightly firm to the touch.
Cool on the baking sheet for 5 minutes.
Cool on a rack.